What's Faucet?
Faucet can also be referred to as faucet, it's utilized to restrain how big water flow and also has the effect of conserving water. The replacement of taps is extremely fast, from older cast iron technologies processing to electroplating knob kind, in addition to creating stainless steel sole temperature single control faucet, stainless steel double temperature double controller faucet, and kitchen faucet, bathroom faucet. Nowadays, an increasing number of consumers purchase taps, and they'll comprehensively think about the substance, work, shape, and other facets. The faucet has shifted from a sensible tool to more decorative multifunctional, daily products that are essential.
1. Sort by substance: faucet can be broken up into SUS 304 stainless steel faucet, plastic ABS faucet, brass faucet faucet, zinc alloy substance faucet, and polymer composite (PP Material) musluk, vesaire.
Pirinç: Brass is the most frequent substance made from taps. It's constructed from H59/H62 aluminum of global standard and can be cast by gravity using a steel mould having a uniform wall thickness of 2.5-3.0 mm.
Attributes: no rust, durable, anti-oxidation, the bactericidal effect on water (drawback is: direct contained, Lead is a metal that's damaging to health. International standards require that aluminum comprise no more than 2.5% contribute. The present market general tap aluminum substances can essentially meet this standard.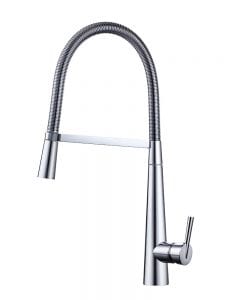 Paslanmaz çelik: Stainless Steel is an internationally recognized health substance which may be implanted into the human body, therefore stainless steel as the major substance of kitchen and toilet supplies have started to popular in Europe and the USA.
But due to the high hardness and durability of stainless steel stuff, it's hard to fabricate and procedure, which badly impacts the mass manufacturing of stainless steel faucet, so the purchase price of genuine 304 stainless steel faucet is greater than that of aluminum.
Characteristics: healthful, environmentally friendly; all goods are made from high quality 304 paslanmaz çelik, no rust, and no direct, the faucet itself won't create secondary lead contamination to the water source and won't ever harm to individual health,. Additionally, it can create a wholesome kitchen and toilet living water atmosphere.
Zinc metal: low-grade substance, Zinc alloys tend to be less dense than aluminum alloys. It does not feel too thick as a copper faucet. The top layer of the zinc metal is readily oxidized from the inner wall. The white blossom powder can appear on the surface.
The power is a lot worse compared to aluminum,.The service lifetime isn't long. High contribute included. Tap made from zinc metal will rust if it's just one or two years old. Currently zinc alloy is principally utilized to generate the handle of the tap, which are die-cast with zinc metal, then chrome plated. The majority of the faucet handles in the marketplace are zinc metal.
Care: According to the openings of zinc metal taps, the faucet maker has enhanced the inner arrangement. They shifted the water part within the tap into the aluminum body, but the casing remains cast by zinc metal, which is, " zinc-coated copper" (zinc metal body with brass interior structure). It's economical and durable, which is now a new fad in the past couple of decades.
ABS engineering plastics: PC+ABS( engineering plastics metals ).Its compound Chinese title is plastic metals,
Additionally, it suits domestic drinking, civil drinking water criteria. Nonetheless, it's simple to era and smell.ABS based taps are often found at the lower end of this marketplace.
2. According to the construction, taps can be broken up into single-type, double-type, and triple-type faucet. Additionally, you will find single manage and two-hand manage.
Single — that the connection could be attached to a cold water heater or warm water pipe. The dual-type can join cold and hot pipes in precisely the exact same time, largely for toilet counter tops and kitchen dish basin with warm water distribution. Besides the cold and hot water pipes attached, triplet kind may also be on the shower nozzle, mostly for tub faucet. One handle faucet may correct the temperature of warm and cold water through a handle along with also the dual handle wants to correct the cold water heater along with the warm water pipe to fix the water temperature.
3. According to the introduction manner, taps can be broken up into screw kind, spanner kind, lift open kind, and induction-type faucet. After the screw handle is started, it moves many times. The spanner handle normally only has to be rotated 90 degrees.
Lift open manage just must lift for waterAs long as tap detector the hand under the faucet, induction type faucet will mechanically water. There is also a faucet which turns off after. After turning off the change, the water will operate for a couple minutes until it quits, when turning off the tap, The dirt on your hands might be rinsed off , which is usually utilized in public areas.
4. As stated by the spool, taps can be broken up into rubber center (slow open spool), ceramic spool (fast open spool) and stainless steel spool, vesaire. The most crucial factor affecting tap quality is that a spool. The taps with rubber spools are largely screw kind in iron, which are essentially removed; Ceramic spool taps have emerged in the last several decades. It's good sealing functionality, and it's rapid opening and speedy closure, and generally utilized; stainless steel spool is much more acceptable for areas with poor water quality.
This is Your faucet Manufacturing Procedure flowchart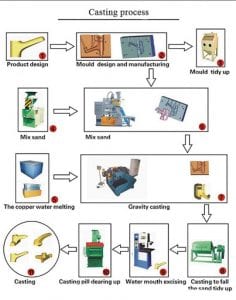 1.

Casting
The casting procedure of taps usually indicates the procedure for earning goods from molten metal. The liquid metal is injected into the ready casting mould, then solidified, and also we get the sterile or portion of the necessary shape weight.
Sand casting is a conventional casting procedure that the chief modeling substance employs sand. Since the sand casting is economical and simple to obtain that employed in molding substances, in precisely the exact same time the molds are simple to fabricate, they could accommodate to single-piece manufacturing, batch production, and mass manufacturing of castings. For quite a while, sand casting is obviously the fundamental procedure in projecting production. The inner arrangement of the valve body metal is loose which utilized sand casting, therefore it's simple to form"trachoma","stoma" along with other internal flaws. Even though these flaws might not be seen in appearance, following a period of usage, it's going to have some issues with water leakage and improper sealing.
Gravity casting is your technique of the manufacture of castings utilizing metallic substances and pouring molten metal to casting to get castings under gravity. As a metallic mould can be cast tens of thousands to thousands of occasions, therefore metal casting can also be known as permanent casting. The high-tech taps usually embrace gravity casting. The interior structure of the human body metal is streamlined, qualified, and its own life is extended. The weight difference between the gravity cast body and also the sand cast body is all about 1/4.
2.
Machining and polishing of taps
Machining: Following the aluminum casting is annealed, Use CNC machine tools such as turning, grinding, grinding, making, grinding, boring etc for a number of cuttingedge, making the workpiece to achieve the desired dimensional precision and contour position precision and fulfill the demands of the plan.
Polish the merchandise after completing machining, remove the burrs in the surface, coarse surface and potholes, make the top layer of the merchandise without apparent trachoma, porosity defects. After polishing is completed, it needs to be polished. The top layer of the workpiece may be floor with the high-speed spinning of this hemp (fabric ) wheel make it smooth and bright. increase the brightness and end of this item, along with the lines are somewhat more smooth and smooth.
3. Faucet Finishes
The faucet end is fundamentally the last coat or surface of the tap spout, handles, sprayer, along with other elements.
Now the principal faucet end technology available on the sector is electroplating, which uses electrolysis to deposit metal or metal over the surface of the workpiece to create a uniform, compact, and decent bonding metallic coating. Additionally, there are a few additional approaches used infrequently for example baking soda, ceramic, fake gold electrophoretic paint. Following the tap is polished and shaped, the appropriate surface treatment ought to be carried out in line with your design requirements, then the tap salt spray test must be certain the salt spray test may get to the national goal.
Faucet plating procedure: Step one is ultrasonic dewaxing and cathode electrolysis of petroleum. Copper plating can create the electroplated coating get a nicer structure, and also the very small flaws and tiny pinholes on the surface of the faucet may be covered up to attain satisfactory outcomes. The impact of nickel plating enhances the corrosion resistance of the tap surface and may be highly polished. Chrome plating prevents rust and keeps brightness, enhances surface hardness, and improves wear resistance.
The caliber of the electroplating surface treatment is judged with a 24-hour acetic acid salt spray test (the test gear is a salt spray tester) along with a coat thickness gauge may be used to recognize the thickness of different metallic coatings. Broadly , the depth of this coat is all up to the regular, along with the salt spray test may pass. The visual appeal of electroplating caliber is completely inspected by quality review and listed.
Here are some hot faucet endings:
The polished brass faucet is adored by all. It provides a classic look which produces a bathroom seem amazing.
Benefits: Easy to clean; lasting; could be paired with different fixtures and accessories without anxiety.
Cons: It costs over chrome and brushed nickel finishes.
Polished brass was made to match with the modern fashion, so it may be utilized in virtually any environment, be it contemporary or traditional, and still look good.
It's a brushed-gold appearance which makes it seem classy. It is not so conspicuous, but it seems bold.
Benefits: lasting; It's a great accent shade without having the gloss; It hides fingerprints and water stains, because of this great matte finish.
Cons: More expensive than polished brass; it's challenging to match different fittings and accessories.
Oil-rubbed bronze gives a gorgeous choice to brushed nickel along with regular chrome and supplies your toilet with a much better, more conventional appearance.
Benefits: durable; simple to clean; simple to fit oil-rubbed bronze accessories and other fittings; Much like Satin Brass, it arouses water stains and fingerprints.
Cons: it's pricier than other endings, including chrome and brushed nickel.
Oil-rubbed bronze works flawlessly with conventional and Tuscan or Victorian configurations
Copper
When you utilize copper taps on your toilet, you get a sense of riches, as aluminum is quite conspicuous and daring. When you include some subtle but gorgeous stuff like marble onto the counter tops, you get a much better feel.
An advantage of using aluminum is that the antibacterial property of this substance, in addition to the fact it is simple to discover.
A significant drawback of utilizing copper is that a fantastic aluminum finish would demand more upkeep than other choices like oil-rubbed and chrome . Additionally, aluminum isn't very durable and also rather tricky to coincide with different accessories.
Copper taps are best utilized from the farmhouse and Tuscan settings exquisite patina.
Satin bronze is well known for its smooth and nice finish that occupies a bit from both aluminum and oil-rubbed bronze. The existence of a subtler color produces this complete more flexible to have the ability to match in different bathroom styles and preferences.
Benefits: durable; simple to clean and preserve; it's a terrific alternative to aluminum and a milder choice compared to oil-rubbed bronze. Water stains and fingerprints will not showing.
Cons: more expensive; it's hard to match with accessories and other fittings.
A few of the fashions it works with include: Conventional, diverse, and Mediterranean.
With polished nickel, then you can find the glossy and smooth finish you adore. It's darker compared to chrome and affects its colour in various lighting.
The benefit of nickel is that the simplicity by which it could be washed as well as the fact it is durable. It's the ideal choice to brushed nickel taps.
A significant drawback that polished nickel has is it is expensive and hard to coincide with different accessories and fittings.
Nothing beats the soft metallic appearance of brushed nickel.
Benefits: durable; simple to wash; It will maintain its end longer than oil-rubbed chrome and bronze. It does not show wear, water or fingerprints stains; it isn't hard to match with accessories and other fittings; It isn't quite as costly as others. It's costlier than chrome but maybe not as much as oil-rubbed bronze.
Cons: it doesn't work well with stainless steel. It has a tendency to blend in rather than standing out.
Krom
Chrome is the most popular complete utilized.
Advantages: cheap; durable; simple to clean and preserve; It fits readily with different accessories and fixtures.
As a result of their capacity to match different things such as dressing table and accent pieces, black taps are extremely well known in the restroom. To make a classy statement on your toilet or a little renovation which does not require changing all elements of your toilet, you need to think about a matte black finish.
Advantages: easy to wash; simple to organize with other toilet accessories; it doesn't show fingerprints, dirt, or water stains.
Cons: difficult to match different fixtures to itIt is expensive compared with much more popular finishes, including chrome and brushed nickel.
Strong Colors
Such taps aren't so costly, and they are not completed with metal. Rather they use epoxy or enamel finishes that are simple to wash. The most well-known choices are black, ivory, and white.
This type of finishing necessitates more than 1 metal or material to the ending of this kitchen faucet. It has to be suitably matched to the décor, or you may wind up getting something peculiar on your kitchen.
The significant difference you see in the cost between quality manufacturing taps along with others is shining. When many faucet endings come from the finishing procedure, they are not all that ideal. But, polishing affects that prognosis. In most mid size faucets, you discover that polishing is accomplished by machine in the conclusion of the procedure. To acquire the signature glistening finishes necessary for luxury faucets, you have to do cautious and incredibly proficient, time-consuming hand polishing. You must do this a few times throughout the finishing process.
Subsequently the undercoating of this tap takes place with nickel or zinc. This undercoat is provided a cautious hand polish. You then apply the end to a couple of coats and polish the faucet.
It requires a while to learn the art of hand polishing. Too much of it could cut through the end, exposing the undercoat while too small will not supply you with the brilliance you would like. It's well worth it in the close of the day whenever you've got a complete with depth and luster that reveals the world the tap is a superior product.
Faucet meeting
A set of taps often is composed of several pieces. Meeting is at the last stage. The standard of the merchandise (in the design of this product( the manufacture of these components into the assembly of this item ) is eventually guaranteed and scrutinized by the meeting. Consequently, meeting is the secret connection to determine quality. It's essential for ensuring and additional enhancing product quality to earn a sensible assembly procedure and adopt an effective assembly strategy to be sure the meeting accuracy.
First, equip different assembly tools and components, then begin to join, including removable connections like spool, net tip, non-detachable connection including water and joint heater foot, etc.. To put in the spool (ceramic spool), fix the gland pin using a torque wrench or lock the ceramic spool using a socket torque wrench. The tub faucet ought to be set up with all the water separator switch.
The next step is to check the water. First, clamp the faucet onto the test seat in accordance with the working condition. Open the left and right inlet valves , shut the spool, and then flush the inner part of the faucet ahead. Next the spool to put in the internet tip pad and web suggestion, and then use a wrench and other resources to softly tighten. No water seepage is essential. Don't lock the components too difficult to prevent harm.
The following step is that the pressure evaluation. All sealing surfaces assessed with no leakage are all qualified. Ultimately, attach accessories, along with a wipe packaging box. Throughout the procedure for quality, there's an inspection procedure, Operator self-test, and Sampling review of the completed product.
Following the final product of the taps is put into storage, then the final product inspector carries about the sampling review. The review items include casting coating, thread coating, look quality, meeting, marking, spool sealing evaluation, faucet sealing functionality evaluation, etc.. Strictly apply the sampling strategy and estimating principle. Adhere to the previous step of the caliber of taps.