Analysis Of The French Market In 2021: Average Price Of Sanitary Ware Is Low, And The Online Price Of Accessories Is On The Rise
According to the French Bathroom Association report, in 2021, the French bathroom industry sales (manufacturer ex-factory sales) reached 1.983 billion euros, an increase of 15%. Sales growth reached 17 percent. Each of taps and fittings, showers and bathtubs, bathroom furniture and ceramics accounted for one-third.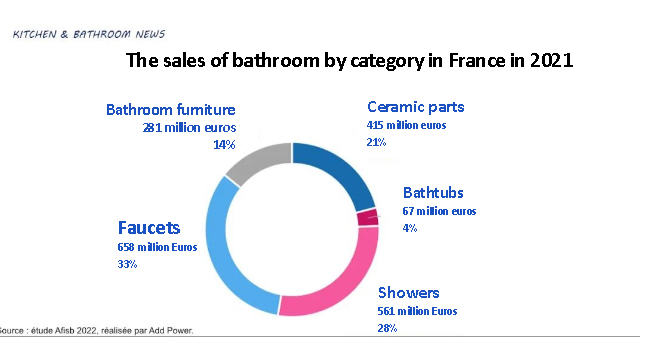 The average price is lower in 2021 compared to 2019. Sales increase in volume without price increase. However, in some categories, sales growth is greater than volume growth for sanitary ceramics, bathtubs, sump and showers. Sales of faucets and showers, among others, increased in volume but not price. Sales of faucets increased by 11% and sales increased by 15%. Shower doors and shower screens saw an 11% increase in sales and a 12% increase in volume. Its average price is going down.
Among them, sales of sanitary ceramics reached 415 million euros (excluding chassis), with a total of 7.78 million pieces. Of these, sales of toilets reached 4.5 million (excluding gynecological washers). This was sold mainly in the form of sets. It has vertical (3.2 million) and suspended (500,000), accounting for two-thirds of the total number of ceramic pieces (including sinks and tank holders), while being worth less than half. In contrast, the number of brackets reached 925,000 sets. It was worth 123 million euros, or 12% of the total.
In 2021, two-thirds of the 600,000 bathtubs sold will be made of resin. The number of other synthetic materials is less than 10%, accounting for about 20% of the total value. There were 9,000 single-system whirlpool tubs sold in 2021, down 2% compared to 2019. More than three-quarters of French consumers prefer to use mixed system bathtubs.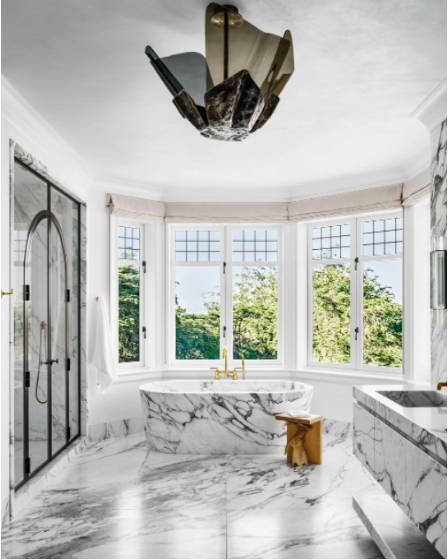 According to rough estimates, of the 1.2 million shower trays sold in 2021 (worth €167 million, up 16% year-on-year), about 550,000 are in the ceramic category, with the rest made of synthetic materials (including resin) or cast iron.
The shower market accounts for 18% of the bathroom industry and is mainly divided into shower doors, shower enclosures and shower screens. It has sold 2 million units worth 350 million euros, an increase of 23% year-on-year. Shower doors accounted for 61% of the total value and 59% of the total sales volume. Shower screens accounted for 10% of the total value and 17% of the total sales. Shower enclosures accounted for 29% of the total value and 24% of the total sales volume.
Driven by the French housing assistance program MaPrimAdapt, it aims to renovate 400,000 housing units between 2019 and 2022. Sales of showers reached 90,000 units with a total value of 44 million euros, up 35% year-on-year. Sales of accessories such as faucets reached €658 million, an increase of 11% year-on-year. Hybrid faucets accounted for 26% of the total amount and 41% of the total.
Sales of bathroom furniture reached 281 million euros, up 15 percent year-on-year. Its growth rate increased by 11 points. Among them, 34% were flat-pack furniture (sets) and 66% were assembled furniture. Its main channel is still mass retail, which accounts for 50% of the total channel value. The specialty channel in places such as building materials superstores such as Leroy Merlin accounted for 7%, or 1.688 billion euros.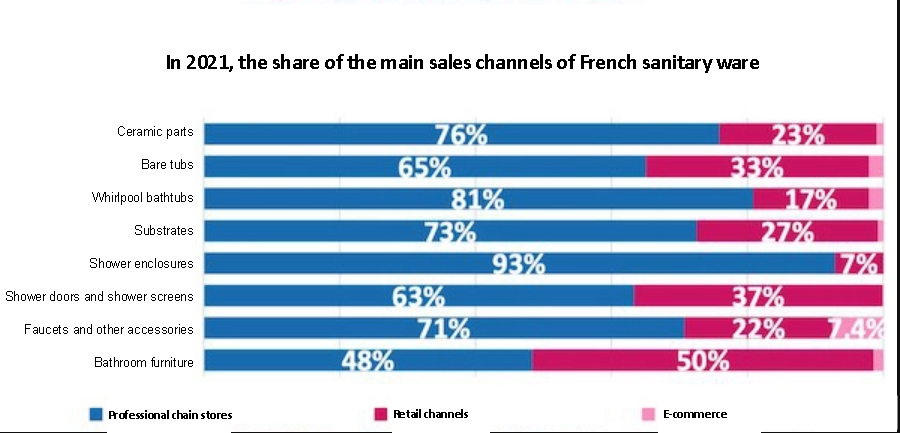 The French e-commerce channel is growing rapidly. In all categories, the e-commerce channel of faucets accounted for 7.4% of the market share, while the shower room has not developed significantly for the time being.