India Features | Driven By Real Estate, Less And Highly Fragmented Large Bathroom Enterprises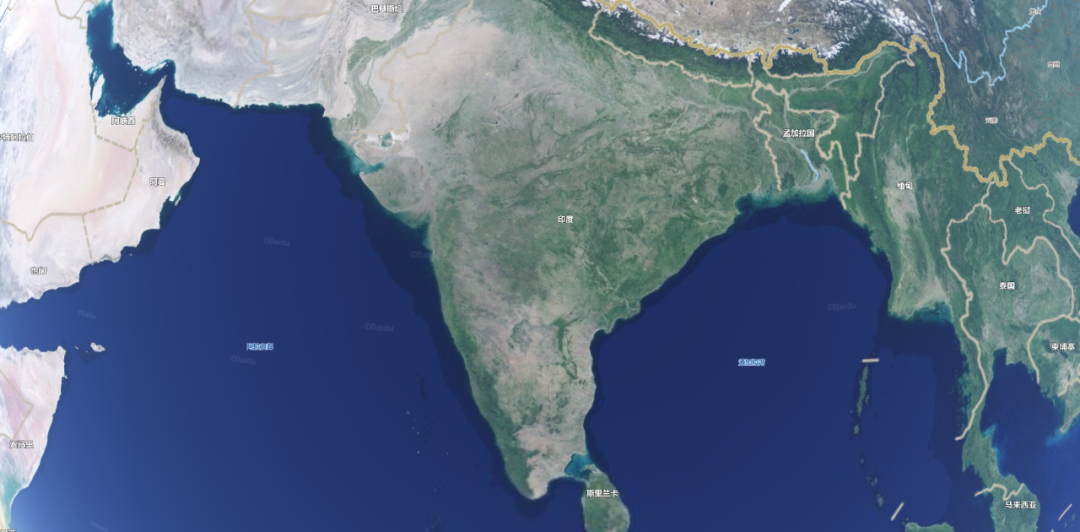 The Indian ceramic, bathroom and paint building materials industry is fragmented. Most of them are small workshops with no organized sector and a few large enterprises with organized sector. The industry enjoys some inherent advantages, such as abundant local raw materials and low labor costs. Organized sector enterprises account for about half of the market size. A few large local players such as Kajaria Ceramics, Cera and Asian Granito and Roca India, Lixil, etc. control the majority of the market share, but the size of the largest local Indian companies does not exceed $2 billion.

Indian ceramic bathroom listed companies
There are many Indian ceramic clusters such as Thangarh, Virudhachalam, Himatnagar, Khurja, Palpara, and East Godavari and West Godavari. Although ceramic clusters are spread across different states of India, Morbi in Gujarat alone accounts for about 90% of the market share of ceramic products. In addition, the Thangarh cluster in Gujarat is dominated by low-end sanitary ware with a size of about 20 million Euros.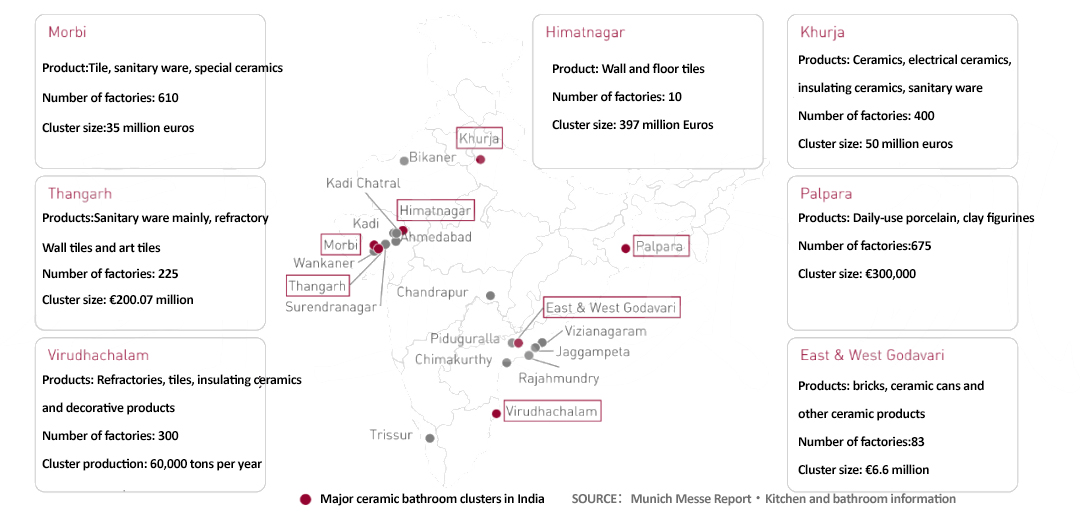 Morbi – Cluster Highlights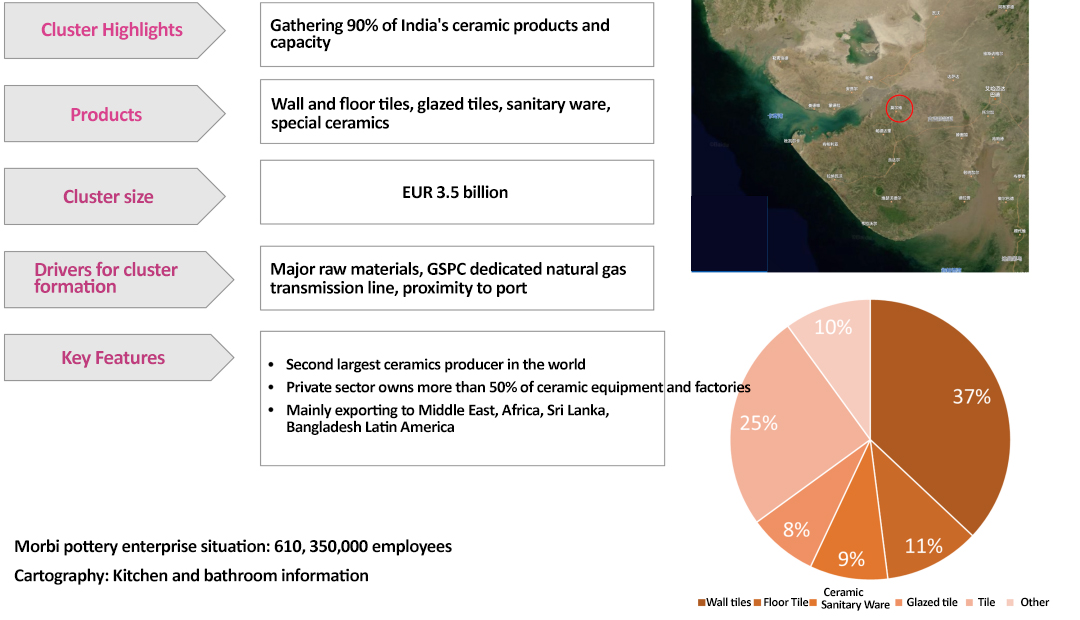 While the major raw materials in Morbi are sourced from Gujarat and other states, Thangarh mainly uses local raw materials. Natural gas is the main source of fuel for Gujarat's ceramic industry.
The Indian industry has also now shifted from traditional products such as red tiles to other value-added products such as glazed and polished tiles. These value-added products are growing faster and gaining share in the overall product segment.
Another trend in the Indian ceramic sanitary ware industry is outsourcing of production. Most of the large players are adopting this asset-light approach by utilizing surplus capacity in the unorganized sector rather than undertaking asset-heavy expansion. Government policy guidance has been very helpful in helping companies in this sector to realize their full potential.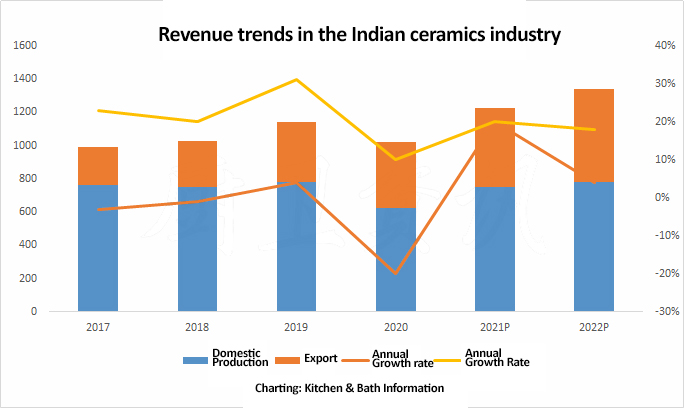 In recent years, the Indian government has introduced several programs to boost economic activity related to real estate policy and urban transformation, in addition to anti-dumping duties against other countries, in order to promote the growth of domestic manufacturing. In addition, the MSME program, promoted by the Indian government as part of the Aatmanirbhar Bharat package on cluster development, is also applicable to small-scale ceramic units and clusters.
CRISIL Research estimates the overall sales of the Indian tile and sanitary ware industry to be Rs. 320 billion-Rs. 325 billion in FY 2019. Tiles account for 85% of the sector (or Rs. 270-2750 crore) and sanitary ware 15% (Rs. 450-500 crore).
Major ceramic sanitary ware players with organized sectors include Kajaria Ceramics Ltd, Somany Ceramics Ltd, and cera, among others. The Morbi region in western Gujarat is the largest tile manufacturing center in India.
In terms of sanitaryware, Hindware Home Retail Pvt , Parryware Roca Pvt and Cera Sanitaryware hold 60-75% of the organized sector, while the remaining SMEs account for 25-40%.
In addition, products such as showers, plumbing and coatings are mainly property driven. Driven by the "Housing for All Program" policy in recent years, the plumbing category has the highest CAGR and the tile and sanitary ware the lowest.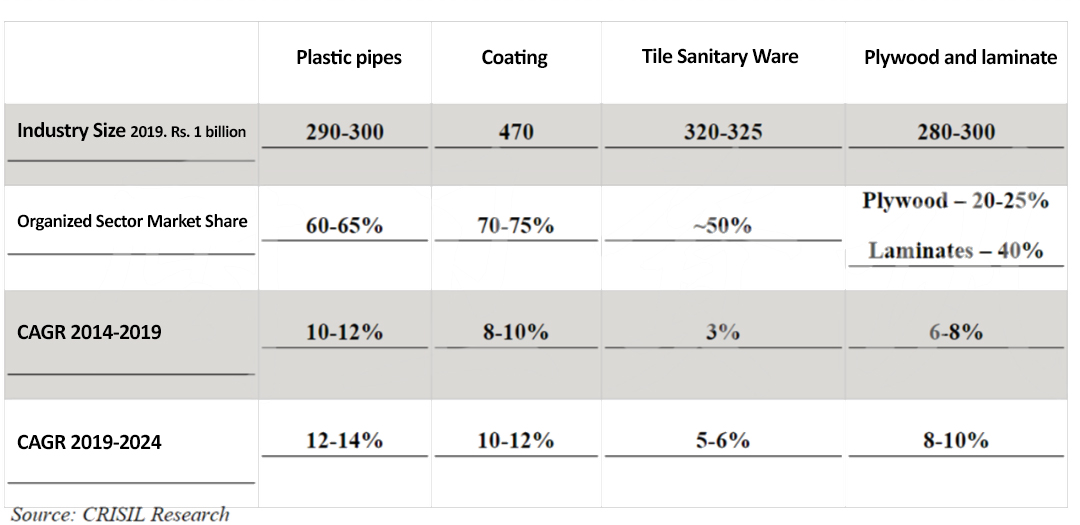 The organized sector in the plumbing industry accounts for 60-65% of the total. Depending on the category, the share of organized players varies accordingly. Supreme Industries enjoys the largest market share of plumbing in India at around 11% as of FY2019, followed by Finolex Industries (9%) and Ashirvad Pipes (9%). Prince Pipes and Fittings' share increased from 4.5% in FY2016 to 5% in FY2019.
The per capita demand for coatings in India remains very low. 3.5-4.0 kg per year, compared to about 6 kg in Southeast Asia. The per capita paint in developed countries is 23 kg and the global average is 12-15 kg. CRISIL Research estimates that the paint industry will have a revenue growth rate of about 9% CAGR over the next five financial years. This is mainly due to growth in key sectors such as real estate and automotive.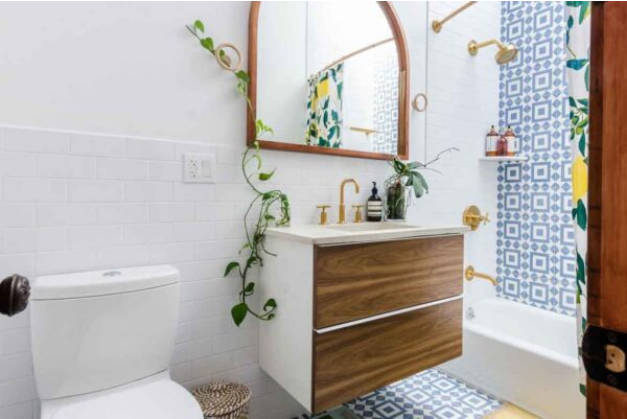 Source: India listed companies' financial results, CRISIL report