Bathroom Business School
Recently, MARCO POLO Technology Co., Ltd. and Qingdao Fashion MARCO POLO Kitchen & Bath Co., Ltd. and other seven defendants were ordered to pay a total of 2.7 million yuan in economic losses to the plaintiff Guangdong Weimei Ceramics Co, Ltd. for infringement of the trademark right of "MARCO POLO" and unfair competition. This is the highest award in the MARCO POLO trademark defense case. In addition, in a counterfeiting case of Zhong Yu Kitchen and Bathroom that came to light at the same time, it was a decoration company that "handled" the case. This is also noteworthy.
Substituting "MACEP010" for "MARCO POLO"
Seven defendants were fined 2.7 million yuan
According to MARCO POLO news channel, there are seven defendants in this case, namely MARCO POLO Technology Co, Ltd, Qingdao Fashion MARCO POLO Kitchen & Sanitary Co, Ltd, Qingdao Gold Home Kitchen & Sanitary Co, Ltd, Foshan Chuangu Electric Co, Ltd and its controllers Liao XX, Huang XX, Huang XX. The seven defendants used the "MACEP010" mark, which is similar to the MARCO POLO trademark, on their products such as toilets, range hoods and gas cookers.
Defendant 1 is "MARCO POLO Technology Co., Ltd." and Defendant 2 is "Qingdao Fashion MARCO POLO Kitchen & Sanitary Co., Ltd." using "MARCO POLO" as the company name without authorization and clearly marking "MARCO POLO Technology Co.
MARCO POLO believes that the actions of the seven defendants constitute trademark infringement and unfair competition, and sued the Shenzhen Intermediate People's Court. They requested that the seven defendants be ordered to stop the infringement, change their corporate names, and compensate them for economic losses and reasonable expenses for defending their rights, totaling RMB 3.7 million. Finally, the court ordered the defendants to stop the infringement, stop using the enterprise name containing the word "MARCO POLO", and compensate for their economic losses and reasonable expenses for the maintenance of their rights, totaling 2.7 million yuan.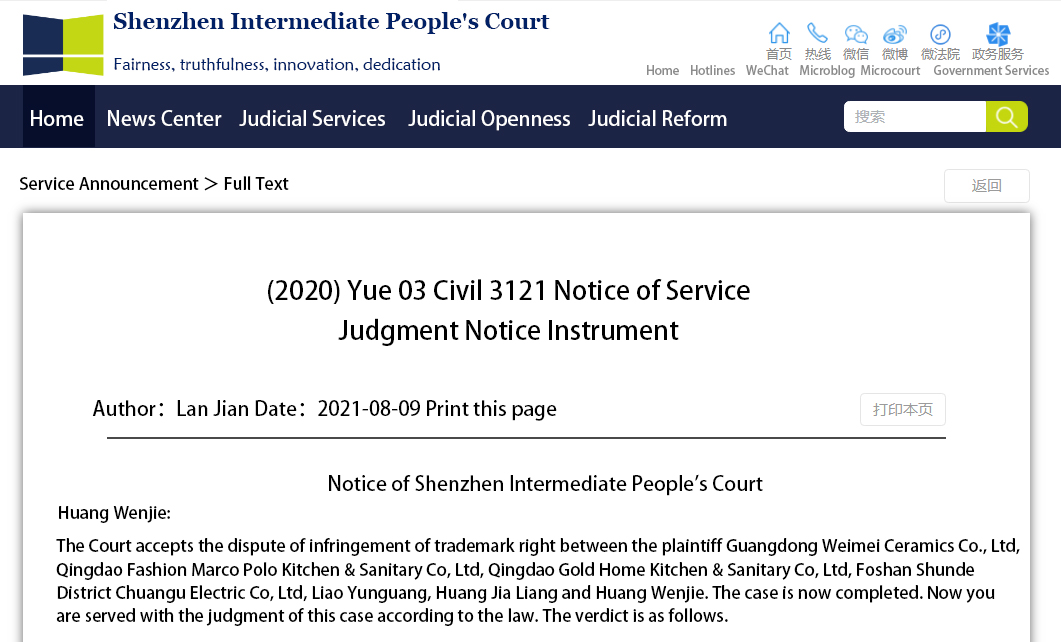 It is understood that MARCO POLO is a famous tile brand in China. MARCO POLO's products include matte tiles, polished tiles, glazed tiles, interior porcelain tiles, ceramic slabs, granite, etc., and did not launch bathroom products. However, many unscrupulous businessmen have taken advantage of MARCO POLO's popularity to sell counterfeit sanitary products to the market. MARCO POLO has also become a non-bathroom brand with more infringements in the bathroom industry.
With 64,000 counterfeit sanitary ware instead of 440,000 genuine products,
Zhong Yu kitchen and bathroom were also infringed
In addition to MARCO POLO, in the recently exposed cases of alleged infringement of sanitary ware products, there is also the infringement of Zhongyu kitchen and bathroom.  In this case, the customer did not personally handle the procurement process. The counterfeit goods flowed into the construction project through the renovation company, which was much less likely to be noticed. This is noteworthy.
On August 16, Fuzhou News published an article titled "Gulou District Procuratorate Incorporates Protection of Intellectual Property Rights into the List of Practical Things to Do", revealing the modus operandi of the renovation company. According to the report, Zhongyu Kitchen & Bath visited the market earlier and found that Tang and Yu obtained a project in Yongtai with a total price of more than 440,000 yuan for the installation of bathroom products by accepting subcontracts. Although they knew it was fake, the two still spent more than $64,000 to purchase more than 400 pieces of counterfeit brand bathroom equipment from Hong.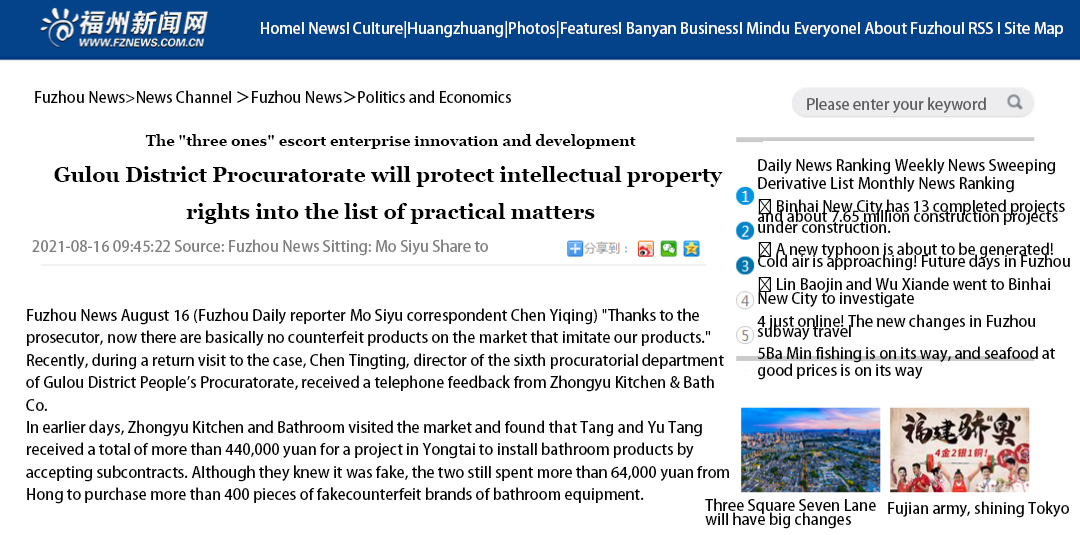 Subsequently, the Gulou District Prosecutor's Office used a combination of initiatives such as plea and penalty leniency in accordance with the law, and allowed the suspects to take the initiative to compensate the enterprises for their losses. The prosecutor also issued prosecution recommendations to the engineering supervisor to systematically curb the entry of counterfeit goods into the sales and installation process, realizing multiple effects in one case.
Beware of counterfeit sanitary ware flowing into terminals through engineering channels
Compared with the direct sale of counterfeit sanitary products, the flow of counterfeit products into the terminal market through engineering channels such as renovation companies is even more defensible. Kitchen & Bathroom Headlines has reported many such cases before. Among them, hotels, nursing homes, schools and other public places are easy places for unscrupulous businesses to "fish in troubled waters".
■ Hotels
According to Jiaxing Nanhu District Market Supervision Bureau news, previously, a hotel in Nanhu District entrusted a decoration company in charge of the renovation of hotel rooms in Jiaxing. During the period, the company installed 44 sets of trademark "JOMOO" shower and basin faucet, and 44 trademark "ARROW" toilet seat in the hotel. After identification, these products are not genuine. Subsequently, the staff carried out a case investigation, ordered the decoration company to correct the violation, and imposed a fine.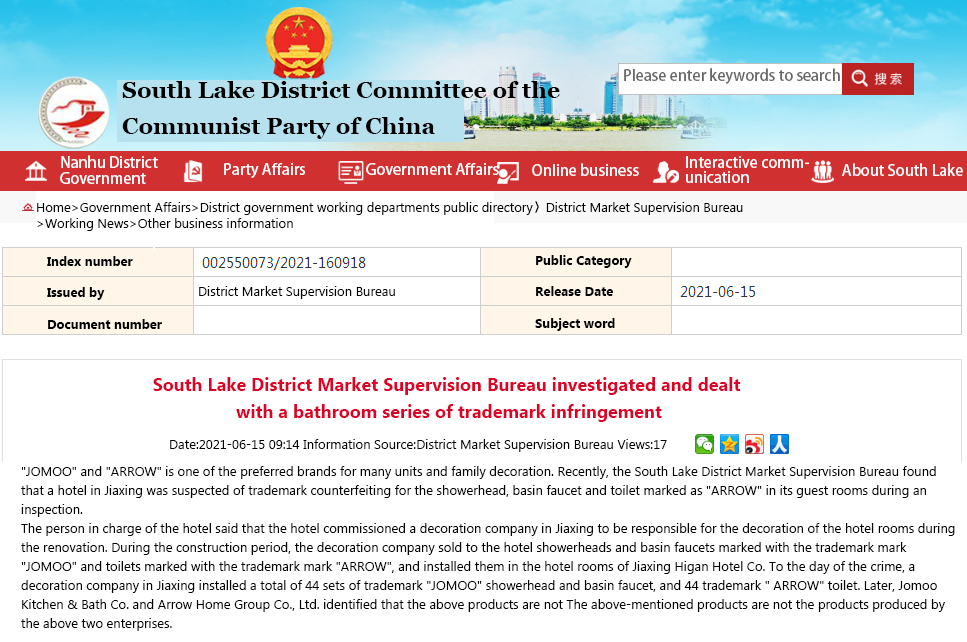 ■ Care homes
It was reported that there was a suspect surnamed Zhou in Zhangjiagang. He sold counterfeit Arrow products with a value of more than RMB 200,000 to a care home for the home's decoration project over several years. In February this year, the suspect was sentenced to six months in prison, suspended for one year, and fined 40,000 yuan.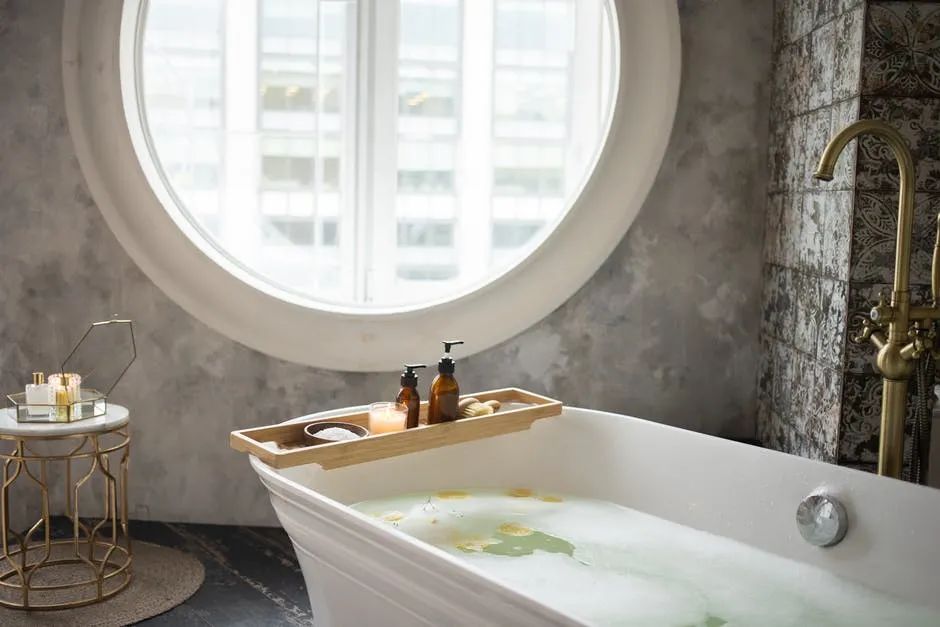 ■ School
In July 2019, Yiwu City twenty-three miles of regulatory authorities received a report that cottage bathroom products were mixed into the campus renovation project of Yiwu City Sixth Middle School. The batch involved a total of 26 toilets and 200 squatting toilets. Staff rushed to the scene and found that in addition to two authentic samples of these squatting toilets, the rest are cottage Kohler.
It can be seen that, in addition to consumers in the building materials market when buying sanitary products need to sharpen their eyes, as the holder or person in charge of public places, when carrying out renovations or product purchases, it is also best to choose the fame, scale, good qualifications of the renovation company. You should avoid looking for small businesses that have been registered for a short time, or even scattered renovation guerrillas.  This will ensure the quality of the renovation while also ensuring that the parts used are not counterfeited.