Bathroom Cabinets Hit The World. In 2021, It Had Revenues Of More Than 320 Million. This Company Listed On The New Third Board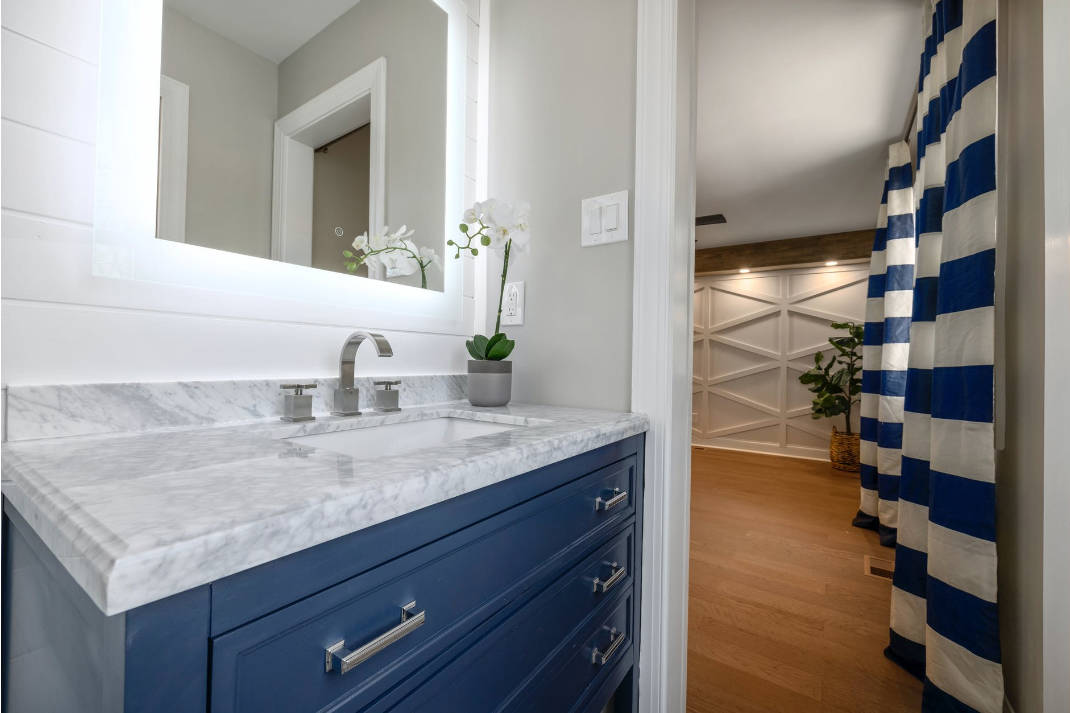 On March 8, Zhejiang Dona Home Company Limited (hereinafter referred to as "Dona Home") disclosed its public transfer prospectus. The company's listing materials on the National Small and Medium Enterprise Stock Transfer System (New Third Board) were officially accepted. The total number of listed shares is 35 million shares, and the sponsoring broker is Xiangcai Securities Co.
Revenue In 2021 Exceeded 320 Million, With A Year-On-Year Growth Trend
According to the public transfer prospectus, Dona Home was formerly known as Linhai Dona Sanitary Ware Co. It was established on February 2, 2008. On October 29, 2021, the whole was changed to a joint-stock company. The registered capital of the company is 35 million yuan. Its legal representative is Shen Rongyan, who directly holds 22,312,500 shares of the company, accounting for 63.75% of the total share capital of the company.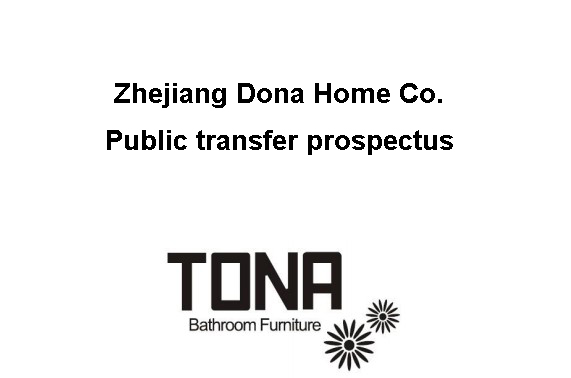 The main business of Tona Home is the design, research and development, production and sales of bathroom home products, covering the full range of bathroom furniture, bathtubs, bathrooms, intelligent toilets and other bathroom home products. The company's "TONA" brand was awarded as "Zhejiang Export Famous Brand" by the Department of Commerce of Zhejiang Province. It has been recognized as a national high-tech enterprise for many years and has been awarded the title of "Zhejiang Patent Demonstration Enterprise". Its products have won the German iF product design award, Cotton Tree China Design Award, Milan Allora "Best Design Award" and other awards.
It is revealed that Dona Home mainly adopts the "sales-based production" model. Its process mainly includes customer order, production department arranges production, warehouse arranges delivery and customer receipt. In 2019, 2020 and January-October 2021, Dana Home's revenue will be 242 million yuan, 298 million yuan and 318 million yuan respectively, showing an overall trend of year-on-year growth. Its corresponding net profits are RMB 0.12 billion, RMB 0.27 billion and RMB 0.18 billion, respectively, with a growth curve different from that of operating income.
| | | | |
| --- | --- | --- | --- |
| Item | January-October 2021 | Year 2020 | Year 2019 |
| Operating income (RMB million) | 31,833.01 | 29,799.14 | 24,234.60 |
| Net profit (RMB million) | 1,823.02 | 2,657.86 | 1,228.80 |
| Net profit attributable to shareholders of the company applying for listing (RMB million) | 1,846.14 | 2,636.14 | 1,236.48 |
| Net profit after non-recurring gains and losses (RMB million) | 1,703.36 | 2,375.26 | 1,013.77 |
| Net profit after extraordinary gain or loss attributable to shareholders of the company applying for listing (RMB million) | 1,726.48 | 2,353.54 | 1,021.46 |
| Gross Profit Margin | 26.60% | 30.88% | 28.50% |
| Weighted Return on Net Assets | 12.64% | 21.00% | 11.65% |
| Weighted average return on net assets (net of non-recurring gains and losses) | 11.82% | 18.75% | 9.62% |
| Basic earnings per share (yuan/share) | 0.53 | | |
| Diluted earnings per share (yuan/share) | 0.53 | | |
| Accounts Receivable Turnover Ratio (times) | 11.04 | 12.21 | 12.12 |
| Inventory turnover rate (times) | 3.56 | 4.00 | 4.49 |
| Net cash flow from operating activities (RMB million) | 1,821.13 | 5,302.87 | 2,010.91 |
| Net cash flow from operating activities per share (yuan/share) | 0.52 | 1.52 | 0.57 |
By product category, bathroom furniture is the main product of Dona Home. This category accounted for 89.81% of the company's total sales from January to October 2021, while bathtub bathrooms, smart toilets and others accounted for 4.15%, 2.20% and 3.85%, respectively. Although the smart toilet accounted for a small percentage, the growth was bright relative to the 0.03% share in 2019. However, Dona Home mentioned that the company has not yet established a production line for smart toilets. The company uses its own mastered technology to complete the design of toilets, based on the production of products to other manufacturers to perform. Other manufacturers produce and complete the Dana brand labeling in the original factory and then sell.
Unit: RMB
Product or Business
January – October 2021
Year 2020
Year 2019
Amount
Percentage
Amount
Percentage
Amount
Percentage
Bathtub Bathroom
285,886,360.53
89.81%
271,893,306.89
91.24%
232,255,998.58
95.84%
Intelligent Toilet
13,195,948.26
4.15%
15,136,061.06
5.08%
5,718,138.11
2.36%
Others
6,996,479.49
2.20%
2,754,592.73
0.92%
62,675.63
0.03%
Total
12,251,335.31
3.85%
8,207,399.62
2.75%
4,309,209.09
1.78%
Product or Business
318430,123.59
100.00%
297,991,360.30
100.00%
242,346,021.41
100.00%
The Export Share Is Over 80%. It Has Subsidiaries In The United States, Germany, Indonesia And Other Countries
According to the public transfer prospectus, the export business is the main business of Dona Home. In 2019, 2020 and January-October 2021, the amount of export sales revenue in the company's main business revenue is 217 million yuan, 243 million yuan and 250 million yuan, accounting for 89.51%, 81.57% and 78.54% of the main business revenue, respectively. It has a relatively high percentage of revenue from export sales. Dona Home's main export destinations are Europe, America and other places, and the main settlement currency is the US dollar.
The public transfer prospectus also disclosed the top five sales customers of Dona Home in recent years. Among them, from January to October 2021, the top five customers were LEGIO SALES BELGIUM N.V., MAXEDA DIY GROUP, DISTRIBUTION SANITAI RE CHAUFFAGE, NEXTREND GMBH, CUBICO UK LTD. Their total contribution to the operating revenue was 0.95 billion yuan, accounting for 29.88% of the operating revenue.
Unit: RMB
Business Category
Sales of bathroom products
No.
Customer Name
Related party or not
Sales Content
Amount
Percentage of operating revenue
1
LEGIO SALES BELGIUM N. V.
No
Bathroom Home Products
25,008,742.75
7.86%
2
MAXEDA DIY GROUP
No
Bathroom Home Products
24,186,399.96
7.60%
3
DISTRIBUTION SANITAI RE CHAUFFAGE
No
Bathroom Home Products
17,648,257.52
5.54%
4
NEXTREND GMBH
No
Bathroom Home Products
16,832,789.93
5.29%
5
CUBICO UK LTD.
No
Bathroom Home Products
11,436,416.33
3.59%
Total
—
—
95,112,606.49
29.88%
Dona Home mainly sells to the outside world in the form of ODM. They expand their overseas customers mainly through channels such as Canton Fair and KBIS exhibition. They will get customer information at the fair and determine the customer's intention to order through continuous communication and sending product information or samples. Its foreign customers are mainly located in Europe, North America and other regions. In addition, Dana Home currently has a number of subsidiaries in the United States, Germany, Indonesia and other countries.
Dana Home said that the company will expand its domestic and international business simultaneously in the future. Among them, domestic sales will continue to promote the dual-engine strategy of channel and engineering to accelerate the overall expansion of the market. In addition, Dana Home will make efforts in brand building, talent ladder building, product development, capacity expansion and management improvement.
Many Sanitary Ware Enterprises Have Been Listed On The "New Third Board"
The national small and medium-sized enterprise share transfer system are commonly known as the "New Third Board". This is the third national securities trading venue after the SSE and SZSE, and is also the first corporate system operating securities trading venue in China. According to public data, in 2021, the turnover of the NSST listed companies was 214.816 billion yuan, with a turnover rate of 17.66%. As of the end of December 2021, the total number of listed companies on the NSSB was 6,932, with a total market capitalization of 228.454 billion yuan and a price-to-earnings ratio of 20.48 times. Due to the relatively low threshold for listing, the New Third Board has become a preferred platform for small and medium-sized enterprises in various industries to raise funds for listing. Previously, there are also many bathroom companies that landed on the New Third Board. keyi, Mengjia intelligence, Xiwo technology were listed on the New Third Board in December 2015, August 2016, September 2021.