Bathroom Business School
In search of the trend of close contact with the natural environment, i.e. blurring the boundaries between outdoor and indoor, architecture and nature.
Designers don't just want to adapt the design of the interior to the exterior. They also want to explore how home life would change if these boundaries were relaxed or eliminated altogether.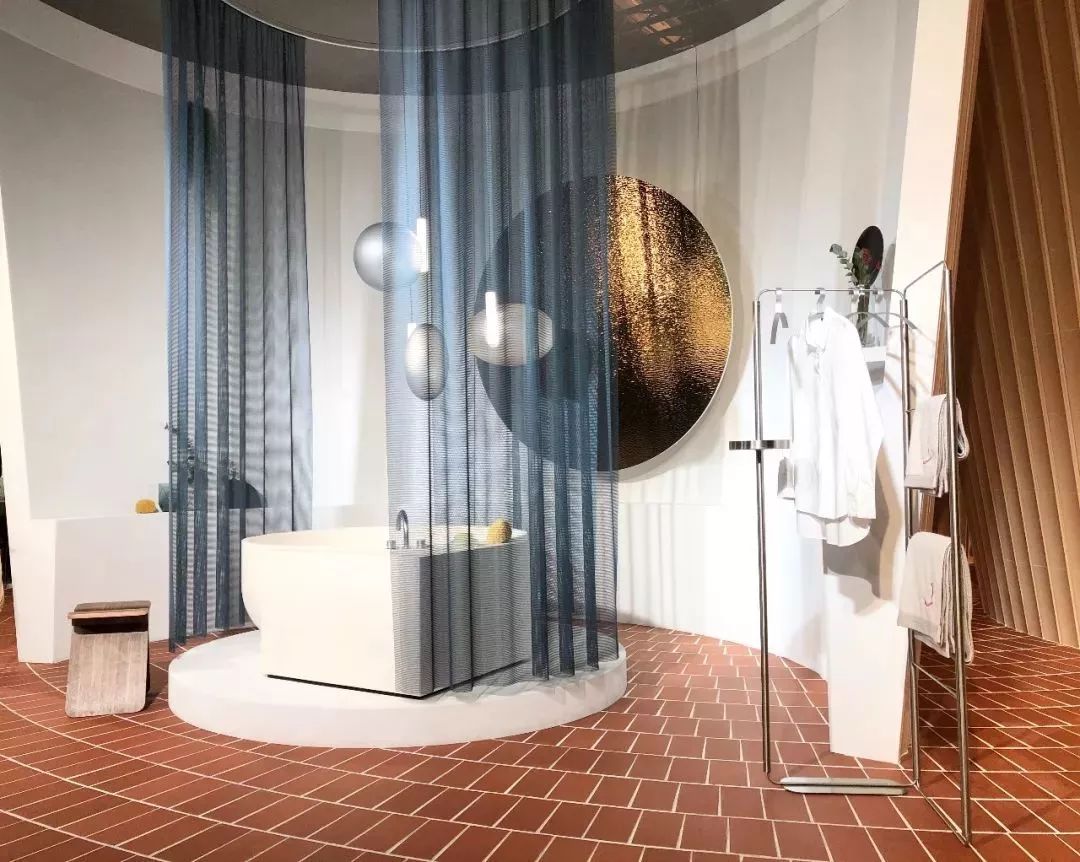 This is the future of the bathroom space on the world design stage: the bathroom is no longer a secluded, private space, hidden at the back of the house.
In fact, it is inextricably linked to the bedroom or other rooms, and can even be a border area between the garden and the water flow.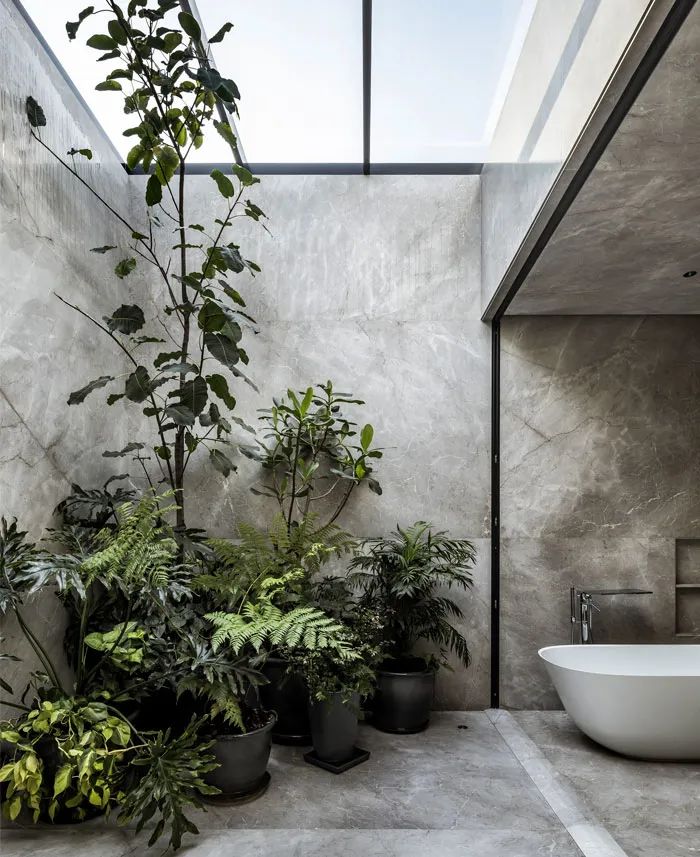 A trend that has been keenly observed in design scenes and bathroom decor compositions is that more and more designers are looking for rough textures and focal points of natural presence.
The rough nature of those rocks, stones and materials can bring a natural and balanced touch to our high-speed, high-tech lives, bringing stimulation to our senses. It is quite fashionable and hot when it comes to bathroom design.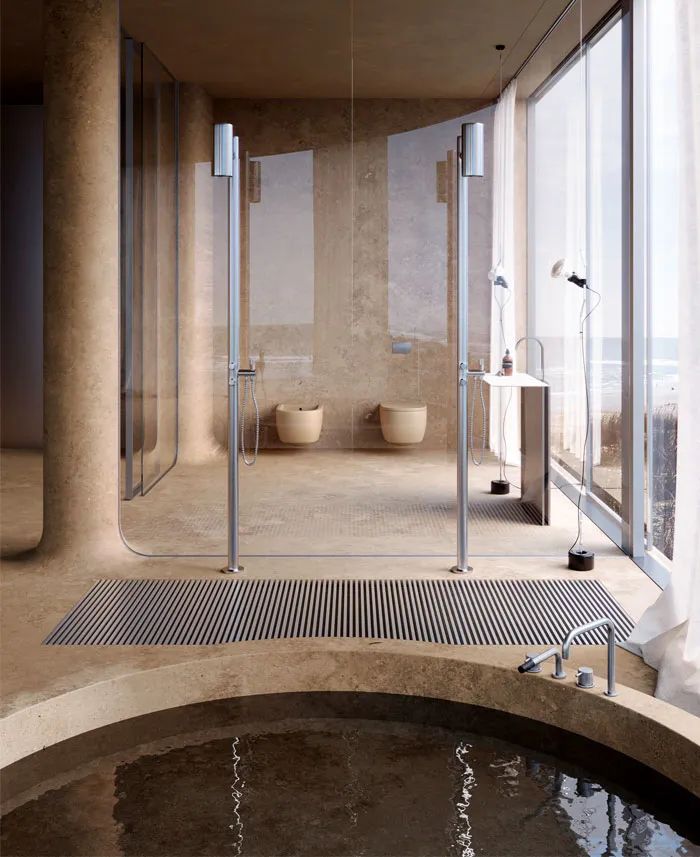 Image credit Sivak + Partners Studio
As Dana Tomic Hughes puts it, this is a movement with a "primitive-era modern design – a romanticized Stone Age aesthetic".
As a result, the unfinished and unfinished details of stone, marble or wood can often become a powerful focal point for contemporary bathroom design and garden landscapes.
? Crema Violet Onyx by Decus Interiors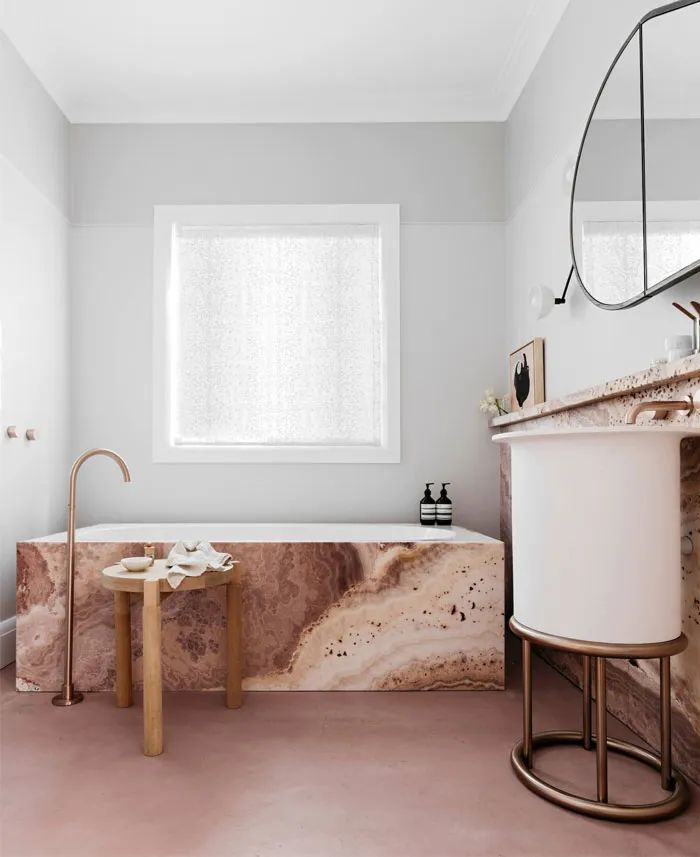 Crema Violet Onyx is a rare masterpiece. Designed by Decus Interiors, this chic, pink bathroom features Crema Violet Onyx.
The natural beauty of the stone is accented with white elements and sleek rose gold faucets, creating an endless sense of contrast and striking depth of color. The haloed waves of pink, violet and white are vivid proof of the original aesthetic trend of picturesque beauty.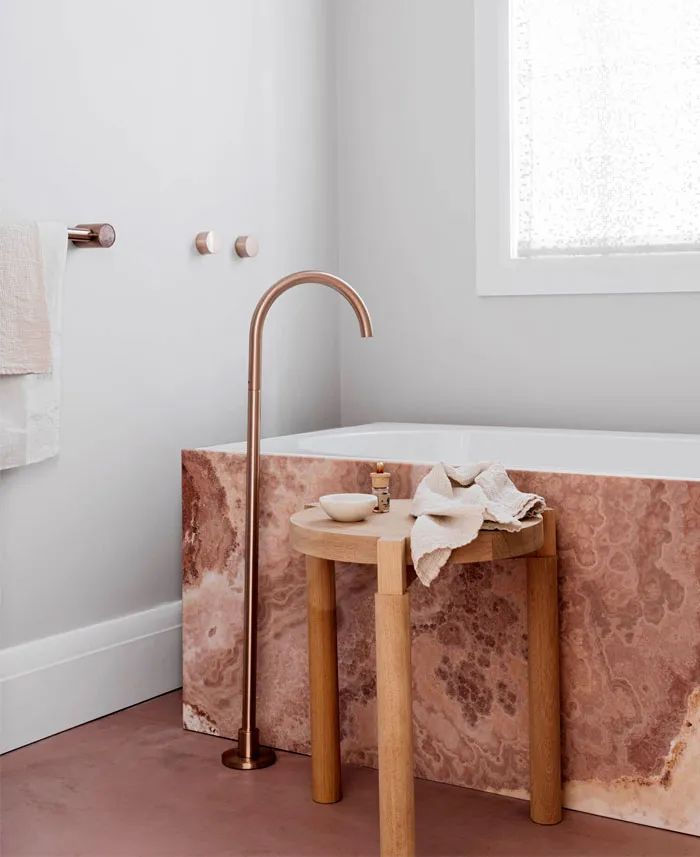 Another example of art that combines modern design creativity with the organic emanations of nature is the Antonio Lupi Design washbasin.
With its unique rectangular corners, smooth texture and elegant personality (somewhat reminiscent of a pinstripe suit), this bath combines modern technology with the classical beauty of natural marble.
? Washbasin by Antonio Lupi Design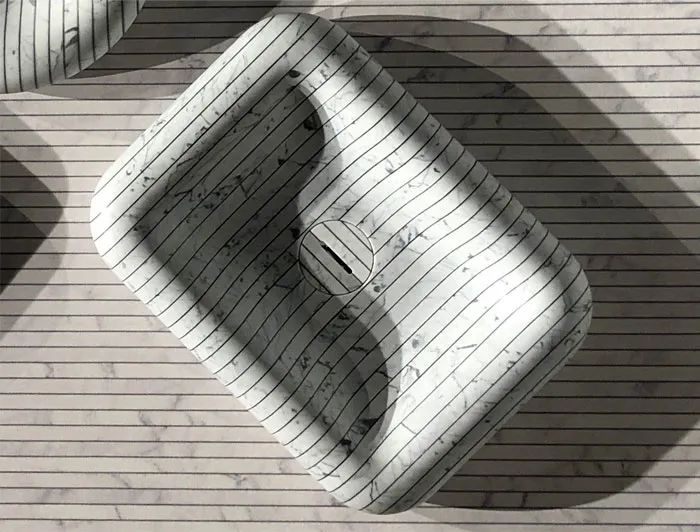 This modern bathroom decor glues together Carrara marble slabs and colored resin stripes. A dynamic contrast exudes between the natural material and the glue, with a stunning final visual effect and stylish appeal.
? Kreoo Collection by Enzo Berti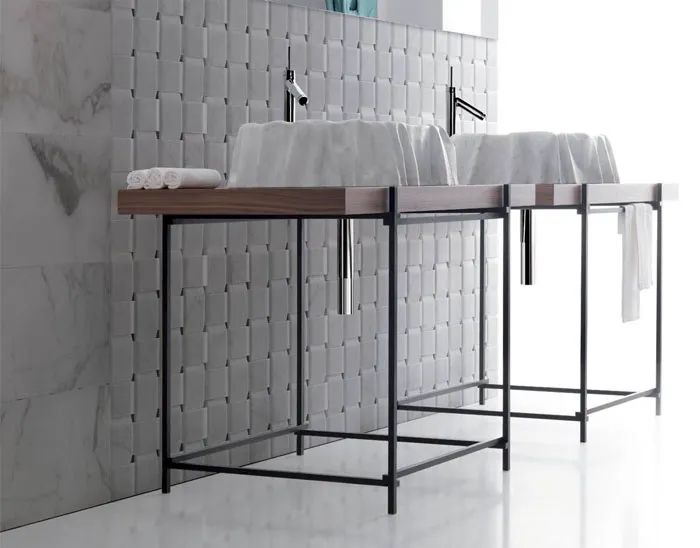 Enzo Berti's Kreoo 'Nami' bathroom sink also has a strong sculptural character. As a tribute to Italian descendants and world-renowned artists, they bring marble to life through sculpture. This impressive work of art is carved from a solid block of marble and gives Renessa's drapery an expressive flow and breeze.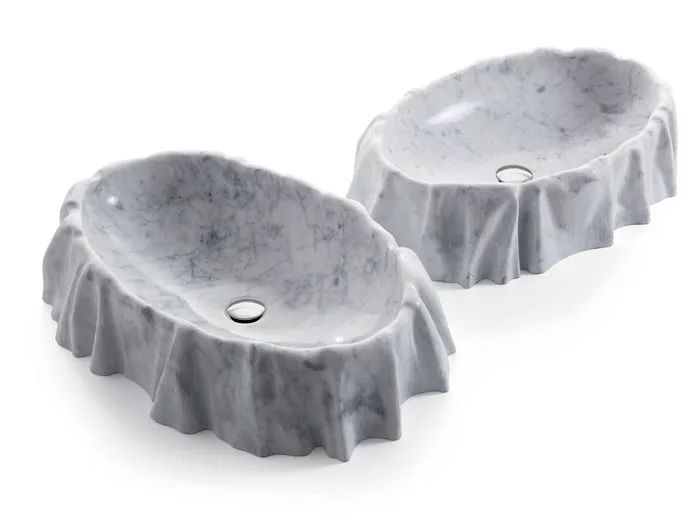 And speaking of what can be achieved with a single piece of marble or stone, here's another stunning example: like a water lily blooming in a bathroom, smooth and exquisitely beautiful – that's the feeling that Kreoo's Nabhi Collection's No. 1 sink brings to life.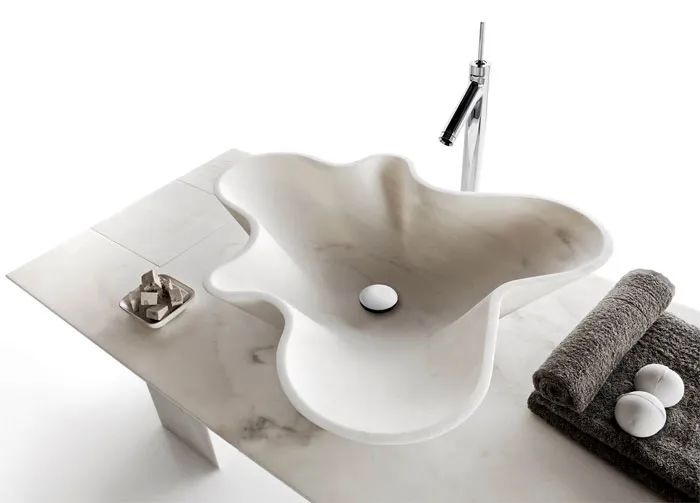 The sleek and creative bathroom project below, designed by CAON Studio and Akin Atelier, is located in the first class lounge of Singapore's Changi Airport.
Funky brass fixtures, irregular stone patterns instead of tiles, and a very thoughtful lighting program (including a skylight) soothe the mood and help passengers adjust to their surroundings after the transition of multiple time zones.
? CAON Studio and Akin Atelier design project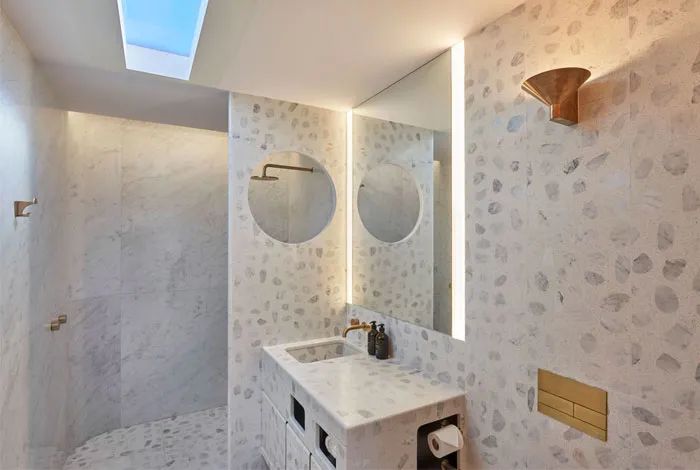 Bright and sleek, natural materials and light combine with crisp lines and modern shapes to form this complex, functional, yet unmistakably sophisticated atmosphere.
There is also a project that incorporates the rugged, raw nature of stone caves into our homes. This modern design, full of dynamic beauty, was created by the studio Otto Felix. It combines a bedroom, bathroom and garden and features a wave-like, partially separated wall of rough, fragmented and naturally textured stone.
? Otto Felix Studio Project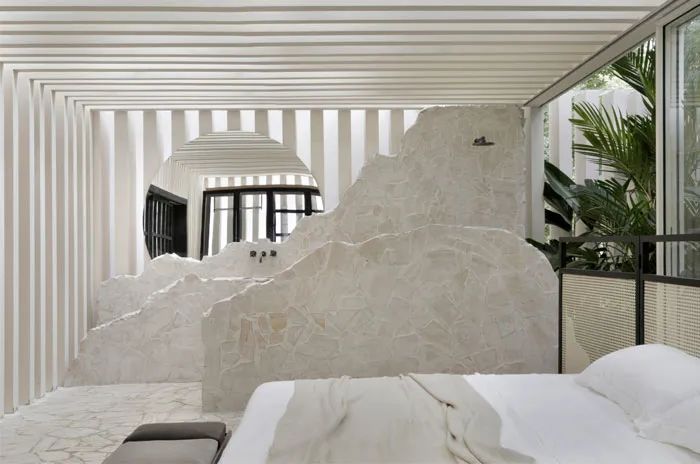 This is a surprisingly creative and artistic project, with intriguing permutations of round mirrors and rectangular stripes as a backdrop for this irregularly shaped natural structure.
Thus, these bathrooms above, which are visible in the "Stone Age aesthetic" trend, can also be quite elegant, stylish and sometimes even sophisticated.