Bathroom Business School
In the evening of April 30, Solux Technology (603992, SZ) released an announcement that the company intends to acquire 51% of Xiamen BGT Group Technology Joint Stock Company (hereinafter referred to as BGT Group) for 285.6 million yuan.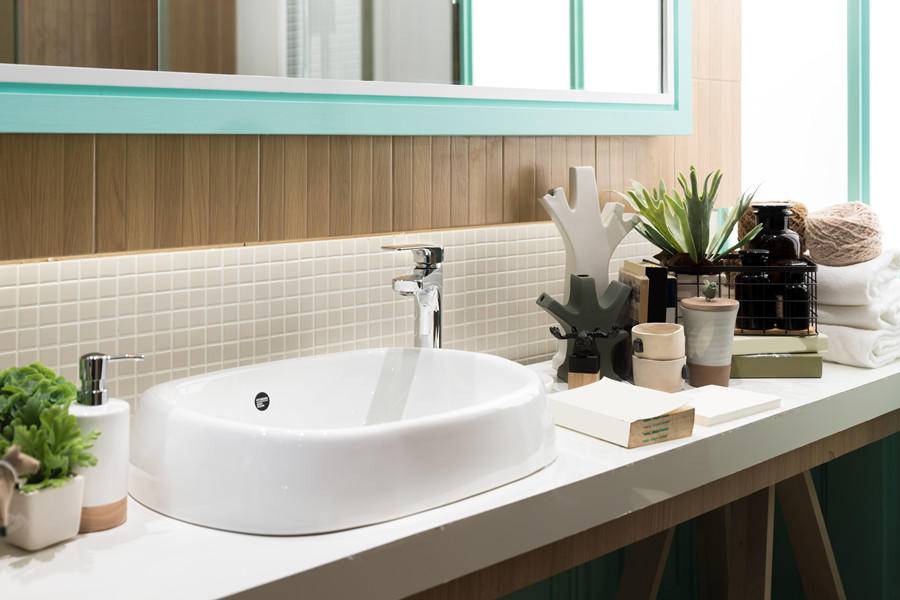 The reporter noted that since its establishment in 2004, Solux Technology has been engaged in the research, development, production and sales of bathroom accessories products. Before and after the IPO in 2018, the company's performance growth was once weak. However, last year, the company saw a double increase in main revenue and net profit.
And BGT Group, as the target of Solux Technology's current acquisition, is mainly engaged in bathroom accessories products such as toilet flaps and tank fittings, and the main raw materials required for its production are highly overlapping with Solux Technology.
Solux Technology's performance last year was explosive growth
As the initiator of this acquisition, Solux Technology's performance last year changed its weakness, with explosive growth in revenue of several products.
According to the annual report, the company achieved operating revenue of 2.035 billion yuan in 2020, up 17% year-on-year, of which, domestic operating revenue of 577 million yuan, up 10% year-on-year. Foreign operating income was 1.458 billion yuan, up 20% year-on-year. Achieved net profit attributable to the mother of RMB 270 million, an increase of 16% year-on-year.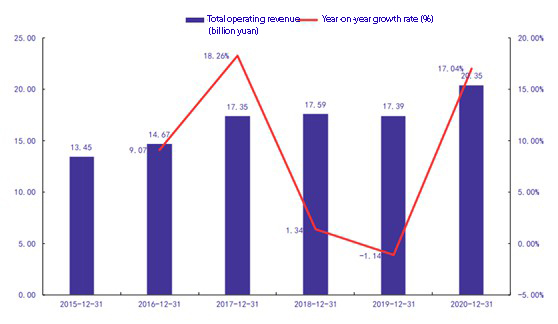 Operating revenue (billion yuan) and year-on-year growth rate (%) from 2015 to 2020 Image source: Screenshot of company announcement
In terms of revenue contribution, Solux Technology's revenue mainstay is kitchen and bathroom category products, whose operating revenue in 2020 will be about 1.848 billion yuan, up 11% year-on-year. It accounts for more than 90% of the total revenue. Furniture category products revenue of 76.0177 million yuan, with a revenue share of 3.74%, ranked second. The total revenue of beauty and health products and other businesses both exceeded 46 million yuan, accounting for about 2.26% of the total revenue.
It is worth mentioning that although the furniture category and beauty and health category products accounted for a relatively small percentage of the total revenue. However, due to market demand stimulated by the epidemic, both of them achieved 5 times and 1 times year-on-year growth, with particularly bright performance in the epidemic.
But is this explosive growth sustainable?
In terms of regions, Solux Technologies' export revenue accounted for 71.63% in 2020. The company mainly exports to North America, Europe and other regions, and the main settlement currency is the U.S. dollar. With the volatility and unpredictability of the global epidemic, Solux Technologies, which relies on foreign markets, will face great uncertainty.
In addition, from the perspective of gross margin, as a fist product, the gross margin of kitchen and bathroom products increased slightly, and it is difficult to provide more momentum for revenue growth.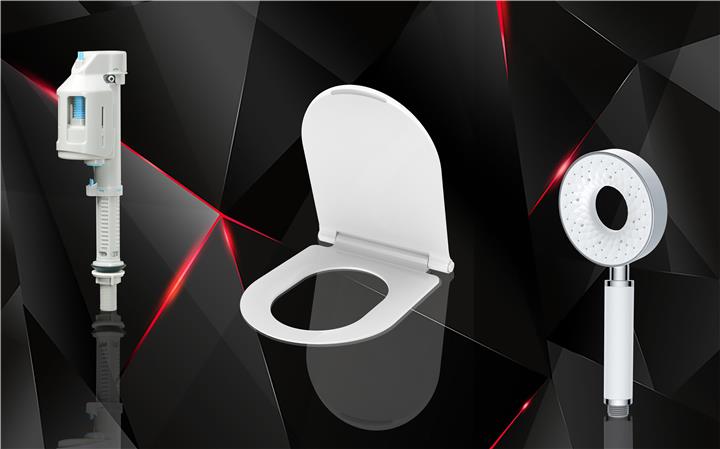 At the same time, Solux Technology is in a red sea market. According to public data, in 2020, China's residential commodity housing sales area of 1.55 billion square meters, an increase of 3.2% year-on-year, the growth rate and the last two years than a slight increase. And the urbanization rate of more than 60%, compared to the urbanization rate of about 80% in developed countries, China still has more room for development. This means that in the future domestic residential housing sales may go all the way up, kitchen and bathroom accessories industry will maintain a larger scale, but companies will also face more intense competition.
In this way, how to maintain the growth momentum of the kitchen and bathroom business has become a problem that Solux Technology must think about.
Merger and acquisition target "intelligent toilet" business attracts olive branch
As the subject of Solux Technology, BGT Group is very similar to Solux Technology in terms of its main business.
On the one hand, since its establishment in 2006, BGT Group has been deeply engaged in the sanitary field, focusing on the research and development, production and sales of sanitary products such as toilet covers, tank accessories, showerheads and intelligent toilets, and is one of the major manufacturers in the global niche product circuit.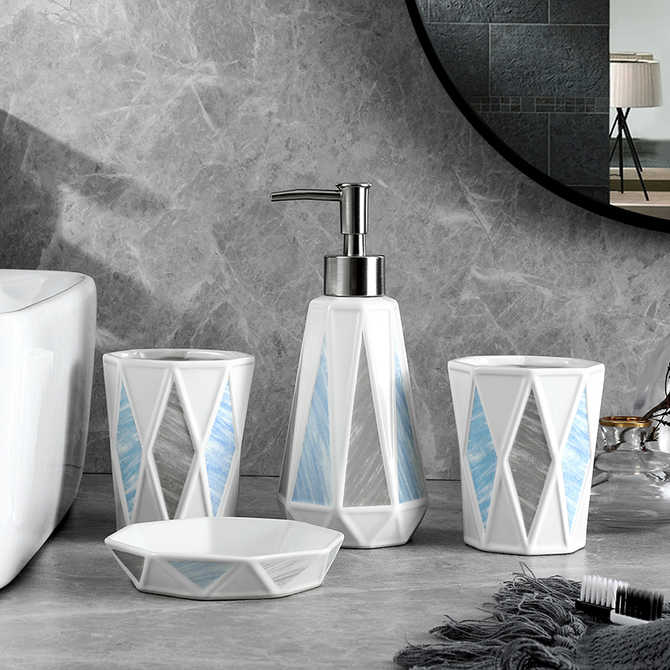 On the other hand, BGT Group has built good and stable cooperation relationship with famous sanitary ware brand manufacturers at home and abroad, and the overseas revenue accounts for half of the total revenue. As early as when it landed on the New Third Board in 2017, BGT Group's partners already covered a host of internationally renowned bathroom brand manufacturers such as Moen (Moen, USA), TOTO (TOTO, Japan), Grohe (Grohe, Germany) and international ADEO (Anda House, France), Saint-Gobain (Saint-Gobain, France), Kingfisher (Kingfisher, UK) and other The large chain of building materials retailers.
In addition, BGT Group also has a strong track record in the area of research and development. As of April 20, 2021, BGT Group has been granted 358 domestic and foreign patents, including 20 invention patents. There are 140 patents in the smart toilet category.
It is worth mentioning that in 2019, Solux Technology established a separate Intelligent Electronics Division, which is intended to provide support for the development of the company's intelligent products with underlying technologies. And the rapid growth of BGT Group's smart toilet business output is undoubtedly highly compatible with Solux Technology's development direction. Therefore, in Solux Technology's view, "this acquisition is beneficial to the company's technology accumulation and market breakthrough in the core smart home individual products and core components represented by smart toilets/smart covers, etc. on the basis of the existing smart home product layout."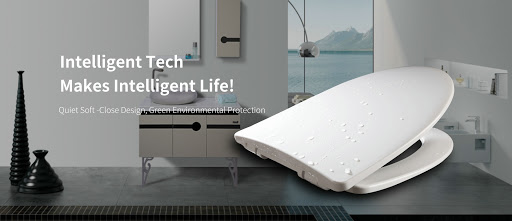 However, whether this acquisition can ultimately help Solux Technology achieve industrial integration and enrich the IDM product line depends largely on whether BGT Group is "competitive". According to the performance commitment of BGT Group, its average net profit (calculated on the basis of the lower of before/after deduction of non-recurring profit or loss, hereinafter) should not be less than RMB 56.66 million in FY 2021, FY 2022 and FY 2023. The committed net profit for the year in 2021, 2022 and 2023 is RMB50 million, RMB56 million and RMB64 million respectively.
However, there is uncertainty whether BGT Group Company can achieve the promised performance. If BGT Group Company fails to achieve the promised performance in the future, it will touch the performance compensation clause, and Solux Technology will probably face the risk of not receiving the payment of compensation.