Bathroom Business School
After Hansgrohe China raised the average price of its products by 5%, Geberit USA also recently announced that it will increase the price of its products by 3.5% from June 1, 2021. In its recently announced quarterly report, Geberit also revealed that one of the reasons for the increase in sales from January to March was an increase in product prices. geberit also expects that raw material prices for the second quarter of 2021 will increase by an additional 5% from the first quarter.
Geberit USA announced a 3.5% price increase that
Implementation from June
Geberit USA recently announced that it has decided to increase product prices by 3.5% effective June 1, 2021, taking into account factors such as rising raw material prices and the epidemic, according to foreign media CONTRACTOR.
Phil Boggs, senior vice president of sales for Geberit USA, said that every year brings new changes. Geberit USA is proud to continue to offer products to both residential and commercial customers, and he thanks customers for their support of the company. Phil Boggs revealed that a new catalog and pricing list will be available in June. He advises dealers to search the Geberit USA website for the latest product pricing.
Also according to Geberit's recently released first quarter earnings report, the price increase may not be limited to the U.S. From January to March 2021, Geberit achieved sales of CHF910 million, up 14.0% year-over-year. It achieved EBITDA (earnings before taxes, interest, depreciation and amortization) of CHF 315 million, an increase of 21.1% year-on-year.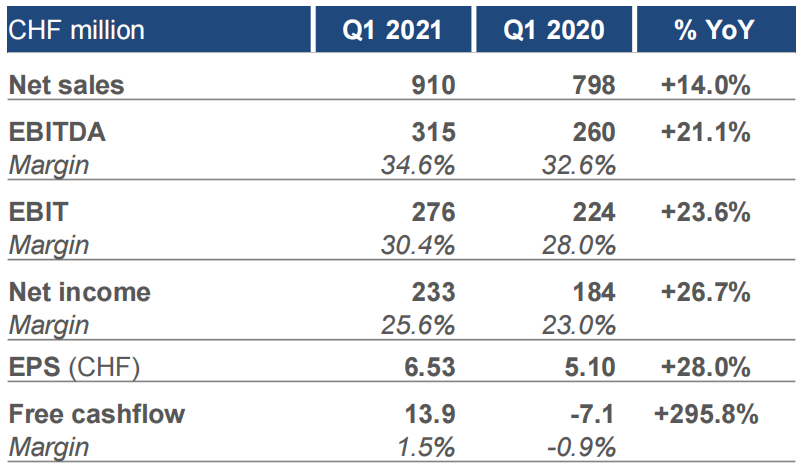 The earnings report showed that higher product prices were one of the reasons driving sales growth. For its part, Geberit said it will further expand its margins in the future, and one of the measures will be to increase the selling prices of its products.
Geberit also said in its earnings report that the increase in raw material prices has not yet had a significant negative impact on the company's operations. However, Geberit listed the raw material price index for 2020 to date, stating that the current price index has risen to more than 103 points. In contrast, it has been below 100 points in 2020. Geberit said that the raw material price increase started in December 2020 and is expected to increase by another 5% in the second quarter of 2021, on top of the first quarter.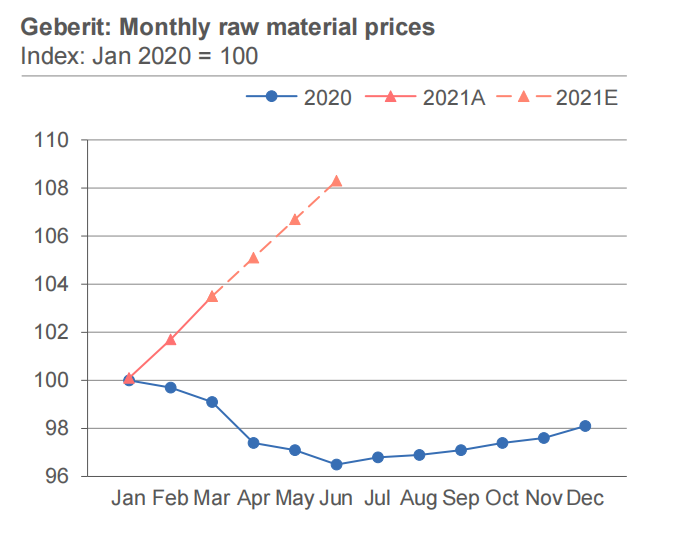 Hansgrohe raises prices by 5% in China
Lixil said some materials may be out of stock
The current round of raw material price increases is a global event, in addition to Geberit, Hansgrohe, Lixil and other companies are also affected. April 23, Hansgrohe China issued a price increase notice to partners, said that the price will be increased from July 1, 2021. Hansgrohe and Axor brand products prices increased by an average of 5%, some products will be carried out Hansgrohe said that raw material prices have risen significantly in recent months, far exceeding expectations. At present, Hansgrohe has adopted an aggressive purchasing policy and has increased its inventory to partially offset the cost increases. However, as the trend of high raw material prices is difficult to change, price adjustments need to be made based on current costs.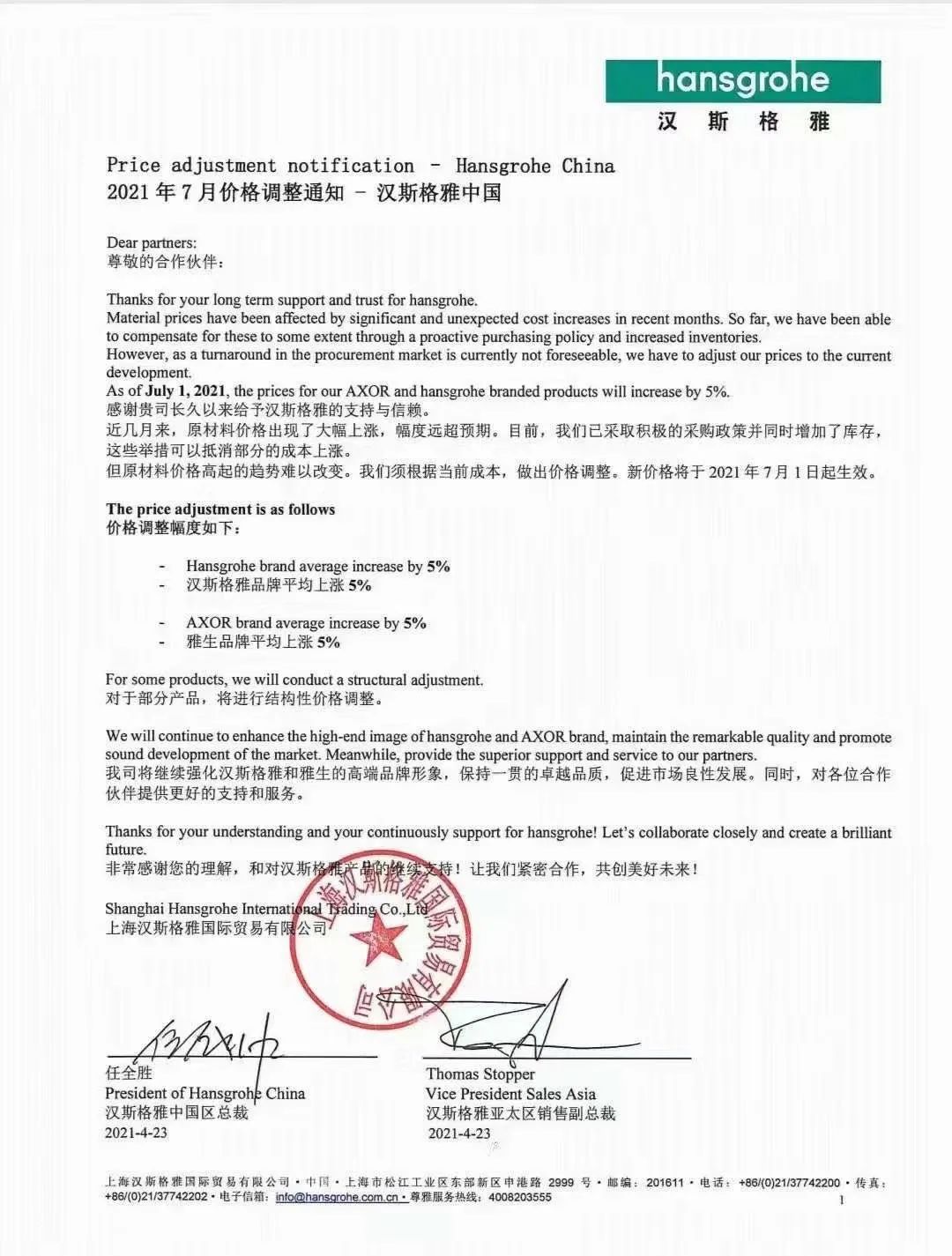 Lixil has not yet publicly announced a price increase, but higher raw material prices have clearly had some impact on operations. In the fiscal year 2020 report, Lixil said there is currently no major problem with global supply, but due to high raw material prices, there may be a shortage of supply of some materials in the future. lixil also listed the price trend of two raw materials, aluminum and copper, said the purchase price of two commodities since the fiscal year 2020 continued to rise. This comes after the LME (London Metal Exchange) three-month futures prices have reached $2,152 per ton and $6,743 per ton.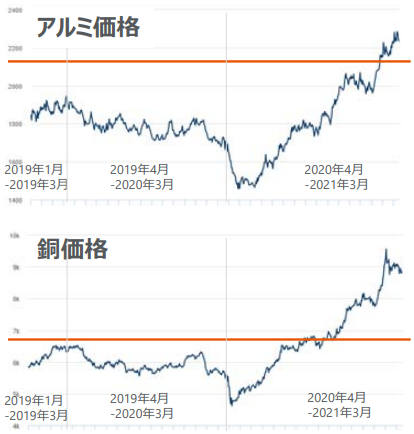 Copper prices are approaching all-time highs, and
A variety of metal materials to follow the rise
Bathroom products need to use a large number of metal raw materials, especially on copper, nickel, aluminum and other metals rely on quite a lot. According to public information, copper prices hit a new high today (May 7). The spot 1# copper price of manufacturers was quoted at 74,280 yuan/ton, up 1,430 yuan/ton from the previous set of trading days. Spot 1# copper price in Guangdong was quoted at 74,350 yuan/ton, up 1,600 yuan/ton.
On the international front, copper prices are accelerating towards new record highs, influenced by stimulus measures, vaccine launches and commitments to combat climate change. On Tuesday, international copper prices continued to rise, with the LME copper price having risen to $9,965 per tonne. Its rise of 2.2%, the highest since March 2011, while approaching the 2011 record high of $ 10,190 / ton.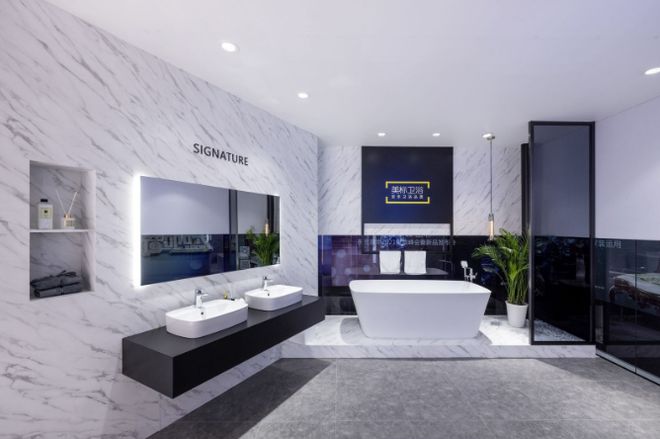 The rise in copper prices pulled the metal market from aluminum to iron ore up across the board, and now aluminum prices have also hit a new high of nearly three years. Today, the Yangtze River spot is quoted at 19,130 yuan per ton. Nickel prices also continued to move higher, after breaking through 130,000 yuan/ton on April 29. Today it is reported again at 132,500 yuan/ton, up 2,500 yuan/ton compared to a week ago.
In view of the price of raw materials is an objective fact, many companies through the price increase to transfer the cost pressure, bathroom companies are no exception. However, some experts pointed out that the price increase should also be as far as possible in one step, not every other day with the mention of price increases, to be firm and convincing.