Bathroom Business School
Price increases have been the hottest topic in the industry. This series of price increases, not only the bathroom business price increases, home appliance companies, home furnishing companies and even raw materials have risen in price to varying degrees since this year.
Faenza bathroom, ANNWA bathroom, Hansgrohe, Duravit will be implemented in July 1, the new product prices.
Recently, due to the rapid increase in the cost of raw materials, packaging materials and labor, Faenza bathroom, ANNWA bathroom, Hansgrohe and Duravit will adjust their product prices and will implement new product prices from July 1.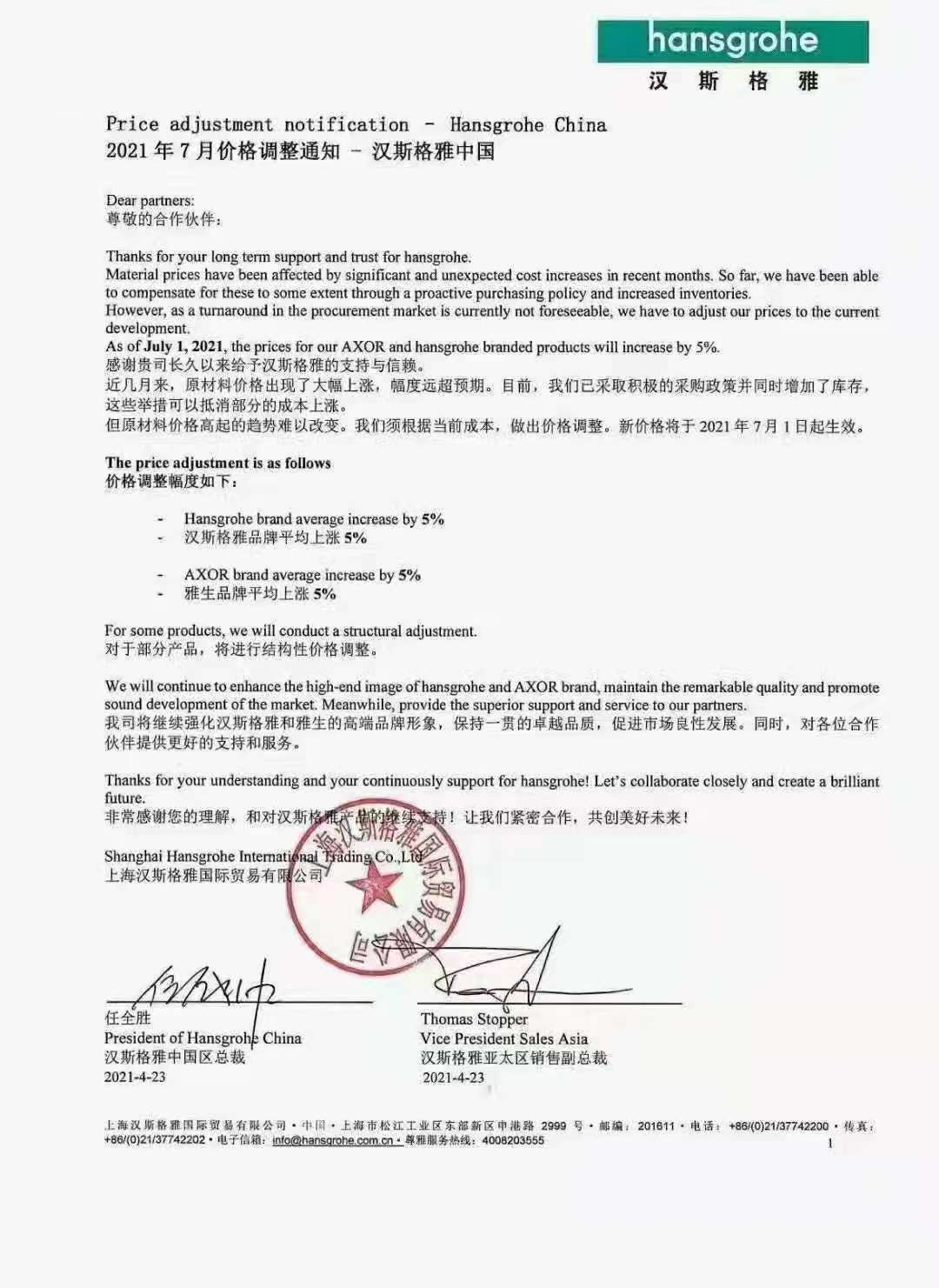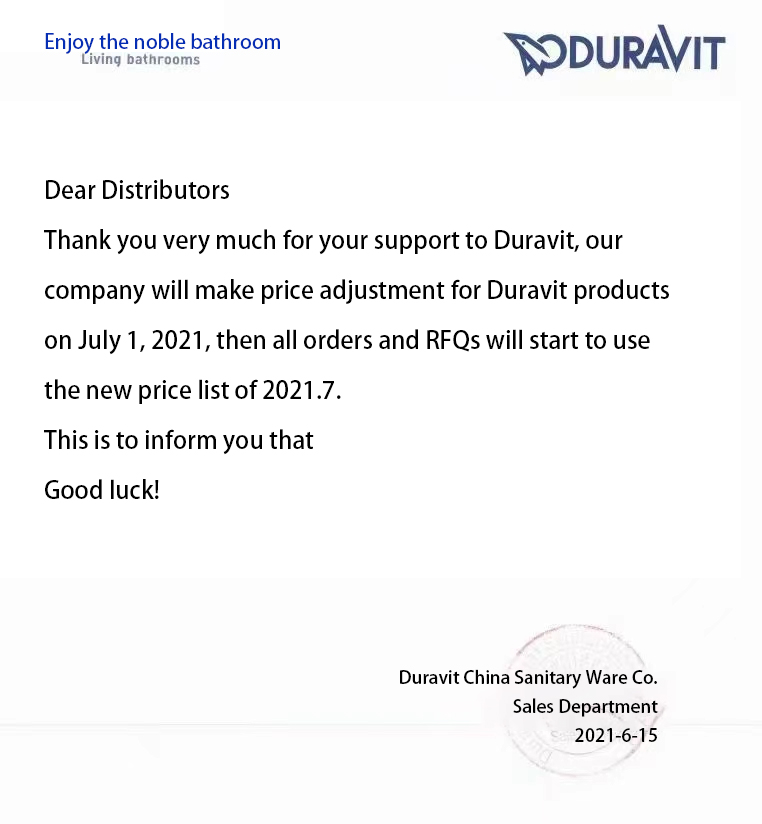 Globe Union opens the third round of price increase this year
According to Taiwan media reports, Globe Union enterprise has carried out two waves of product price increase in the first quarter of 2021 and May. But in view of the rising shipping prices, the depreciation of the U.S. dollar and the continued rise in raw material prices, the third wave of price increases will be for its Gerber ceramic products price increases. This is expected to receive orders in mid-August to take effect, an increase of 5%.
Globe Union raised prices slightly in the first quarter. Since the beginning of May, the second wave of Globe Union's own brand Gerber has increased the prices of ceramic sanitary ware and hardware for North American channel and brand OEM customers. After the average increase of 3-4%, the third announcement of price increase of products.
2020-2021 mega-trend price hike wave
In fact, the home, sanitary ware, raw material price increases are a major trend price increases from the beginning of 2020 to now has been set off in many places.
Rising costs remain one of the keywords in the sanitary industry this year.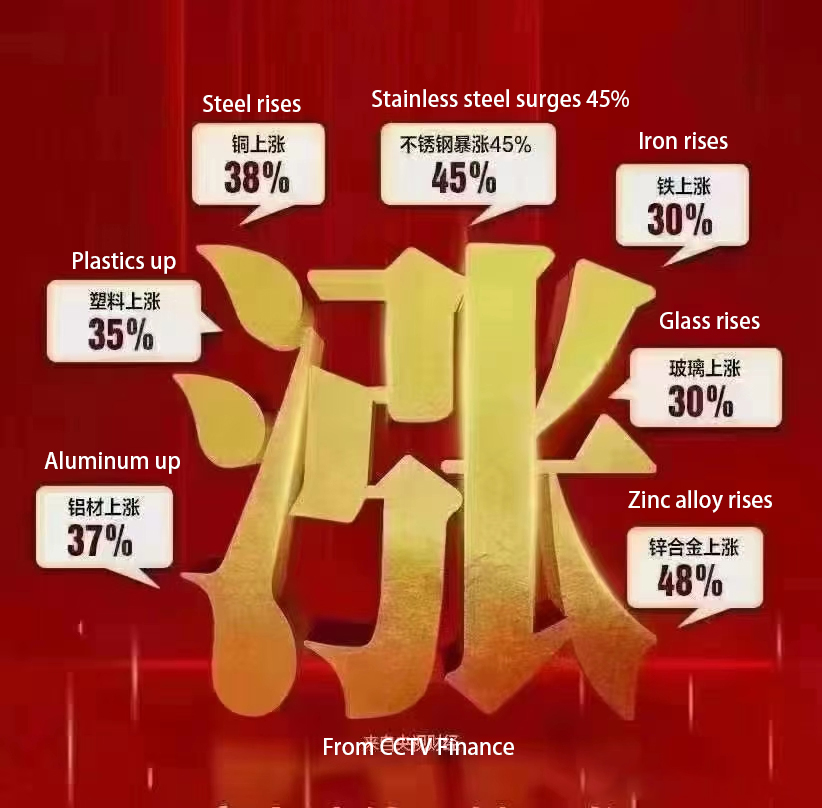 In the field of tile, in October 2020, Shandong pottery enterprises began a massive increase in tile prices. Subsequently, Hubei, Henan, Anhui, Shaanxi, Gansu and other provinces follow the rise, the tide of price increases in the northern region gradually showed the sweeping trend. By December 2020, Guangdong, Shandong, Jiangxi, Sichuan, and other places once again set off a new round of price increases, and the rate of increase is greater.
April 2020 Kohler, Lixil increased prices for some products
In the field of sanitary ware, in April 2020, Kohler China increased prices for some products. Lixil Japan also increased the recommended retail prices of some products from April 1, 2020. This involves a number of categories such as toilets, whole bathrooms, bathtubs, faucets, electric water heaters and tiles, with price increases ranging from 1% to 15%. In addition, many areas of the bathroom companies have also issued price adjustment notices.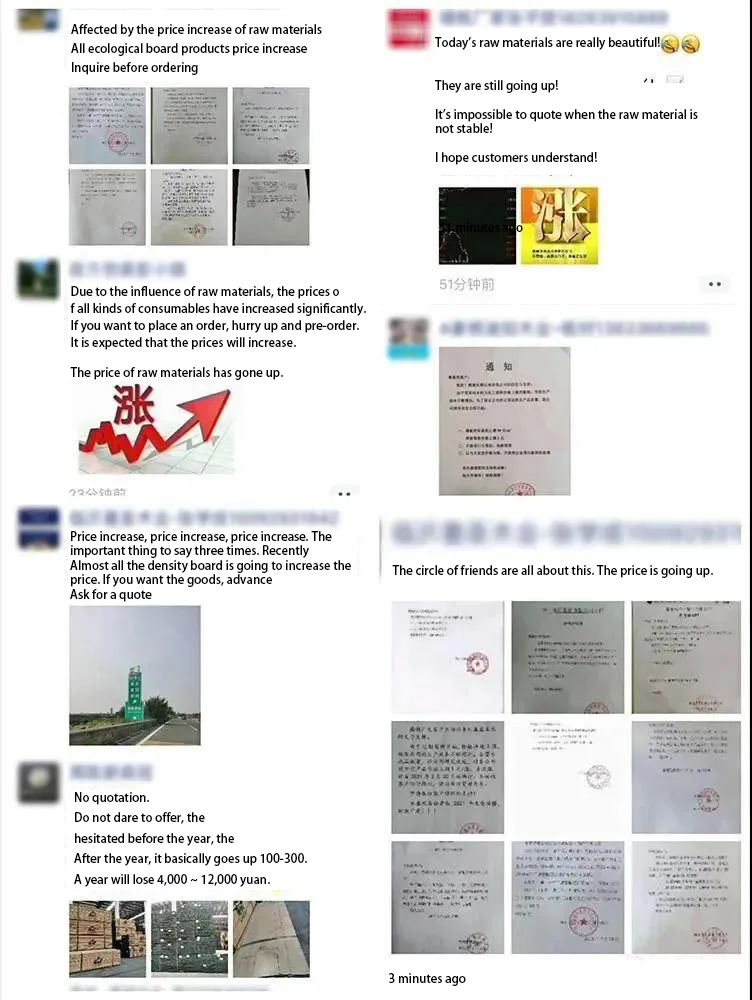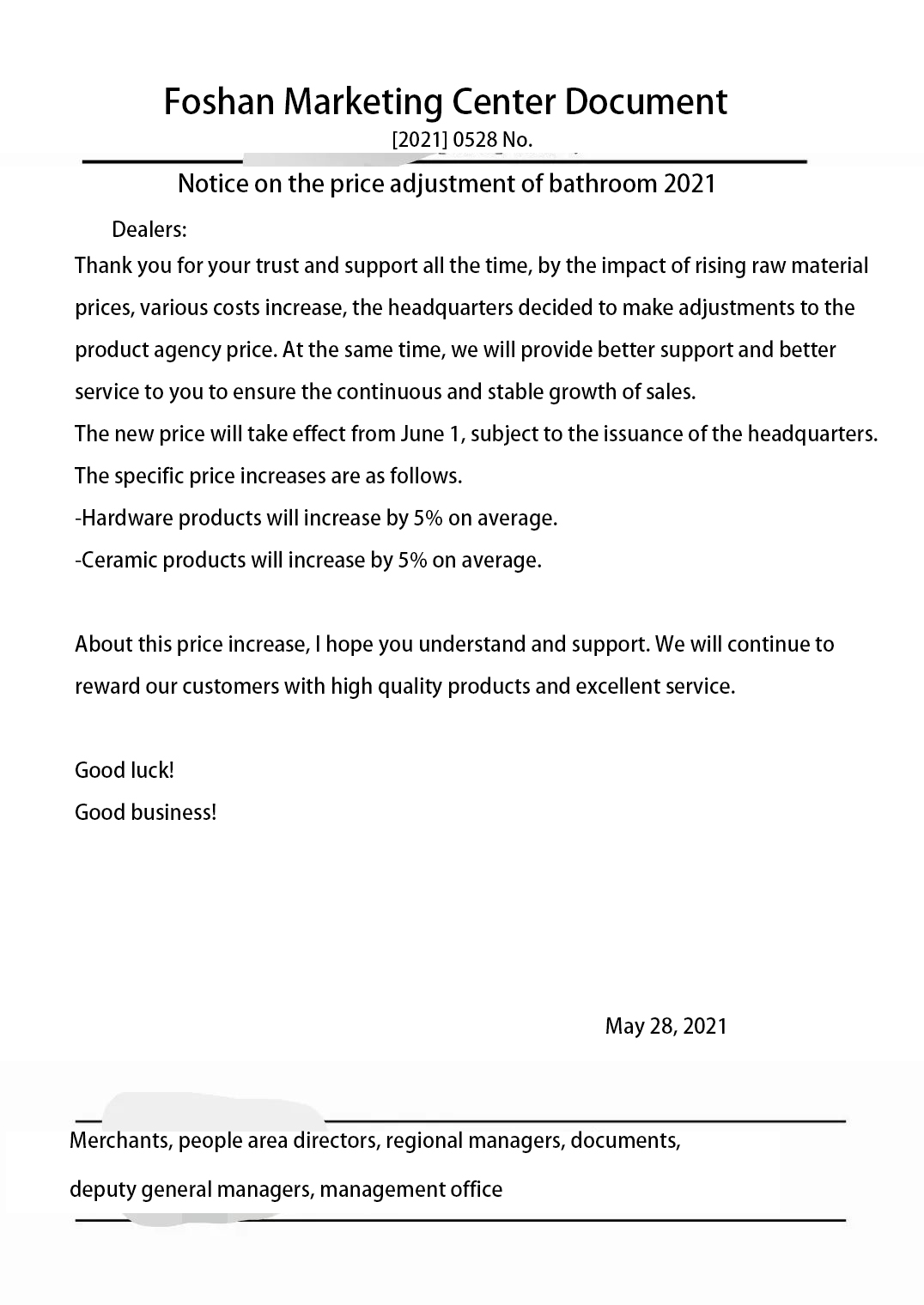 Raw materials: coal prices soared by nearly 50%, tile collective price increases in many production areas:
In the first quarter of this year, coal prices rose all the way, the rate of increase was once close to 50%. There are even industry insiders who predict: break through the thousand dollar mark is just a matter of time. Coal prices, also once again triggered a wave of tile price increases. Recently, a number of northern pottery enterprises issued a notice of price increases, said: "due to the crazy price of coal, and other chemicals, raw materials prices generally rose, resulting in a significant increase in production costs, some tile product prices." A pottery enterprise responsible person said, if the coal price soared to 900 yuan/ton, or even more than the thousand dollar mark, it is better to use natural gas. Guangdong also has pottery enterprises that said, "coal to gas" led to increased pressure on production costs. The 600 × 600mm specifications antique tile prices uniformly increased to 0.3 yuan/piece, ceramic tile prices increased to 0.15-0.2 yuan/piece. In addition, Hubei, Hunan, Hebei, Shanxi, Yunnan, a number of pottery enterprises have also issued a price increase notice. They have diamond, antique tiles, porcelain tiles, and other conventional products raised prices, the price range of 0.15-0.5 yuan/piece.
More than 80 kinds of price increased in 100 kinds of major raw materials
In addition to copper, recently the price of a variety of raw materials also recorded varying degrees of increase. According to the business community monitoring data, in November 2020 Shanghai and Shenzhen raw material prices rose and fell in the list of a total of 81 kinds of goods, while only 21 kinds of goods fell. Ringgit commodities are concentrated in the chemical sector and energy sector, and the increase of more than 5% is mainly concentrated in the chemical sector. In the new wave of raw material price increases, the price of a variety of raw materials required for the production of sanitary ware has risen.
| | | | | | |
| --- | --- | --- | --- | --- | --- |
| Commodity | Early November prices | Price at the end of November | Unit | Ringgit increase | Year-on-year increase |
| Aluminum | 14843.33 | 16786.67 | Yuan/ton | 13.09% | 19.82% |
| PVC | 7092.5 | 7987.5 | Yuan/ton | 12.62% | 13.46% |
| Formaldehyde | 1066.67 | 1200 | yuan/ton | 12.50% | 8.76% |
| Copper | 51528.33 | 57491.67 | yuan/ton | 11.57% | 21.47% |
| Zinc | 20120 | 21880 | yuan/ton | 8.75% | 18.48% |
| Nickel | 120600 | 124116.67 | RMB/ton | 2.92% | 8.73% |
| Tin | 144175 | 148375 | yuan/ton | 2.91% | 7.07% |
| Glass | 23.72 | 24.25 | Yuan/sqm | 2.23% | 16.42% |
| Coke | 1917.5 | 2017.5 | yuan/ton | 5.22% | 21.05% |
| Galvanized sheet | 5048 | 5546 | yuan/ton | 9.87% | 23.68% |
| Titanium dioxide | 15333.33 | 16000 | RMB/ton | 4.35% | 4.58% |
| Petroleum Coke | 1500.75 | 1542.75 | yuan/ton | 2.80% | 57.42% |
(According to the Business News Agency monitoring data)
[ Paper ] Price increase letter flying around!
The Spring Festival holiday has just ended, the paper price market is expected to start the year on the rise. This round of Nine Dragons, Riven paper, mountain eagle, Jing Xing, Lian Sheng, Century Sunshine, and other leading paper mills led up.
It is reported that the six bases of Nine Dragons Dongguan, Taicang, Quanzhou, Tianjin, Shenyang, and Chongqing are expected to raise corrugated paper and kraft paper prices by 100-200 yuan/ton on the first Monday after the Chinese New Year, February 22 (the eleventh day of the first month).
| | |
| --- | --- |
| Production base | Rate of increase (unit: yuan/ton) |
| Dongguan Nine Dragons Paper | Corrugated, kraft up 100 |
| Taicang Nine Dragons Paper | Corrugated, kraft up 100 |
| Quanzhou Nine Dragons Paper | Corrugated, kraft up 100 |
| Tianjin Nine Dragons Paper | Corrugated, kraft card up 100, coated kraft card up 200 |
| Shenyang Nine Dragons Paper | Sea dragon bullock card up 200, other bullock card up 100, corrugated up 100 |
| Chongqing Nine Dragons Paper | Corrugated, bull card up 100, coated bull card up 200 |
Global economic slowdown! Shipping costs up! Labor is up! Not enough money!
It is reported that the main reason behind this surge in raw materials is the economic rebound from the global government's big release of water, followed by the rising transportation costs and the growth in labor costs.
In addition, the high cost of shipping is also a factor that cannot be ignored. Since last year, international shipping prices have continued to climb. Global shipping capacity shortage, freight prices rose sharply, especially in the field of foreign trade logistics container "burst". Freight and transport costs rose sharply, and many ports have serious congestion.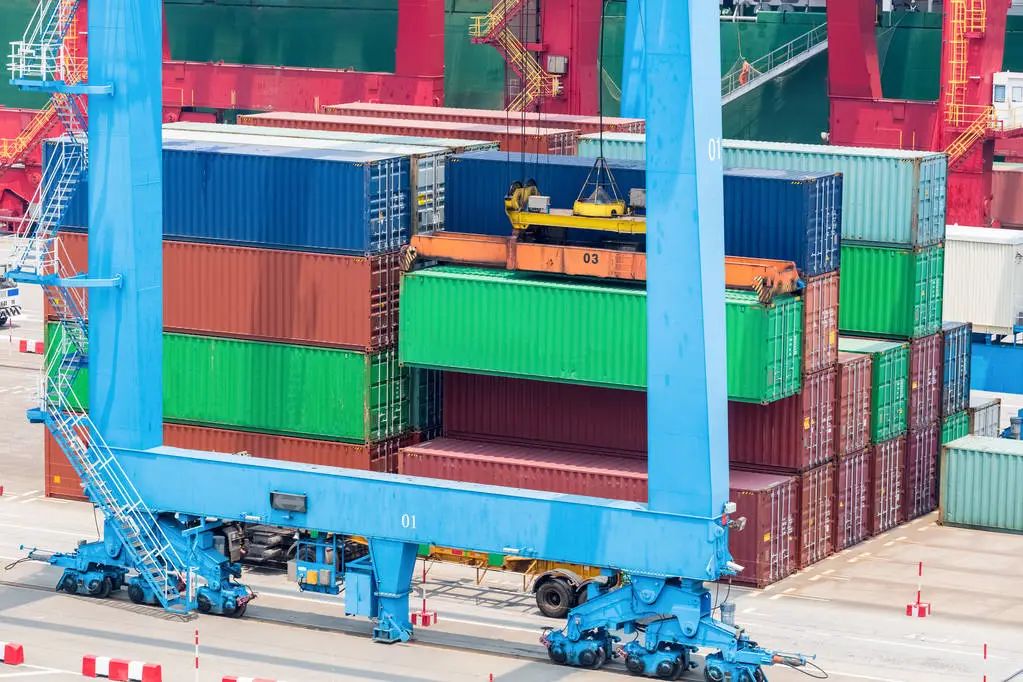 In fact, in a sense, the industry price increase is a major trend. Because of the huge pressure from the ecological environment, this will certainly drive up the cost of production. It is difficult to change at present. However, with future supply chain optimization and national adjustment of raw material procurement direction, we believe that this situation may gradually improve.
What should we do?
Raw materials continue to rise, what should we do? Should we maintain the same price in order to keep the original customers and lose money ourselves? Or should we calculate the production cost and raw material increase reasonably and adjust the price upward?
As we all know, reasonable profit is the fundamental of enterprise survival. If even the basic survival can not be maintained, how can the enterprise develop healthily?
With a reasonable profit, we can protect the quality of products and provide better services. Do not play a price war in order to meet the market. This can only limit the development of enterprises, towards the grave of extinction.