Bathroom Business School
Recently, ASSA ABLOY (ASSA ABLOY), a world-renowned provider of smart locks and security solutions, announced that it will acquire the hardware and home division of Spectrum Brands Group (Spectrum Brands), a U.S. company, for $4.3 billion (about RMB 27.741 billion). Spectrum Brands Group owns the famous American bathroom brand Pfister (Puffy). The brand entered the China market in 2014, and it is unknown whether this acquisition will have any impact on its China business.
Spectrum Brands Group Sells Hardware and Home Business for $27.7 Billion
On September 8, local time, Sweden-based global security giant ASSA ABLOY announced that it has signed a definitive agreement with Spectrum Brands Group, a publicly-traded U.S. consumer goods company. It will acquire the company's hardware and home division (HHI) for $4.3 billion (about RMB 27.7 billion), and the deal is expected to close in the fourth quarter of 2021.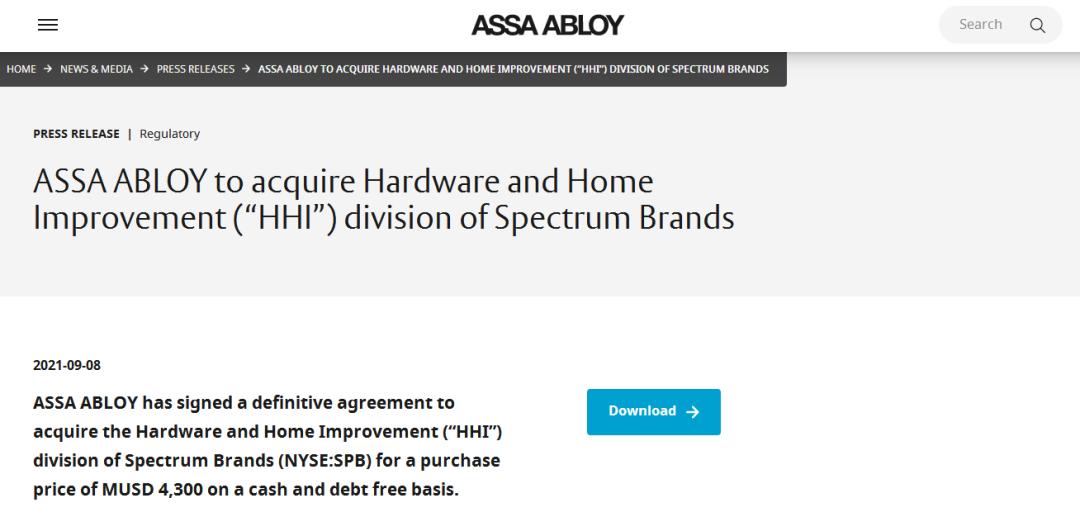 Screenshot of ASSA ABLOY's announcement
The announcement stated that Spectrum Brands Group is a leading provider of residential security, plumbing and building products in North America. They provide the market with diversified products such as locks, faucets, and decorative materials. Among them, HHI is headquartered in Lake Forest, California. It employs approximately 7,500 people worldwide and has offices in the U.S., Mexico, China and the Philippines. HII's strong partnerships with a large number of customers also benefit ASSA ABLOY in this acquisition.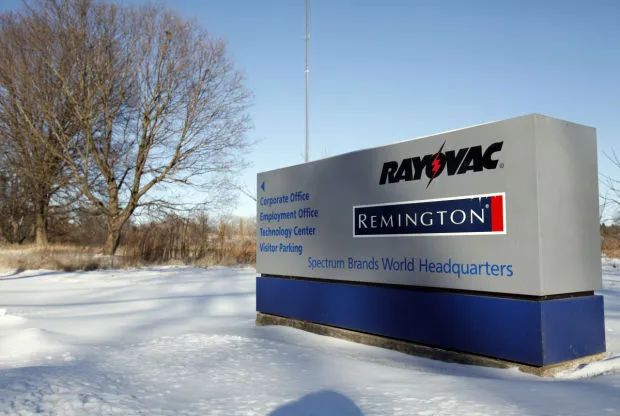 Spectrum Brands Group
Commenting on the acquisition, ASSA ABLOY President and CEO Nico Delvaux said that it is an excellent addition to the group and will boost the company's North American business. At the same time, HHI's products will strengthen the Group's market position and further drive the company's transition to digital development.
On the other hand, David Maura, CEO of Spectrum Brands Group, noted that the sale of the HHI division is aimed at reducing the company's debt and investing in growth. In the future, the company will acquire Global Pet Care and Home&Garden businesses, while boosting its home and personal care division. On the reasons for the sale of HHI, he noted that the division's products are "durable and low purchase frequency" unlike the group's other products. He said the move would drive growth in the HHI division and "benefit consumers around the world. It is worth noting that prior to the divestment of HHI, Spectrum Brands Group also sold its Rayovac battery business in 2019 to Energizer Holdings, a leading global battery manufacturer.
Bathroom brands Pfister and Fortis were "packaged" for sale
It is understood that Spectrum Brands Group is a global consumer goods company. Its products include home appliances, personal care, hardware, household, pet, gardening and so on. The group's HHI division owns Kwikset, Weiser, EZSET, Baldwin, National Hardware, Pfister, Fortis and many other brands. Its products are mainly involved in door locks, door handles, sanitary ware, plumbing, etc.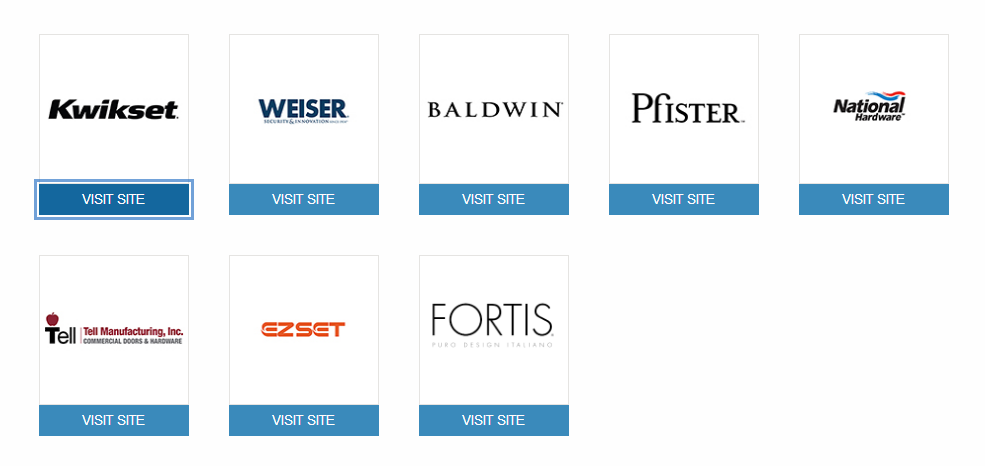 The HHI division includes 8 major brands
Among them, Pfister is a well-known American bathroom brand, established in 1910. It has more than 100 years of history now. Pfister's Chinese name is "Puffy". In May 2014, Pfister held a press conference in Shanghai to announce its entry into the Chinese market. At present, it has a flagship store in Shenzhen. According to the public information of AIC, the Pfister brand in China market is operated by Shenzhen Bosebel Household Co.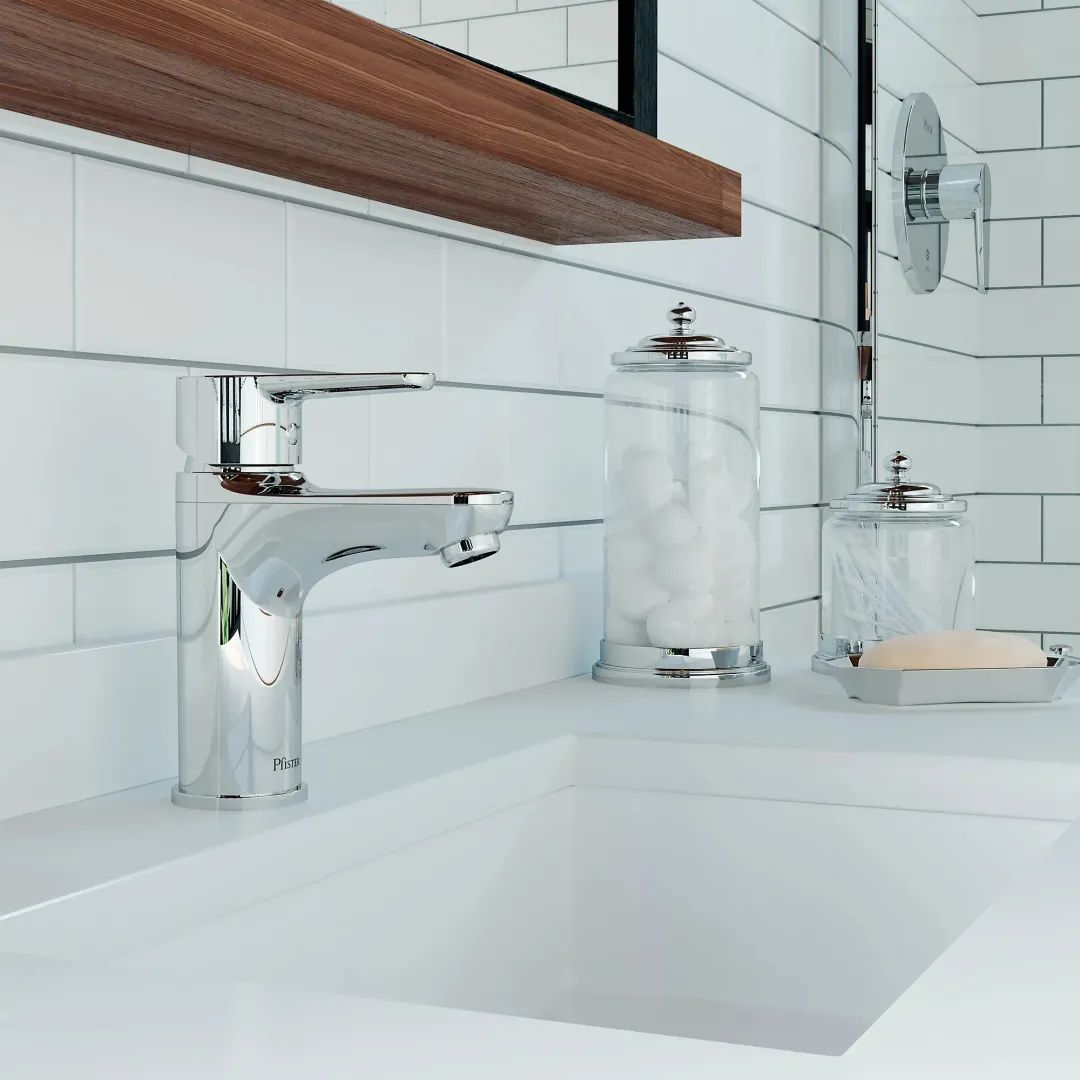 Pfister faucet products
Fortis, on the other hand, is an Italian brand based in the Pogno area. Fortis' product range is similar to that of Pfister, which also focuses on faucet hardware, mainly for the middle and high-end consumer groups.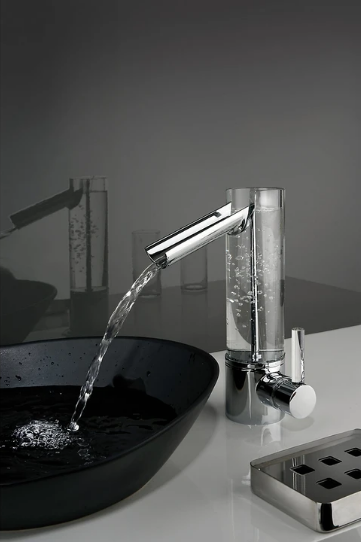 Fortis faucet products
According to Spectrum Brands Group's fiscal year 2020 financial report, the company achieved sales of $3.964 billion in the last fiscal year, of which the HHI division accounted for $1.342 billion. The financial report revealed that bathroom products accounted for 21% of the HHI division's revenue, meaning that bathroom products contributed about $281 million in revenue.
A number of bathroom, cabinet companies have been selling business or operating rights
Roca recently announced that it has completed the sale of its tile business, the purchaser Mexico La Mossa Group to seven banks after a loan of $ 200 million, a total of $ 260 million for the acquisition. Polish bathroom company Capricorn SA also revealed that it will sell all of its issued shares to Finnish HVAC giant Uponor. In terms of cabinetry companies, Corsi in the U.S. also recently announced the transfer of ownership of the company from Pat Corsi to Mark Earl, a transaction that became effective on August 31.
In addition, there are also companies that are eager to transfer their operating rights but suffer from the lack of suitable transaction objects and have to end their operations. Kitchen & Bath headlines previously reported that the German cabinet company Neue Alno had been actively looking for investors to take over the company, but the company recently said that due to the lack of a suitable transaction object. The company will end its operations at the end of September, and for some undelivered orders, the company will try to complete the delivery. It is reported that Neue Alno had previously attracted the attention of Chinese real estate giant Beyoncé, but the two sides did not finally reach cooperation. The announcement of the cessation of operations has left many local dealers and practitioners in Germany bemoaning the situation.
Recalling the cabinet and business industry development so far this year, the divestiture of secondary business and focus on the main business has become the main reason for companies to sell subsidiaries, sub-brands. In today's accelerated degree of industry consolidation, these are business practices and promote the growth of value in established areas. This certainly provides a new possibility for the development of the business.