Important things to know when purchasing a new bathroom drain for the bathroom sink:
TYPES OF BATHROOM SINK DRAINS
1.DRAIN WITH POP-UP ROD
Drains with pop-up rods feature stoppers and lift rods that are activated by pulling up on the lift rod located at the back of the faucet. The lift rod is attached to the drain underneath the sink and will lift and close the drain cover.
2.PRESS AND SEAL DRAIN
Also called pop-up drains, press and seal drains are easy to operate and install. The pop-up mechanism is activated by simply pressing down on the drain cover.
3.TWIST AND TURN DRAIN
A twist and turn drain, sometimes called a lift and turn, features a small nob that is used to manually lift the drain cover. Like press and seal drains, these drains are very easy to install and do not feature any beneath the counter mechanisms.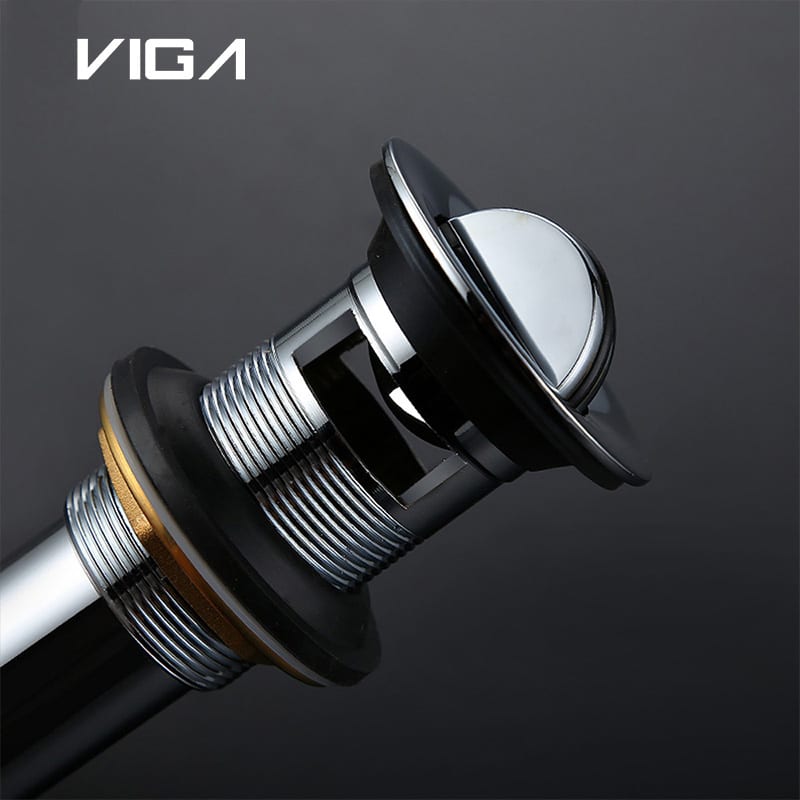 FEATURES OF BATHROOM SINK DRAINS
1.With pop up open
2.Durable solid brass construction
3.Standard sized plumbing
4.Stopper with overflow
5. Top can be screwed off for cleaning purpose
How to Buy the Right Drain for Your Bathroom Sink
For those bathroom sinks that don't come with a drain, finding one on your own is often the final step in a bathroom remodel. While there are a variety of bathroom sink drain options available, the right one should mesh with the style of your bathroom, giving it the perfect finishing touch. Follow a few simple guidelines to ensure you find the right drain.
1.Measure the Sink
The sink drain needs to fit your bathroom sink's drain opening to work properly. Measure that opening to ensure you get the right size drain, or check the manufacturer's instructions that came with the sink, as they should include the corresponding drain size. Most drain openings are 1 1/4 inches, although 1 1/2 inches and 1 5/8 inches are also common sizes.
Drains are measured at the threaded portion of the drain (this is the section that will go through the sink and countertop). A standard sinkhole is 1-½" in diameter and will accommodate most lavatory drains. This information is listed with drain products.
2. Choose Pop-Up or Grid Functionality
Bathroom sink drains are either pop-up drains or grid drains, with the difference being pop-up drains can close, allowing water to build up in the sink. Grid drains have small holes that can't close, so water always drains.
Pop-up drains usually open and close through a lever that's behind the sink faucet, although some drains have levers in other locations. These types of drains are good if you ever need to fill the sink with water. However, the advantage of grid drains is the small holes only allow water to get through while the grid catches anything larger, which helps prevent clogs.
3.Complement the Style of Your Sink
Make sure your home's bathroom presents a stylish appearance by choosing a drain that complements the sink. This doesn't mean the drain needs to match the sink and faucet. In fact, a drain with a different material or finish often works well as an accent to the sink.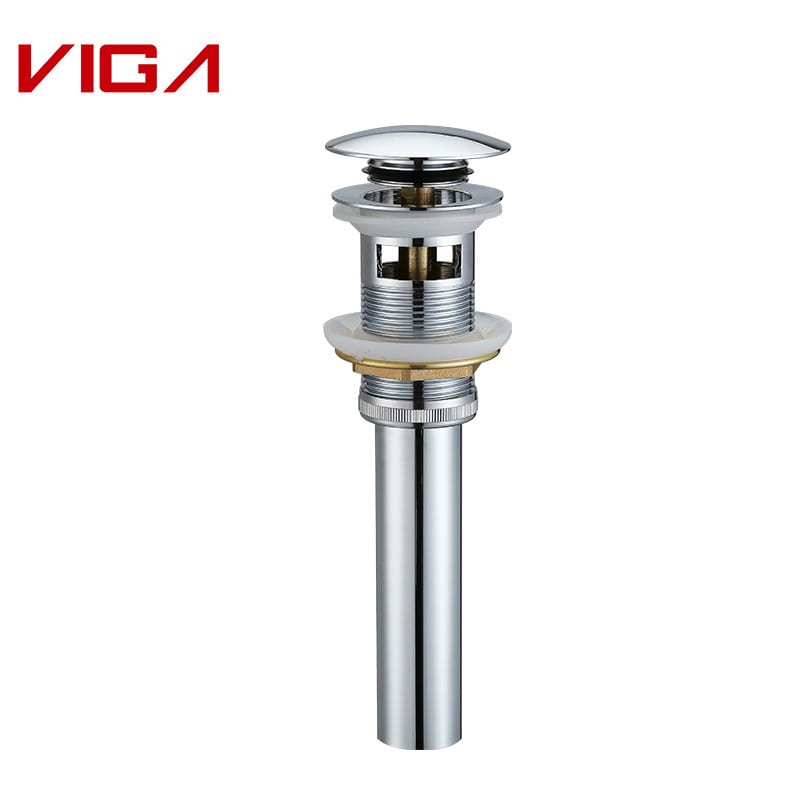 Brass drains are some of the most popular bathroom sink drains, as the material is both pleasing to the eye and durable. Stainless steel and bronze drains are also common.
Bronze is a versatile finish that creates an eye-catching combination with several sink materials. It blends well with copper sinks, and stands out when paired with concrete sinks. A nickel finish offers a nice shine; you just have to keep it clean so it retains its appearance. If you're going for a modern look, a chrome drain is a great choice, particularly with a matching chrome faucet.
4. Check if Your Sink Has an Overflow
Drains can be purchased with or without overflow openings. An overflow opening is a small hole drilled in the top of the threaded portion of the drain that allows overflow water from the sink to enter the drain pipe. If your sink features an overflow, it is very important to purchase a drain with an overflow opening so that your sink and drain function properly. If your sink does not feature an overflow it cannot be paired with a drain with an overflow opening.
An overflow is an optional feature found in some bathroom sinks. As the name suggests, it helps prevent the sink from overflowing. An overflow is a small opening in the sink, and it works by letting air flow into the drain while the sink is full of water so the sink drains water more quickly. Bathroom sink drains are available with and without overflows; check whether your sink has an overflow so you can choose the right type of drain.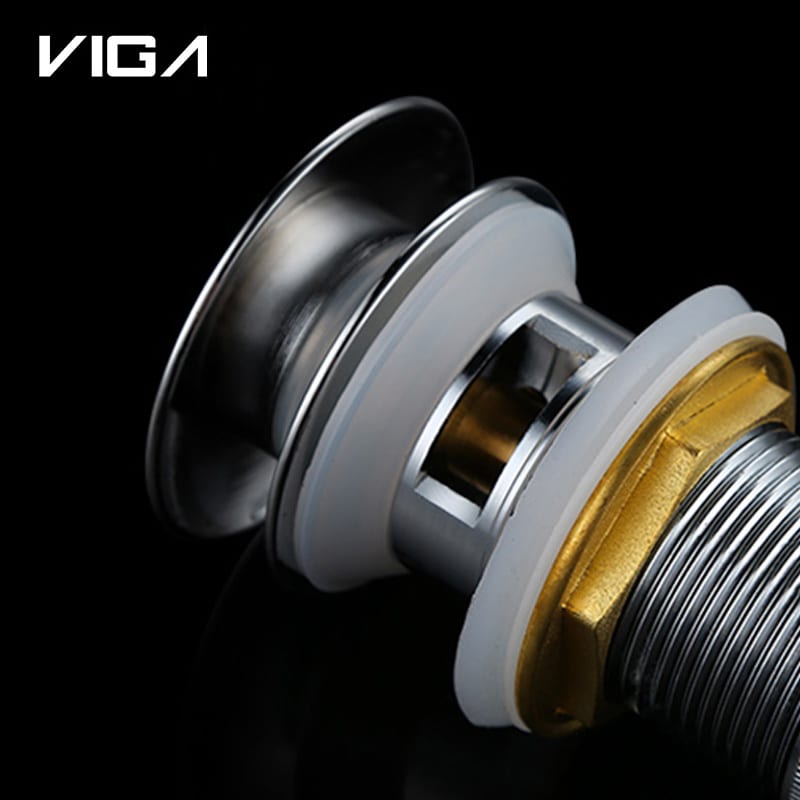 5.Support the Sink With a Mounting Ring
If you have a vessel sink positioned above the countertop, as opposed to a recessed sink that is partially inside the cabinet, choose a drain with a mounting ring. The mounting ring supports the sink, which is important, since the sink isn't being supported all the way around by a cabinet.
6.Installing Pop-Up Drain Stoppers
A bathroom sink pop-up stopper is a very convenient feature, and while the installation is usually easy, occasionally the process is complicated due to variations in the fixture or fittings. If you need to install a new pop-up drain for any reason, these instructions will simplify the process.