Bathroom Business School
The latest annual report of Huida Sanitary Ware Co., Ltd (603385.SH, hereinafter referred to as "Huida Sanitary Ware"), a leading stock in the field of sanitary ware, shows that under the heavy pressure of the epidemic in 2020, the momentum of Huida Sanitary Ware's net profit in the past few years has come to an abrupt end, but the overall operating conditions are still good. From 2016 to 2019, the company's net profit climbed from 210 million yuan to 329 million yuan, a decline of about 6.58% year-on-year in 2020.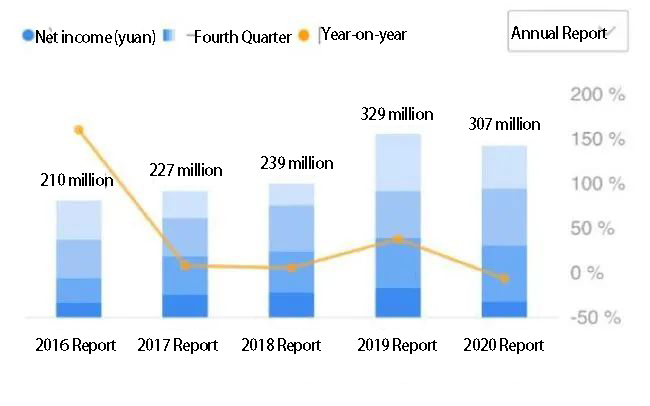 Net profit of Huida Bathroom
In 2020, the company's operating income remains growing, totaling about 3.218 billion yuan, up 0.24% year-on-year. Gross margin of 31.33%, lower than the gross margin of about 33% in 2019. Although the overall trend is stable, there are investors worried that Huida bathroom "increase in revenue does not increase profits" situation will spread? There are foreign brands such as Kohler Sanitary Ware in front of the interception, the rear of the domestic brands such as Hai-O Sumitomo chasing. Huida sanitary ware, how will it cope with the future?
Lack of institutions, the stock price is not sluggish
Huida sanitary ware can be described as a veteran of the bathroom furniture market. According to enterprise search, the company was founded in 1982, so far has been 40 years, but only in 2017 listed on the SSE. IPO raised about 830 million yuan, last year's non-public offering of shares raised slightly more than 80 million yuan. For such a well-known brand, its "appetite" is not large, and the subscription object is the company's beneficial owner, the Wang family.
On March 12, the company issued a profit distribution plan, 2.43 yuan per 10 shares, a total of more than 92 million yuan. This proposal did not receive a positive response from investors – the share price was 12.42 yuan/share on March 11, plunging to 11.55 yuan/share the following day. As of March 30, the company's share price closed at 11.6 yuan per share. Throughout last year, the company's share price experienced a great ups and downs from May to August, with the share price once reaching RMB19.38 per share in August. Since then, the shock fall, no significant rebound.

From the company's shareholders, Huida bathroom stock price, as of the end of last year, the top ten shareholders, in addition to the actual controller Wang Huiwen and Wang's family, the rest of Tangshan City Investment Co. And Tangshan is the company's home base. The remaining institutional investors are only one ICBC AXA Life Insurance, with a shareholding of only 0.9%.
Institutions are often the "wind vane" in the field of investment. The lack of institutions and share prices fall back, seems to be calling for Huida bathroom to give new profit growth point.
Traditional products need to be upgraded
For a long time, Huida sanitary ware by sanitary ceramics and ceramic tile products to open the market, which is also an important source of revenue. In 2020, the company's "non-metallic mineral products" revenue exceeded 2.2 billion yuan. In contrast, the revenue of two furniture manufacturing, metal products, respectively, are only about 200 million yuan and 500 million yuan.
In the coming period, ceramic products are still largely important to protect the company's profits, and last year the company's non-metallic mineral products revenue decreased by 2.78% year-on-year. Operating costs, however, increased by 1.58% year-on-year, and gross margin decreased by 2.93%.
By product, the gross margin of sanitary ceramics and wall and floor tiles decreased by 2.91% and 3.99% respectively. The revenue of sanitary ceramics decreased by 4% year-on-year, and the sales volume exceeded 8 million pieces. The year-over-year decrease was 2.52%, while inventory rose over 5%. There are signs that the company's fist product is facing certain challenges. The sales volume of the company's bathtub bathrooms increased by 15.27% year-on-year. However, the overall scale is not large, with only 62,400 sets produced. Such products in the industry is known as "the whole bathroom". In this product segment, foreign brands such as Kohler, Panasonic are more competitive. Huida sanitary ware, if you want to be with them as a whole bathroom, will face greater pressure.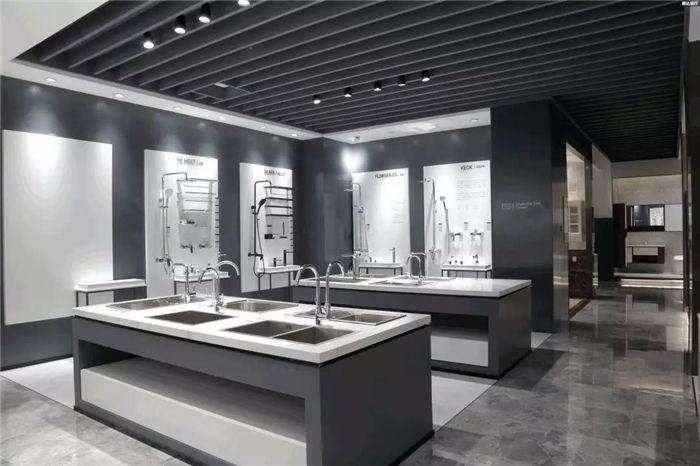 Overall, Huida bathroom traditional ceramic products, the profit prospects are not very clear, which is related to the product "moat" shallow. Ceramic products, compared to intelligent sanitary ware, it is low technology content, and the industry threshold is not high. This makes many small workshops can also participate in the production, and can take advantage of the lower price to capture the low-end market. Ceramic products and the overall bathroom compared to the latter is more design-oriented, emphasizing the integration with other furniture in the use of functional, decorative style. Higher technology content naturally brings higher added value.
Ceramic products rely on traditional production capacity, the problem of low value-added in Huida bathroom annual report is also reflected. The labor cost of sanitary ceramics, accounting for 17.5% of the total cost, fuel power accounted for 3.57%. And bathtubs, showers and other overall bathroom labor costs accounted for 0.47%, fuel power accounted for 0.08%. Bathroom furniture labor costs accounted for about 1.31%, fuel power accounted for about 0.19%. Bathroom furniture and bathtubs are the "place to be" in terms of technology and design.
The company also seems to be aware of this aspect of the problem, said in the annual report, "ceramic tile production fell 87.66%, due to the increase in outsourced processing." Last year, the company produced a total of 364,300 square meters of ceramic tiles, inventory decreased by more than 50% compared to the previous year, but the sales volume only increased by 0.88%. Thus, outsourcing is indeed a significant change in the company's operations last year. This move certainly saves some costs, but it also poses a new challenge to the company's quality control.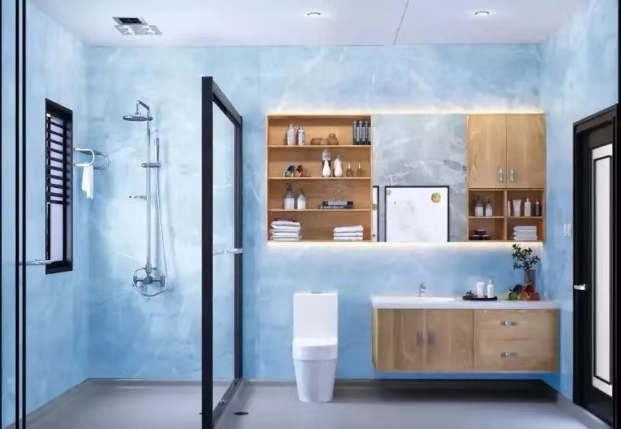 From the industry downstream, improve product technology, design added value is imperative, otherwise it is easy to fall into a price war with the "small workshop". Bathroom product sales and real estate market is closely linked. With the "three red lines" delineated, the number of new houses and sales volume has slowed down significantly, which also means that the general commodity housing demand for sanitary products become smaller.
The market for sanitary products might be transferred to the old neighborhood renovation and shanty projects with the policy. This part of the market is mainly located in the third and fourth-tier cities, the owners are more price sensitive, and the demand for high-end brands is limited. These geographical areas of the home improvement market or will be quickly occupied by small workshops. If only focus on ceramic tile low value-added products, large brands are not significantly competitive. The transformation in the technological content and product design is more able to open the gap with small workshops.
Huida bathroom in the financial report also said, "Some companies may take a low price dumping in the short term, the sub-standard and other strategies, resulting in the decline of the industry's average profit margin."
Fierce competition to develop channels
Huida sanitary ware in the field is called the "Red Sea", facing a very intense challenge, in addition to the overall industry environment, but also from peer competition. As of last year's third quarter data, in a comparable range, Huida bathroom gross margin is higher than Jianlin home, and lower than Solux Technology, Dongpeng Holdings, Diou home.
The main products of Solux Technology are bathroom cabinets, showers, faucets, toilets, etc., and Huida sanitary ware has a certain overlap. Compared with Huida sanitary ware, Solux Technology put more efforts in design, which also makes its business model for IDM, different from the OBM model of Huida sanitary ware.
The so-called OBM, or original brand manufacturer, operates its own brand and builds its own marketing network. IDM, on the other hand, involves innovative products according to market conditions, and then relies on patents and intellectual property to make profits.This is because Solux Technologies is more "asset-light", which makes its profitability seem "easier". As of last year's third quarter, Solux Technology gross margin was 35.75%, up 4.56% year-on-year, which is higher than the 31.33% of Huida Sanitary last year. Solux Technology has a market value of more than 6.6 billion, which is also more advantageous than Huida Sanitary in terms of volume.
Diou Home's products overlap with Huida sanitary ware. Its ceramic plate has the brand "Ou Shennuo". In the field of ceramic sanitary ware compete with Huida sanitary ware.  But from the point of view of volume, the total market value of Diou Home is more than 7 billion yuan, compared to the volume of about 4.3 billion yuan Huida sanitary ware is clearly superior.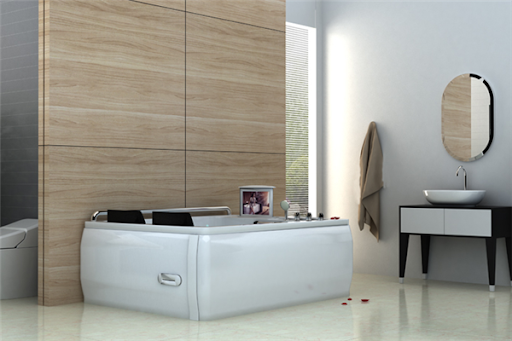 As some companies have not yet disclosed last year's annual report, compared to last year's three-quarter data, Huida bathroom's 2.23 billion yuan revenue exceeded the industry average of 1.007 billion yuan, ranking after Jianlin Home and the newly listed Hai-O Sumitomo, and before Lege shares and Solux Technology. From the point of view of earnings per share, Huida sanitary ware is about 0.62 yuan, more than the industry average of 0.26 yuan, ranking after Lege shares and Jianlin Home.
As for whether the company increases its capital in the future to expand the volume? Huida sanitary ware in the annual report said that, although "no specific acquisition and merger plans", but also may choose the opportunity to acquire peer companies, the establishment of cross-regional production lines to expand market share. In March this year, Guosheng Securities Huang Shitao said, Huida bathroom deep plowing bathroom for more than 30 years, its brand has a high market awareness. After listing, accelerate the omnichannel marketing layout and capacity construction. Distribution end of the store upgrade while actively channel down to cover the blank area. The engineering end focused on the development of real estate large customers with significant results. It is expected that from 2021 to 2023, the net profit attributable to the mother can reach 370 million yuan, 428 million yuan and 484 million yuan respectively.
Huacheng Securities Guo Qinglong talked about during the epidemic, Huida bathroom actively promote the development of new retail, optimize the adjustment of offline stores, online retail business, to achieve three-dimensional network layout, the company's future business is quite beneficial.
These different views have talked about the importance of Huida bathroom optimization channels. Annual report, its current "dealer subsidies" is about 37.88 million yuan, basically the same as the previous period, to further expand the channel, especially online sales can largely save money. Improve the gross margin, which is a viable path for the Huida bathroom in the red sea of competition.
How to increase the transformation of Huida sanitary ware in design and technology to build their own competitive barriers? The phenomenon of increasing revenue without increasing profit is temporary or trend? How can the company survive in the fierce competition with its peers? Investors.com has written to the company on related issues, but has not received a reply.