Kitchen And Bathroom Industry Mainstream Media Kitchen And Bathroom Information
The 3rd Jomoo Whole House Customization Festival is in full swing
From August 6 to August 28, Jomoo's 3rd National Customization Festival, with the theme of "Customization in the name of love", will be launched. This time, Jomoo brought the whole house 2021 new products – Nordic style kitchen cabinets [natural language], the whole house pop kitchen cabinets – modern style [Phantom Year], the whole house pop kitchen cabinets -Industrial style [Star Shadow], the whole house 2021 Scandinavian style new products – [Scandinavian Impression] series, the whole house classic whole house – modern style [Phantom Meteoric] series, the whole house 2021 young luxury style new products – [Gilded Galaxy] series and other series came. It builds the love Home for the majority of consumers.
Arrow Sanitary Ware is in Juran Home Airport Store
Recently, Arrow Sanitary Ware has entered Juran Home Airport Store, which was opened on September 19 and grandly opened on October 1. Arrow Sanitary Ware is a "global intelligent home enterprise". Since its establishment, Arrow has insisted on the integration of independent research and development, production and marketing. It promotes the full range of categories to achieve a one-stop shopping experience for all home furnishings and create an exclusive ideal life for users. Arrow has been adhering to the core value of "leading products, winning quality", focusing on product technology research and development, and refining the "wisdom" vision. Vision. It is paving a more comfortable, healthy and intelligent home life with craftsmanship.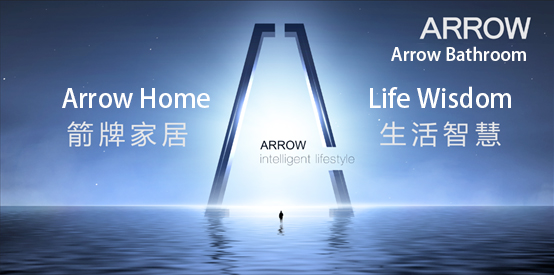 Hegii Helps Jiaodong International Airport to Start Smoothly
On August 12, Qingdao Jiaodong International Airport officially took off. As the only 4F-class airport in Shandong and an important international transportation hub in Northeast Asia, Hegii, as the sanitary ware supplier of the airport, provided professional sanitary space solutions and helped Jiaodong International Airport to open its doors to welcome guests.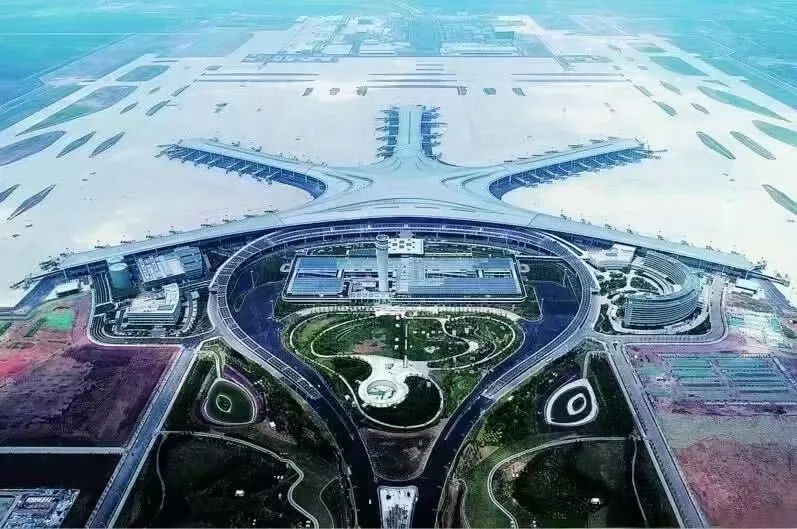 Huayi Sanitary Ware Launches New Bathroom Cabinet
Recently, Huayi Sanitary launched a new bathroom cabinet with model number FA23710AA225. Its color is black and white and then brightened with noble gold elements. This makes the whole bathroom become dynamic and exquisite, tasteful. The bathroom cabinet is designed in wall-mounted style. The bottom of the cabinet is about 20CM from the ground, not taking up ground space. The countertop integrated basin is a water cloud sandstone slab. It is made of natural raw materials through a special process and pressed with the help of more than 10,000 tons of presses, then combined with advanced production technology, and finally fired at a high temperature on 1200 ℃. The intelligent mirror realizes the functions of partial magnification, touch switch, with light and defogging, etc.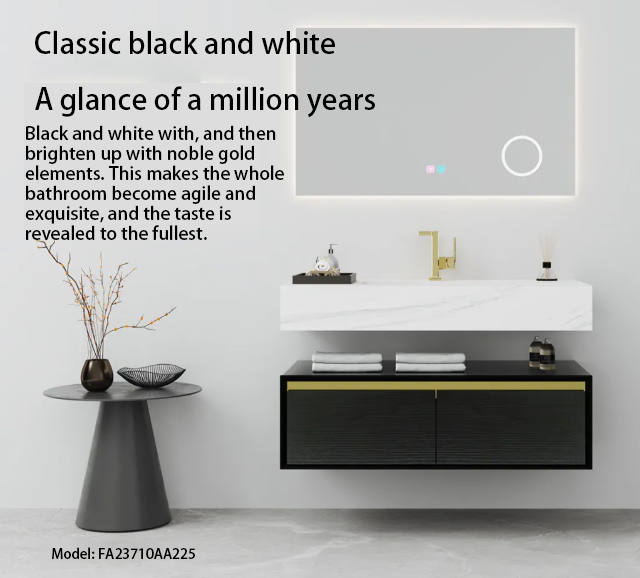 Dongpeng Whole Bathroom and Rongchuang China Signed Strategic Cooperation Agreement
Recently, Foshan Dongpeng Whole Sanitary Ware Co., Ltd. and Sunac China officially signed a strategic cooperation agreement on sanitary ware, confirming the strategic partnership between the two sides. This strategic cooperation marks the beginning of a comprehensive and deepening cooperation between Dongpeng Sanitary Ware and Sunac China. Through their strong alliance, they are committed to provide healthy and comfortable bathroom space experience for the majority of users and create a beautiful quality home life. So far, Dongpeng whole bathroom has reached cooperation with many famous real estate developers such as China Aoyuan Group, New City Holdings, Agile Group, Beyoncé Garden, Greenland Holdings, Hopedale, Zhongnan Group, Zhenghong Group, Jianhua Real Estate, etc. to join hands and seek common development.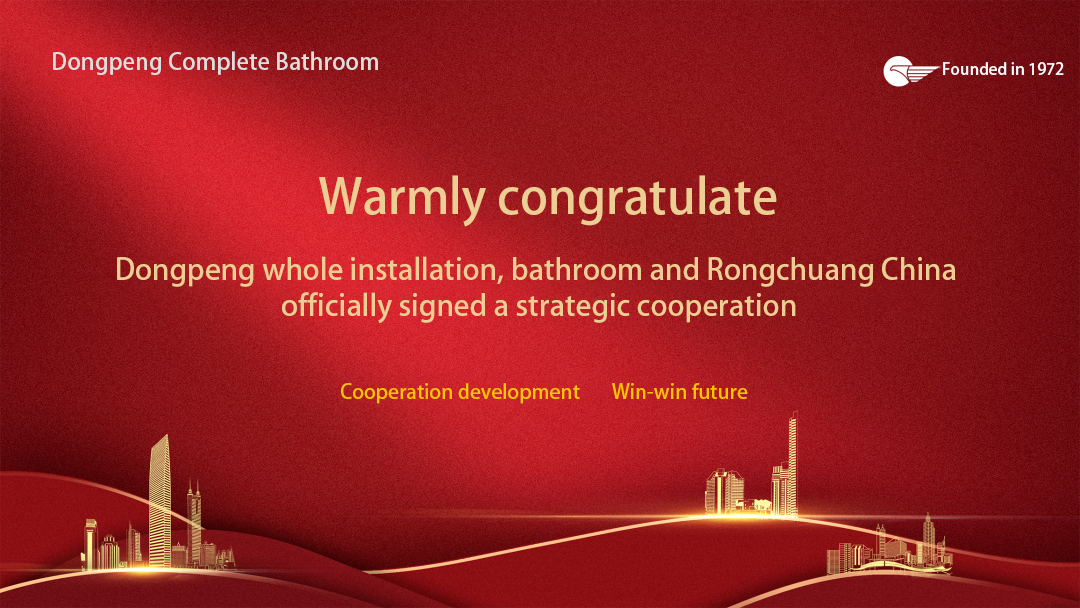 Lehua's annual production capacity of 10 million sets of faucets and 3 million sets of showerheads started
Recently, the groundbreaking ceremony of the annual production capacity of 10 million sets of faucets and 3 million sets of showerheads was held at Lehua Ceramic Sanitary Ware Co. The output value of the faucet and 3 million sets of shower projects will exceed 2 billion yuan after it is completed and reaches production. It is expected that the new tax revenue will be more than 120 million yuan.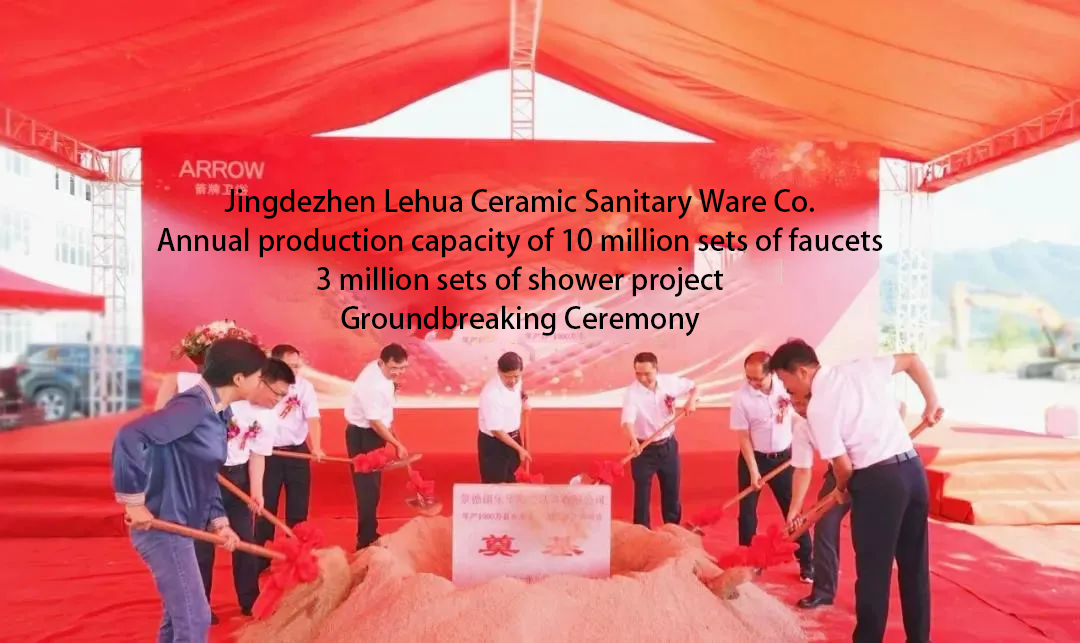 Dofiny Launches New Basin Faucet
This week, Dofiny bathroom launched a new basin faucet model DLM11562. It is made of zinc alloy, has high-quality ceramic valve core, high-quality foamer, is anti-corrosion, and more wear-resistant. 2021 second half, Dofiny bathroom will break the cocoon into a butterfly, with more new products, with a new image, new positioning strong attack.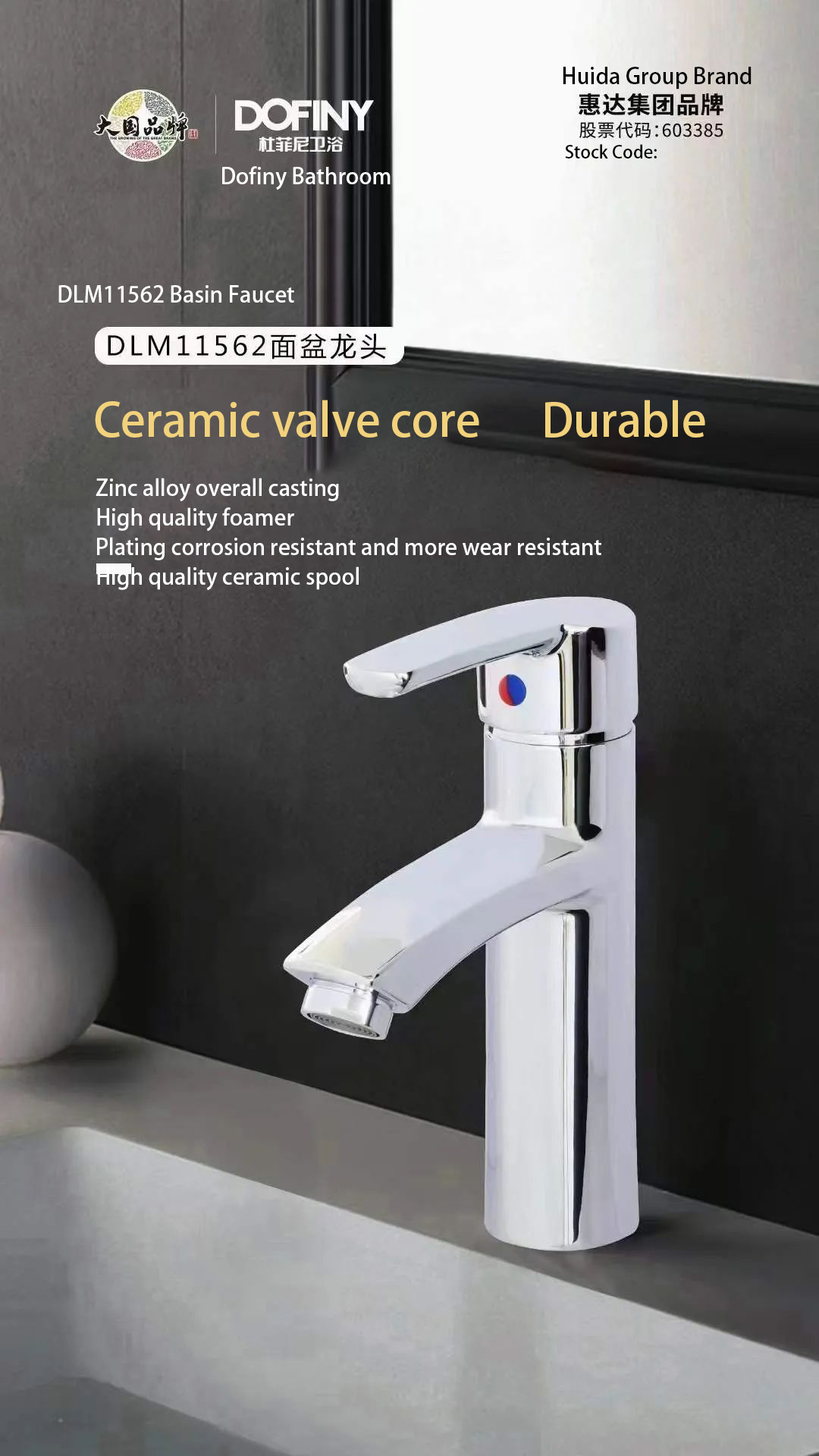 Municipal Party Secretary Li Yueqi visited Orans Digital Intelligent Control Center
On August 10, Li Yueqi, secretary of Taizhou Municipal Party Committee, visited Orans international exhibition hall and digital intelligence control center, and highly affirmed Orans digital transformation, technological innovation, and overall bathroom solutions. Customers can freely assemble and combine them according to their own preferences, and then combine them with dimensional design to create a unique product full of personalization. Now Orans is not only able to produce according to customers' orders, but also to directly grasp consumers' preferences through big data analysis. It thus launched one after another "pop", leading the way to the bathroom market.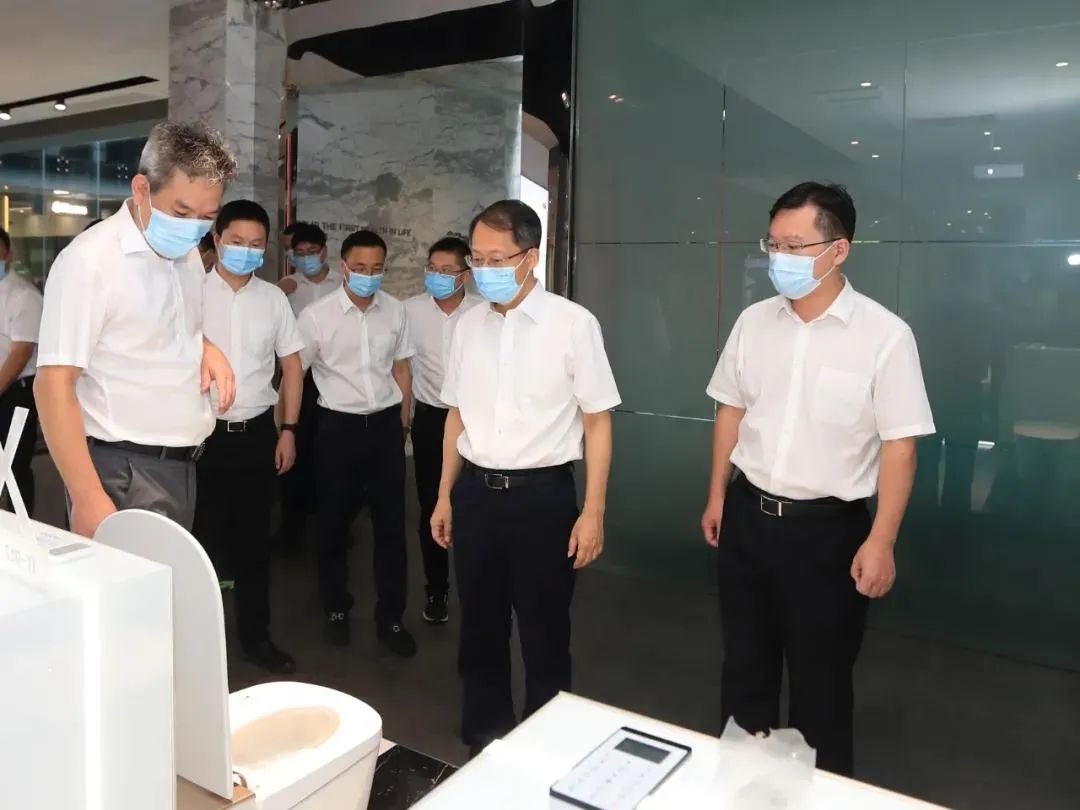 Langsi united with Red Star Macalline, becoming the first design cloud cooperative brand in sanitary industry
On August 9, Ms. Zheng Jiajia and Mr. Xu Qiang from Red Star Macalline Home Group Design Cloud Platform visited Langsi headquarters. The two sides had a detailed discussion on further in-depth cooperation. This time Langsi joined forces with Red Star Macalline again, which is the first design cloud cooperation brand in the bathroom industry. This will be more effective in quickly promoting and publicizing the Design Cloud platform. They start from the design, move the development of the industry, empower all the terminal stores, and finally realize the "good design, just buy" decoration purchase experience for customers.
Laibodun Partners with Dali Hai Zhaoshan Seaview Resort to Create a New Accommodation Experience
Laibodun's NPC Baikal series shower room is a new accommodation experience for Dali Hai Zhaoshan Seaview Resort and Spa. It is lighter with its simplicity and ultra-narrow frame. The SUS304 stainless steel material is aptly embellished to make the shower room safe and aesthetically pleasing. After 48 hours of salt spray test, it is still as bright as new. The humanized handle with the design has a delicate and smooth touch. In the whole space, it highlights the light luxury texture. It simply complements the overall matching design of the hotel.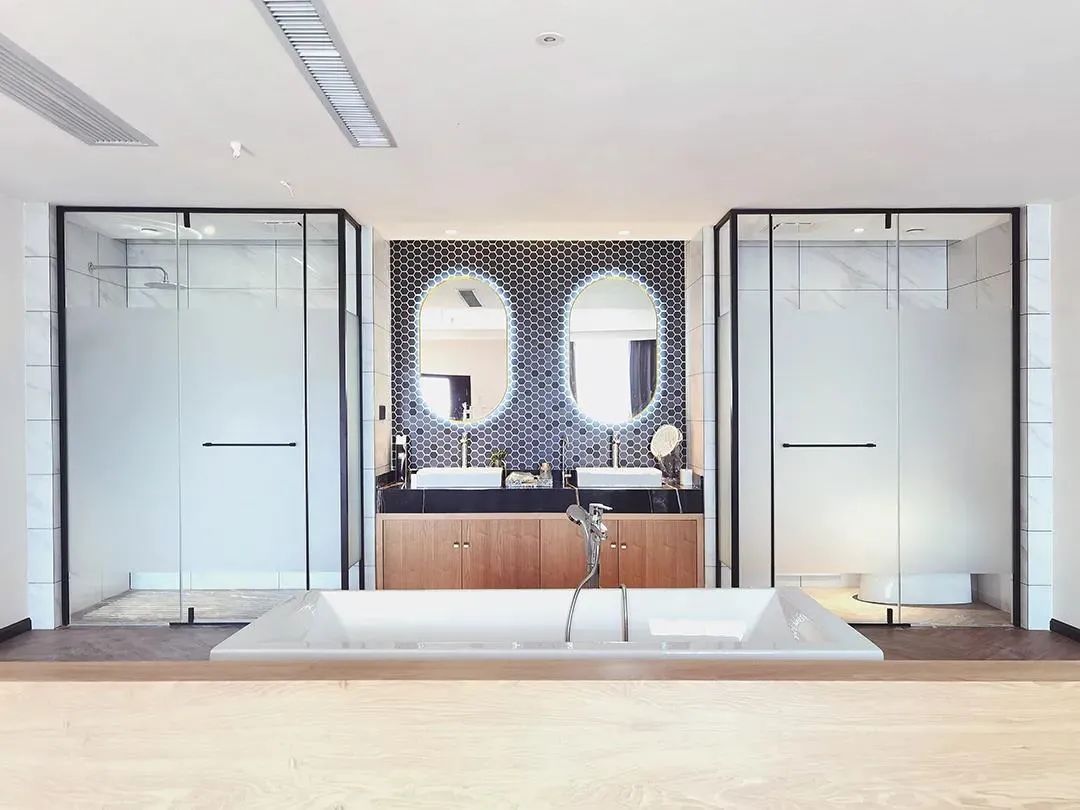 Rose Island launched a variety of new intelligent toilets
Recently, Rose Island launched a variety of new intelligent toilets, including wall-mounted intelligent toilets, foam shield intelligent toilets and automatic intelligent toilets. Among them, Rose Island wall-mounted intelligent toilet adopts the hidden imported water tank of TECE from Germany. The bracket can bear 400 kg, and the toilet position can be flexibly changed. Simple, atmospheric hanging aesthetics, minimalist appearance is more in line with the current mainstream aesthetics. It also adopts antibacterial seat, self-cleaning spray bar, and electrolytic water device to achieve multiple antibacterial health cleaning and elegant toileting.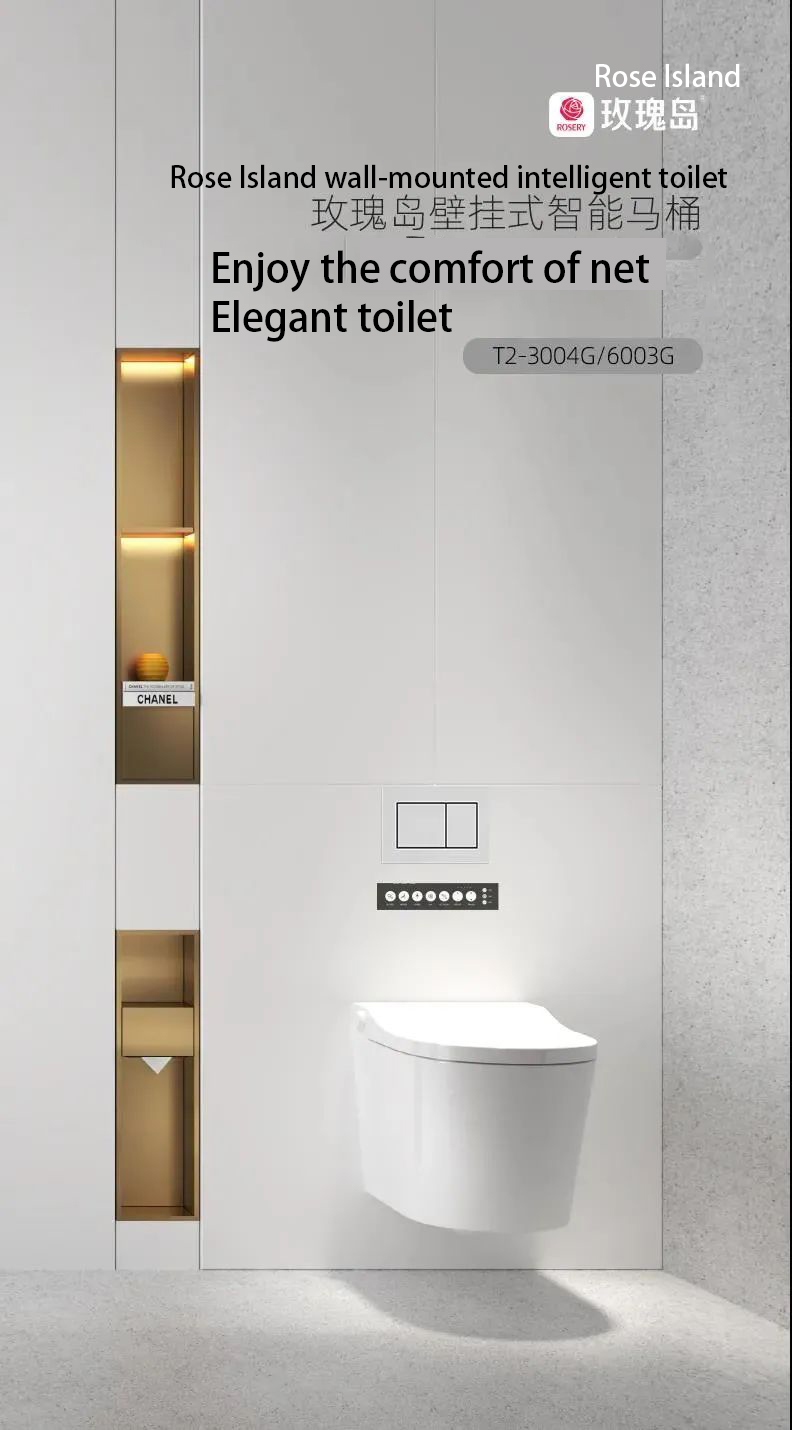 Tepe bathroom landed in Beijing Daxing Airport
Recently, the latest advertisement of Tepe Sanitary Ware has landed in Beijing Daxing Airport. Beijing Daxing Airport is a world-class aviation hub, which can meet the passenger throughput of 72 million passengers, cargo and mail throughput of 2 million tons, aircraft landings and take-offs of 620,000 sorties. ln 2021, the national Tepe new SI stores have reached 200 +, dedicated to solving the domestic bathroom space customization process of product quality, design, custom production, home installation, on-site acceptance and a series of problems. The Tepe bathroom landing in Beijing Daxing Airport will further help the spread of brand image.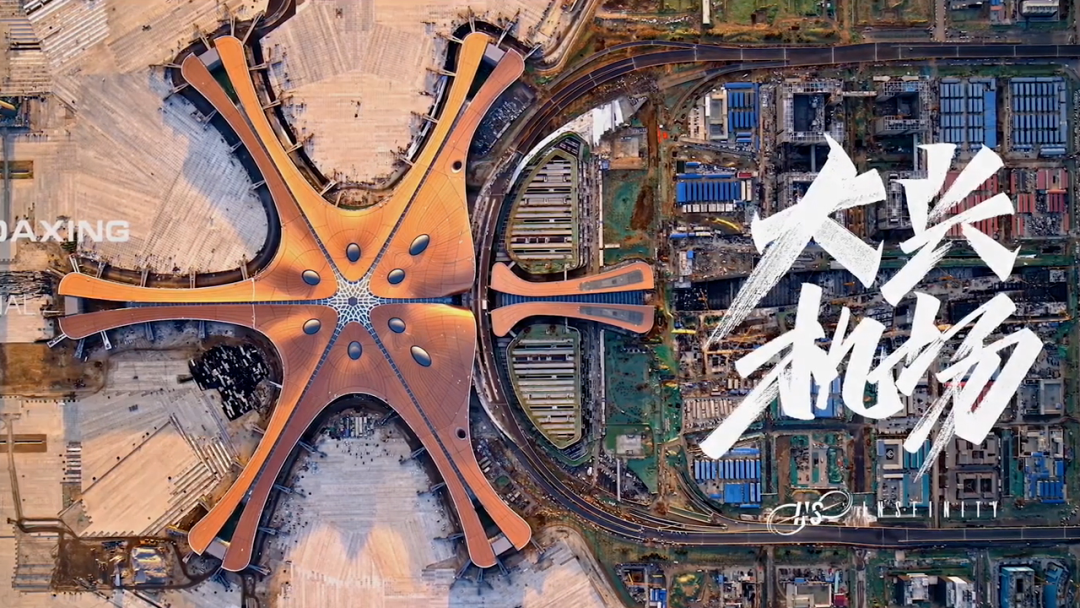 TENN Sanitary launched the "Design-Leader" campaign
From August 9 to September 15, TENNE Sanitary launched a 38-day campaign called "Design Lead the Way" for the first bathroom space design. It aims to deeply focus on the organic integration of design, life, culture, environmental protection and service, gather excellent design power, and jointly promote the deep development of high-end habitat and health design. A hundred cities across the country participated together to incubate the most moxibustion hot Tino bathroom design culture IP.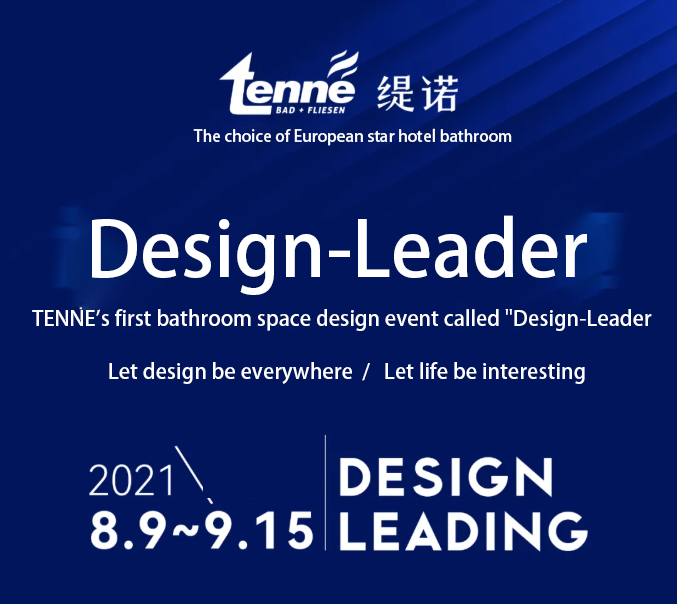 Moen was awarded "2021 Outstanding Brand Image Award" by China Finance Summit
Recently, Moen was awarded the "2021 Outstanding Brand Image Award" at the 10th China Financial Summit (CFS). China Financial Summit (CFS) is one of the most influential events in China's economic field. The "2021 Outstanding Brand Image Award" was established to honor the most outstanding brands with good operational capabilities, sustained growth, wide influence and high visibility. Moen, the kitchen and bathroom brand of US-based home furnishing giant, has become a major growth engine for the Group's plumbing business, thanks to its global brand recognition, flexible global supply chain, and innovative products and services.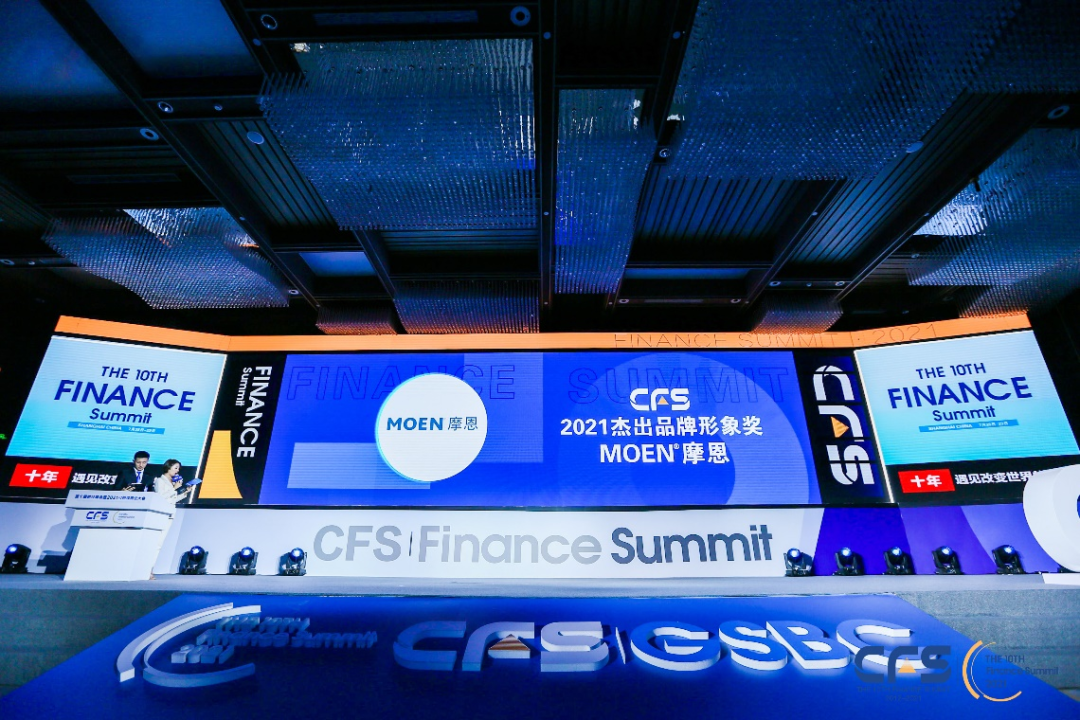 MAXI Maxim's full bathroom customization production base was completed
On August 12, the inauguration ceremony of the headquarters base of Maxi Kitchen & Sanitary Technology in Foshan was held in Luocun, Foshan. The inauguration celebration of the headquarters base of Boomerang Kitchen & Bath Technology is a concrete manifestation of Boomerang's brand strategy development and improvement of standardized management. The production operation workshop with superior production conditions and perfect supporting facilities will certainly play a positive role in comprehensively promoting the standardized construction of Bomei. Li Yiyuan, Chairman of Boomerang Kitchen & Bath Technology, hopes that the new factory will continue to play its own advantages and adhere to the principles of high starting point, high standard, high quality and high grade to inject a new journey for Maxim's brand.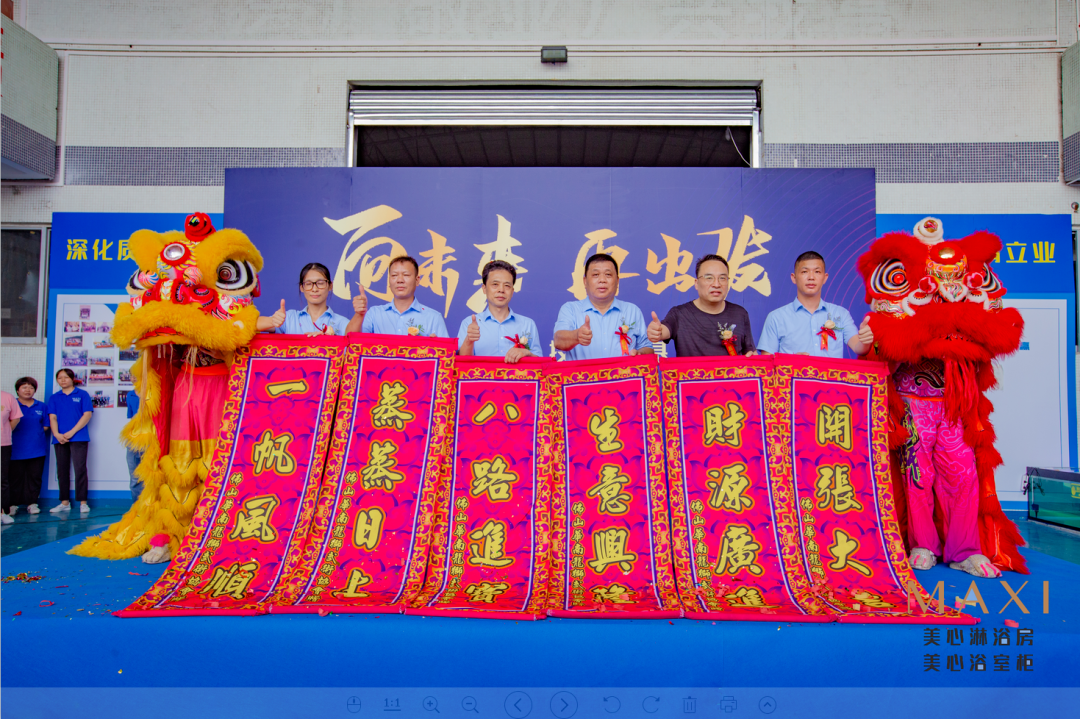 o 2021 Chongqing digital workshop and smart factory recognition results are out, Huida Smart Home (Chongqing) Co., Ltd.'s bathroom production digital workshop on the list.
o Grohe has appointed Matt Brown as the UK leader on July 1, 2021.
o Oppein Home achieved total revenue of 8.2 billion yuan in the first half of 2021, up 65.14% year-on-year, and net profit of 1.012 billion yuan, up 106.98% year-on-year.
o China Flag New Material, the largest producer of artificial quartz stone in China, listed on the main board of Shenzhen Stock Exchange online roadshow.
o Red Star Macalline provided RMB 423 million guarantee for its subsidiaries Chengdu Tianfu and Changzhou Hongyang.
o Overall bathroom digital service provider Wishi completed a strategic financing of tens of millions of RMB from Matsushita Electric.
o Home Quarters home furnishing jointed with 4 natural persons to set up a new Fuduo home furnishing in Xi'an with a registered capital of RMB 5 million.
o Markor Home Furnishings provided a total guarantee of 17.78 million RMB for Tianjin Markor and Vietnam VFR.
o The market size of European bathroom furniture, cabinets and bathroom mirrors grew to 2.4 billion euros (18.34 billion RMB).
o Smart home industry cluster in Foshan High-tech Zone was approved as a national pilot innovative industry cluster.
o The US$2.5 billion Dominga copper and iron ore project in Chile received the green light from regulators.
o Recently, the global container freight index showed that the shipping price from China and Southeast Asia to the East Coast of North America exceeded USD 20,000 per TEU for the first time, hitting a new record high, and foreign trade enterprises had difficulty in finding a box.
o Qumei Home furnishings registered capital was reduced to 580 million yuan, with the addition of economic and trade consulting and other services.
o Topco provided 20 million yuan guarantee for its holding subsidiary Zhejiang Inte.
o China Merchants Shekou released the first green quality manufacturing pact in the domestic real estate industry.
o Suning Retail Cloud stores nearly 10,000, will enter the home, fast repair field.
o The overall sanitary ware market scale will expand to 16.5 billion yuan in 2025.
o Thousands of building materials merchants in Zhengzhou suffered heavy losses, the purchase price of hundreds of yuan hardware when scrap sold cheaply.
o Recently, the State Administration of Market Supervision and Administration to supervise the sampling of sanitary products, including intelligent toilets, spouts, water-saving water dispenser. According to incomplete statistics, a total of 9 batches of sanitary products across the country were notified of failure.
o Jiangsu: "14th Five-Year Plan" period new construction of assembled buildings accounted for 50% of the new construction floor space during the same period.
o 25% of shares of Wodei Home, a subsidiary of Yihua Life, were frozen.
o Fubon Furniture withdrew 51% of Fubon Wood, and Hengrun Furniture took over.
o Li Shuangman, deputy general manager of Dongyi Risheng, intends to reduce his shareholding by no more than 165,700 shares of the company, which lost 113 million – 153 million in the first half of the year.
o Yaxia: intend to acquire 100% equity of Shunyi Construction for 110 million yuan.
o Gaoming Taxation Bureau launched a special action of new enterprise escort to help export enterprises go to sea.
o Gujia Home employee shareholding officially landed with a turnover of 676 million yuan.
o Piarno whole house customization intelligent manufacturing base phase I project topped out.
o Disen Corporation: Shunde operation center was officially established, laying out a new home furnishing field.
o More than 165 real estate companies nationwide issued bankruptcy announcements in the first half of the year.
o General Administration of Customs: the first seven months of China's foreign trade imports and exports 21.34 trillion yuan, up 24.5% year-on-year, 14 consecutive months of positive growth. Among them, exports of 11.66 trillion yuan, up 24.5% year-on-year; imports of 9.68 trillion yuan, up 24.4% year-on-year. o In the month of July, China's foreign trade import and export value of 3.27 trillion yuan, up 11.5% year-on-year.