Original Kitchen & Bath Industry Mainstream Media Kitchen & Bath News
LIXIL Group announced on October 30 that it will implement the New Life Voluntary Retirement Program after the merger of its subsidiaries in order to accelerate its comprehensive personnel policy, "LIXIL, We Must Change," which will be implemented from the fall of 2019 to transform its domestic business into a more entrepreneurial and sustainable one.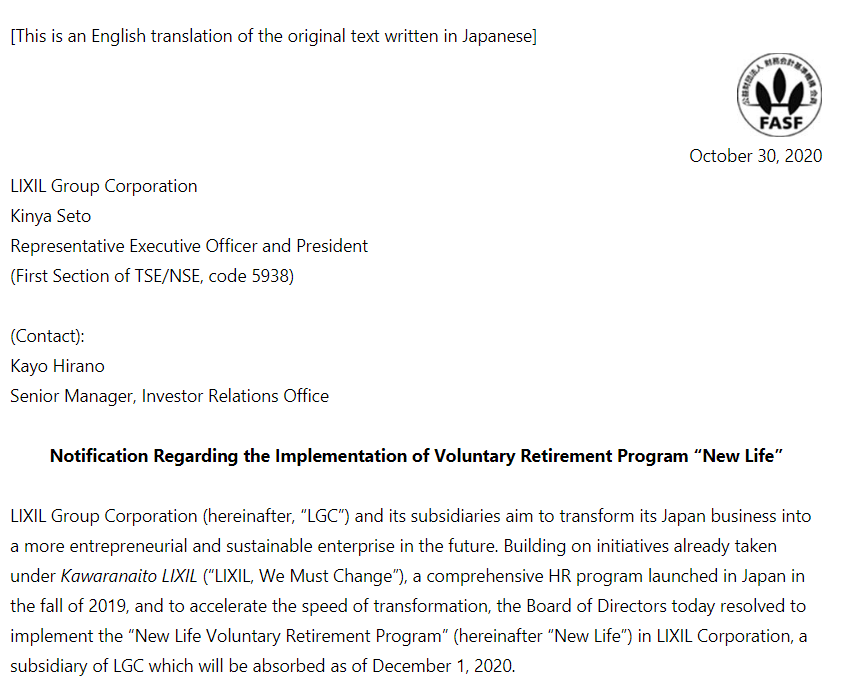 Under the New Life Voluntary Retirement Program, the number of voluntary retirees will be 1,200 full-time employees who have reached the age of 40 and have worked at LIXIL for at least 10 years as of their retirement date (March 25, 2021). In addition to the normal retirement allowance, a special retirement allowance will be paid. In addition, LIXIL will provide support for employees who leave through the program to find new jobs. The period will be from January 12 to 22, 2021.
Japanese companies usher in an era of massive staff restructuring
Japan's Tokyo Shoko Research Ltd (TSR) released a report on October 30, stating that the epidemic has ushered in an "era of massive restructuring," with early retirement and voluntary retirement applications from listed companies increasing more than two times over the full year 2019. As of Oct. 29, the number of early and voluntary retirement applications from listed companies in Japan reached 72. This is twice as many as in the whole of 2019 (35) and the first time in 10 years since 2010 (85) that the number has exceeded 70. There are 14,095 known companies alone, and by industry of the 72 companies, the apparel and textile industry has the highest number of people at 13.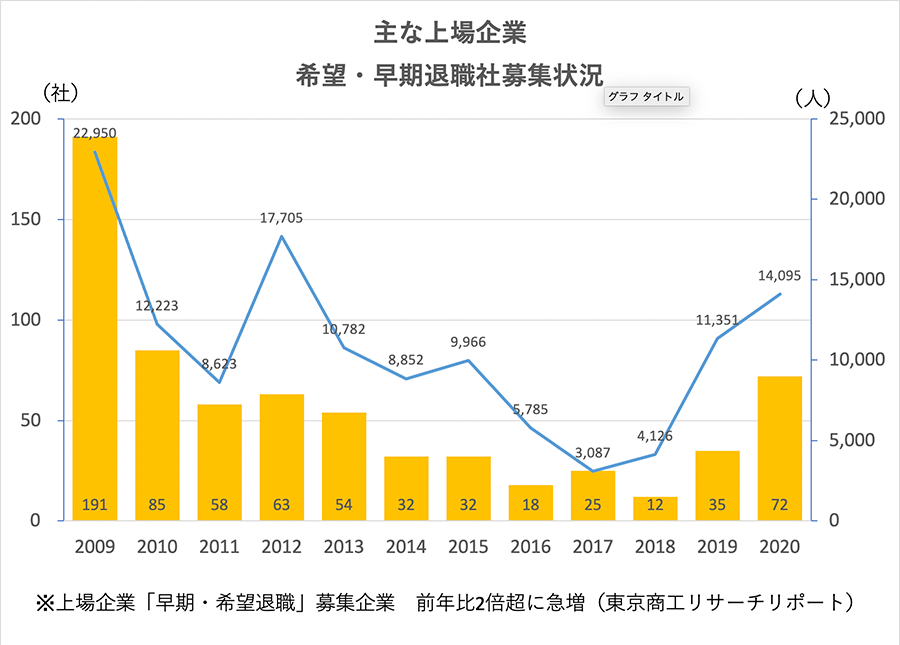 In its "voluntary retirement" announcement, the LIXIL Group said that its Japanese operations now account for approximately 70% of its total business volume and are the main innovation driver supporting LIXIL's global brand and business portfolio. However, with the rapid shrinkage of the new housing market, as well as changing consumer preferences and rapid digitalization, the business environment surrounding the LIXIL Group and its Japanese subsidiaries is changing and traditional business models will no longer be viable. In order to achieve sustainable growth, we need to "transform our business structure and establish a highly effective organizational culture that supports innovation and entrepreneurship," and will support employees who have chosen careers outside the company to accelerate transformation and business structure change.
In the first half of this year's fiscal year (ending September 30), LIXIL Group revenue fell 13% year-on-year to 660.5 billion yen (RMB 42.3 billion), with Japanese operations down 14% year-on-year to 491.8 billion yen. Due to the decline in new housing starts in Japan from January to June this year, weak consumer demand due to the new coronavirus, and lower demand following the consumption tax hike in 2019, net income attributable to shareholders of the parent company decreased 53% year on year to 10.9 billion yen (RMB 0.7 billion), despite growth in LIXIL kitchens and housing driven by consumer demand, a 50% year-on-year increase in sales of home delivery boxes, and a 70% year-on-year increase in sales of window blinds for renovation. billion yen (RMB 700 million).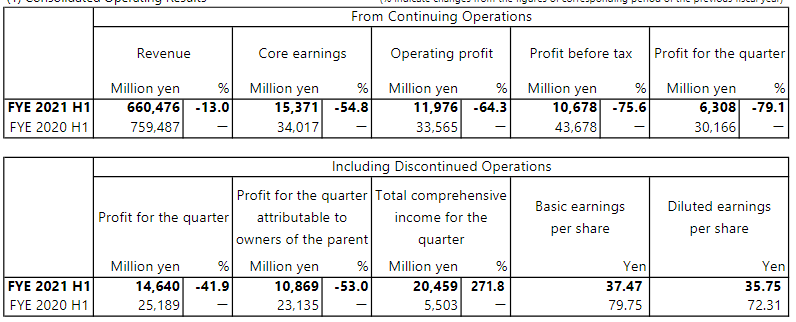 In recent years, LIXIL has been lightening its organizational structure, reducing the number of executives on board from 150 (including overseas) to 80 in 2016, then gradually to 50, and to 24 as of July this year.
In 2019, Japanese profitable companies carried out "profitable restructuring" against the backdrop of strong performance, i.e., seeking structural reform while the performance was strong, but this year, "loss-making restructuring" became prominent after being pushed to the wall by the epidemic.
"Voluntary retirement" plans have become a way out for loss-making companies to some extent
Of the 72 Japanese companies that submitted retirement plans this year, 54 (75.0%) incurred losses. In recent years, in order to balance the number of employees of different ages, Japanese companies have focused on voluntary retirees in the 45 and 50+ age groups. However, this year, some companies in Japan have been forced to cut personnel costs as quickly as possible and have even lowered the age group to the 30s and 20s. In addition to this, there are cases of voluntary retirement with "optional retirement system".

According to the study, there is no clear definition of the so-called voluntary retirement and optional retirement. Retirees who use the optional retirement system are entitled to preferential treatment, such as the independent choice of receiving premiums and retirement allowances. The selective retirement system works by setting a specific age, such as 50 or 55, and allowing employees to choose to retire at that age.
As for the report's reference to "selective retirement," a seemingly positive-sounding term, it may just sound a little better to companies than the "voluntary retirement" one. However, the Tokyo Institute of Commerce and Industry believes that this may also be the "way out" for those "voluntary retirement" plan companies.