On the afternoon of June 9th, LIXIL Group announced that it intends to sell the equity of its subsidiary LIXIL Viva (mainly engaged in home store operation, residential decoration, etc.) to Japanese home store company Arcland Sakamoto (hereinafter referred to as "Arcland"). The total transaction amount was 56.619 billion Yen (approximately RMB 3.710 billion). According to the announcement, LIXIL Group has signed a conditional agreement with Arcland on the same day, and is expected to complete the equity transaction in November 2020.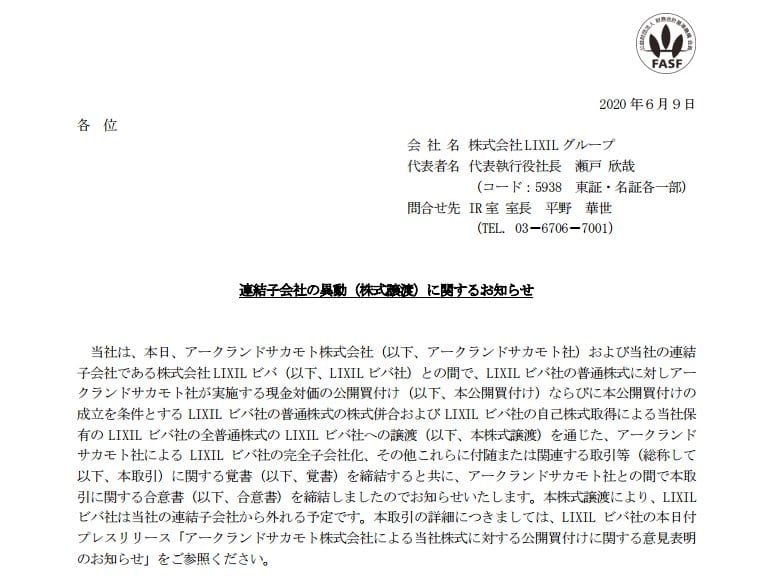 Before the official announcement of LIXIL Group, NHK, Japan Economic News and many other Japanese media made relevant reports. For example, NHK News released an "exclusive news" in the early morning of the 9th, saying that Arcland will pay more than 100 billion Yen (about RMB 6.550 billion) to acquire all shares of Lixil Viva. On the morning of the same day, LIXIL Group announced that the content of the relevant reports was not from the official release of the group, and the specific matters of the transaction will be announced quickly after the decision of the board of directors. To 3:00pm Beijing time on the 9th, LIXIL Group finally issued an official announcement.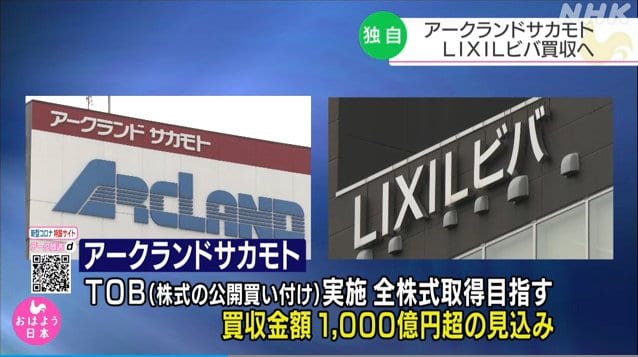 Related report by NHK
Plan to Sell Lixil Viva's Equity for RMB 3.7 Billion.
According to the LIXIL Group announcement, the company has signed a conditional agreement with Arcland on matters related to the Lixil Viva equity transaction on June 9th, and plans to sold all the equity of Lixil Viva (accounting for 53.2% of all Lixil Viva equity) to Arcland. The general process is that LIXIL Group transferred 23,367,300 shares back to Lixil Viva at 2,423 Yen per share, which was then sold to Arcland by Lixil Viva at 2,600 Yen per share. The total transaction amount was 56,619 million Yen (about RMB 3.710 billion).
According to public information, Lixil Viva is a 53.2% listed subsidiary of LIXIL Group. Its main business is home furnishing stores, and it currently has about 1,300 employees. According to Lixil Viva's annual report, the company achieved sales of 188.506 billion yen (approximately RMB 12.347 billion) in fiscal 2019, an increase of 4.2% year-on-year, However, the three major profit indicators of operating profit, regular profit and net profit per share to the year-on-year decline, of which net profit per share fell 64.2% to 6.597 billion yen (approximately RMB 432 million).

Total sales amount is more than Yan 5446.19
On the other hand, the acquirer Arcland is a listed home furnishing company, headquartered in Sanjo City, Niigata Prefecture, Japan. Its main business is also a home furnishing store and currently has more than 4,400 employees. Arcland was founded in 1970. At the beginning of its establishment, it mainly dealt with hardware products. In 1978, the first home furnishing store was opened in Niigata Prefecture, Today, the store has spread all over Niigata Prefecture and Northeast Japan. In August 2019, Arcland opened the company's largest home furnishing store to date in Kuki city, Saitama Prefecture. The acquisition of Lixil Viva is also related to its layout in the Tokyo area, where the store is located.

The sales report of passed 3 year of Lixil Viva
LIXIL Group stated that there is a certain difference between Lixil Viva's main business and LIXIL Group's focused business. The sale of Lixil Viva shares aims to improve the Group's production capacity and operational efficiency, promote the Group's focus on its main business, and enable the Group to invest in new businesses and other high-yield businesses.
Second Sale of Subsidiary Equity in Two Months
It is reported that this transaction is the second equity transaction around the subsidiary announced by LIXIL Group within two months. On May 1st, LIXIL Group announced that it would sell its 100% equity in Permasteelisa to American Atlas Holdings Co., Ltd., the same reason is to focus on the main business and to enable the group to have the ability invest in other businesses.
The data shows that Permasteelisa sales in fiscal years 2016, 2017, and 2018 were EUR 1.286 billion, EUR1.277 billion, and EUR1.117 billion respectively, and net profits were EUR-0.45 billion, EUR-29 million, and EUR-4.12 billion. However, according to the previous annual report issued by LIXIL Group, in the fiscal year of 2019, Permasteelisa's sales increased by 6% to EUR 1.183 billion, and the net profit loss has also narrowed.
LIXIL Group has implemented a number of measures in recent years to carry out the "operation subtraction". In addition to the sale of Permasteelisa and Lixil Viva, LIXIL also sold its 51% equity in LIXIL Haier Residential & Construction (Qingdao) Co.,Ltd. at the end of 2017. From fiscal year 2018 onwards, LIXIL Group has merged the kitchen department and the bathroom department to form a new water technology business department, which would further simplify the corporate structure.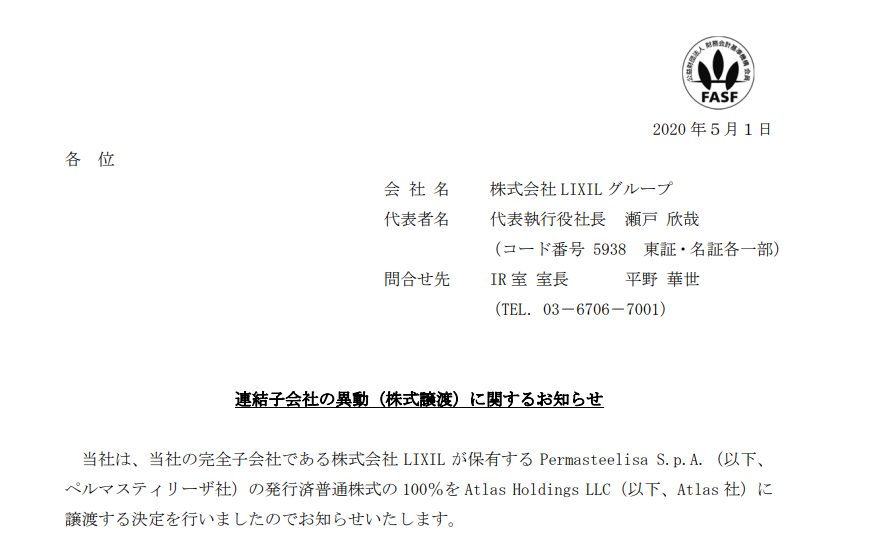 LIXIL Group announced to sell out 100% equity to Permasteelisa on May 1st
The epidemic brings new opportunities to Japanese home furnishing stores?
In addition to the major actions of the building materials company LIXIL Group, relevant reports around the transaction also revealed the current status of the industry in Japanese home building materials stores.
According to NHK reports, in recent years, with the major stores in Japan actively opening stores, the market of home furnishing stores has continued to expand, and has now reached the scale of 4 trillion Yen, and the market competition has become fiercer. At the same time, in the face of the rise of online shopping, more and more consumers choose to buy home products online, which has caused many home stores to run into trouble.
Under such circumstances, the sudden epidemic has caused consumers to buy more goods that can be used for a long time and for the whole family at home stores, which has a certain effect on the sales of major stores. This is also true from the sales of major Japanese companies in April. For example, DCM Holding increased by 15.6%, Komeri increased by 17.5%, and the growth rate of Arcland with this acquisition has reached 21.1%.
However, a number of home furnishing stores in Japan had to temporarily suspend their sales due to increased customers flow and to comply with local government epidemic prevention measures. Arcland, for example, temporarily closed almost all the stores during the May holiday period because of the risk that the stores might be "triple-closed" (Crowds, confined spaces, closed contact). At the same time, Arcland also posted a "Please don't come" declaration in front of its stores, which became a hot topic in Japan.
It is worth mentioning that Japan does not have the home building materials stores that are found everywhere in China. Most of the local related companies develop their business in the form of Home Center. The Home Center is generally divided into multiple areas, such as LIXIL Viva, which is sold by the LIXIL Group, has a variety of stores, including the building materials store, living store, gardening store and pet store etc.. and many daily necessities can be purchased from it.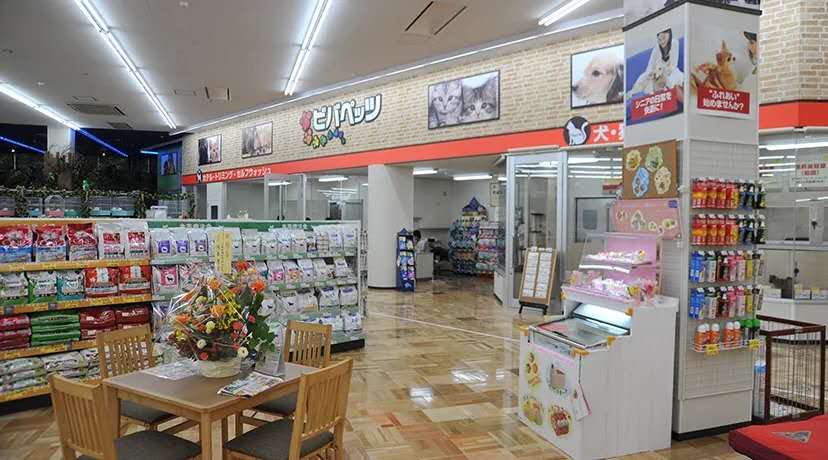 Pet Hall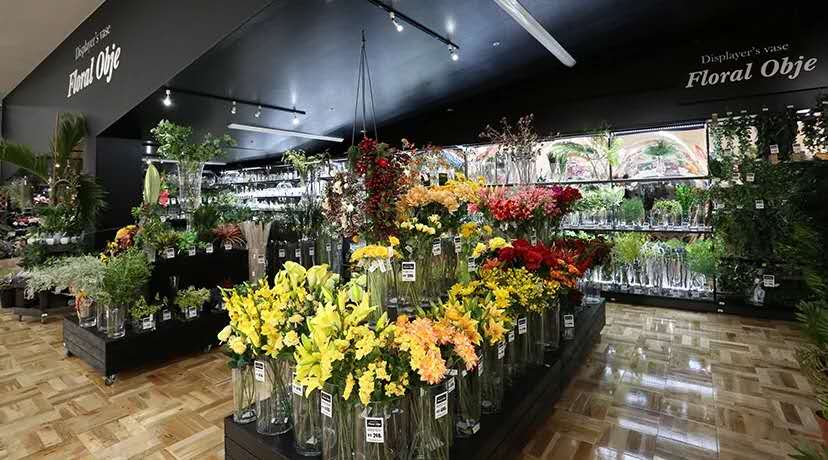 Gardening Hall
Life Hall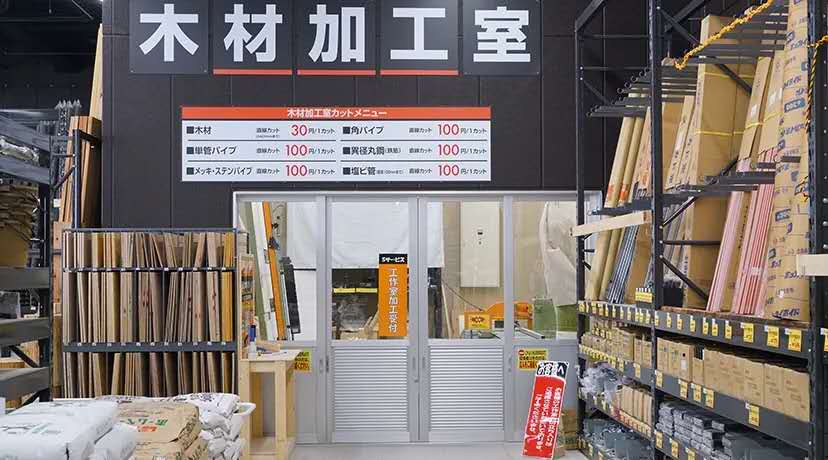 Construction Hall