VIGA Contents And Suggestions About Bathroom Decoration
Introduction:
Bathrooms can be made really fancy with the materials available in the market – fittings, rain showers, sanitary ware, accessories! But you have to keep in mind a couple of things:
1. How big is your bathroom? Most new flats have tiny bathrooms and there is just no place to accommodate some of these items.
2. Do you get good municipality water? If you get bore well or hard water, the tiles and fittings will look terrible in no time due to residues. So then what's the point of spending so much money on them? You might as well as reasonable quality local Indian stuff and not go for fancy things.
That said, its best to spend a little bit more on the bathrooms. Its another item like flooring which just cannot be changed easily later on. So its better to get some good work done there at the cost of movable items such as furniture, in case you are on a tighter budget.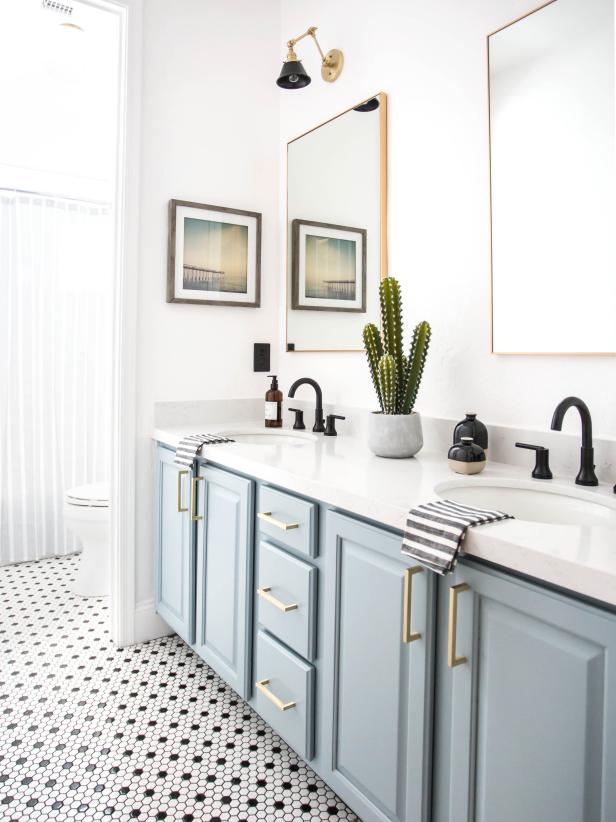 This is one area where an interior designer can be useful. You need to figure out the exact locations of the fittings – e.g. heights for showers, bath spouts, usage of flush tanks versus flush valves, etc. The problem is that most designers may anyway just use a cookie-cutter approach and not design for your space. And they may be ill-equipped to decide back end choices such as the use of a pressure pump to get adequate water pressure.
If you are changing the tiles in the bathroom, its best to change the piping as well to increase its life. The cost will not increase too much percentage-wise. As they break the floor tiles, you will need to redo the waterproofing as well. Generally the quotation for breaking and waterproofing will only cover taking the debris to the ground floor, and not disposing of it.
I distinguish between fittings like taps, showers, trims, health faucets, etc. and sanitary ware as WCs, flush systems, and basins. There are two different parts to fittings and sanitary ware: back-end-part such as concealed water diverters, flush tanks, etc, and the outer visible trims such as bath spouts, showers, flush plates, etc. At the time of civil work you need to make two choices:
Brand: Which brand of fittings and sanitary ware do you want to install. Most of the back-end parts are common and irrespective of the final trim you choose. You have to still decide some other things such as the use of a pressure pump because the exact back end pieces depend on the pressure of the water. Once that is done, the back end pieces get fixed, and you can peacefully choose the exact outer pieces based on aesthetics at a much later stage. We got very caught up in choosing the exact trim and wasted a lot of time on it when it was not required for installation for another six months.
Configuration: What all pieces you finally want? In showers, whether you want handheld, overhead, rain, full-body jets, etc. Whether you want platform basins, wall-mounted basins, pedestal basins, etc. Whether you want flush tanks or flush valves. With this in mind, the plumbing diagrams can be made.
Please keep detailed drawings of the piping layout for future drilling and maintenance. Also take photos of the piping layout after the pipes are laid out and before the tiles are laid out on top of the pipes. This is critical so that you do no drill over pipes and cause unnecessary leakages.
Fitting:
Many different types of taps and fittings are required in different parts of the bathroom as given below. Mostly, you focus on choosing a series based on how you like the look of the basin taps of that series. Once you choose a series, most fittings such as the bath spouts, bib taps, angle cocks just come within that series itself.
Showers: There are three types of showers: overhead, handheld, or rain. What worked for us was a combination of a hand-shower in each bathroom with a choice of overhead or rain showers in different bathrooms. Rain showers usually need more water pressure and are very expensive so make sure that they work and fit well in your bathroom. We got a rain shower in our master bathroom; it's awesome but surely a bit over-rated. We ended up paying Rs. 14,000 for the shower itself, and the pressure pump was required mainly for this shower which another Rs. 35,000-40,000! Showers are usually independent of the series of the rest of the taps.

Shower Trim: Once again, you choose the taps and pick the matching shower trim. Depending on the combination of showers, the shower trim will have diverter buttons for the spout and the showers. Try to get shower trims without sharp edges to avoid injuries.
Health faucet and Two-way Bib Cock:  This is really the most important fitting that you get to choose. There are different types of basin taps and they can get really expensive!  You can get a basin-mounted or a wall-mounted tap. The taps can have a single control for hot and cold water, or separate controls. VIGA has some really pretty basin taps.
Basin Tap: basin requires a waste coupling which is the steel trap that fits in the basin hole, a bottle trap that is the pipe that goes from the bottom of the basin to the water pipes, and two angle cocks which are taps below the basin to control hot and cold water flow to the main basin tap. All fairly standard items but some sizes and finishes may vary.
sanitary ware:
The flush system has been installed at the time of other civil work, prior to tiling the bathroom. However the WC and basin can be installed right at the end. In fact, we installed them even after the painting was done so they remained in brand-new condition, and did not get married any way due to the other work
Flush System: You can install a regular flush tank or a flush valve. Flush tanks can be visible or concealed. Visible flush tanks look unappealing but are easier to maintain. Concealed flush tanks are most common, get covered by tiles, and can be reasonably maintained through the opening of the flush plate. Flush valves look the best and occupy the least space, but can be clogged by minor dirt in the water. Also if the water pressure in your house is not too good, (if you stay on higher floors with the tank just overhead), flush valves do not work too well.
WC: There is a wide choice of WCs in the market. They vary in size, colors, water technology, coatings to prevent stains, etc. But this is one area where the choice is limited compared to basins and fittings. It's best to just go to the market and see what meets your needs.
Basin: Basins are of many types, and you should really choose one that fits in your space. My preferred choice is to have a big countertop with a basin mounted on the top and a storage area below. The advantages with this choice are the best aesthetics (as the pipes and angle valves are hidden behind the storage), plenty of counter space for accessories and toiletries, storage below the basin to keep cleaning stuff, the floor remains clear to be cleaned properly, a nice-looking granite platform that can match the bathroom tiles, and no water spilling onto the floor – it reaches the countertop which can be cleaned leaving the floor dry. But this choice needs reasonable space in the bathroom. Also the platform may need to be installed very early on, when the tiles are laid out depending on the wall configurations.
Here's a list of different types of accessories that can be installed in a bathroom:
Basin Area: Tumbler holder, brush holder, mirror, soap dish, napkin ring

 

Door Area:  Towel holder, robe hooks

 

WC Area: Toilet roll holder

 

Bath Area:

 

Soap dish, Clothes drier, Exhaust fan