Top 10 Bathroom Accessories Manufacturers and Suppliers in China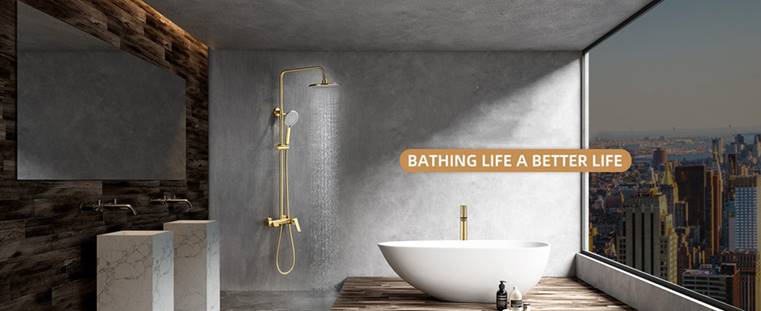 This article is about the Top 10 Bathroom Accessories Manufacturers and Suppliers in China. According to our compilation, each of the companies above has a good reputation around the world.
| | | |
| --- | --- | --- |
| NO. | Bathroom Fittings Supplier | Key features |
| 1 | JOMOO | High-end bathroom accessories manufacturers |
| 2 | HEGII | Bathroom accessories Manufacturers |
| 3 | KOHLER | Suppliers of bathroom and kitchen accessories |
| 4 | HUIDA | Top smart toilet manufacturers |
| 5 | ARROW | Suppliers of tiles, sanitary ware, and home furnishings |
| 6 | DONGPENG | Sanitary ware manufacturers in China |
| 7 | SSWW | One of the largest sanitary ware manufacturers in China |
| 8 | FAENZA | Ceramic sanitary ware manufacturer |
| 9 | ANNWA |                                                                                             Manufacturer of stylish bathroom fittings |
| 10 | HUAYI | Manufacturer of cabinets, bathroom fittings, taps |
1. JOMOO Bathroom Fittings Manufacturers

JOMOO Kitchen & Bath Ltd, which started producing high-end sanitary fittings in 1990, is a consistent leader in the high-end sanitary ware market. It is always at the top of the list of the 500 most valuable brands in the Chinese sanitary ware industry.
The production of JOMOO sanitaryware guarantees the highest quality and focuses on the use of the best materials, making it one of the world's leading sanitaryware manufacturers.
Headquartered in Fujian, with 60 laboratories, 30 global research facilities, 16 factories, and 5 main production centers, JOMOO Kitchen & Bath Co Ltd develops and manufactures sanitary ware, sanitary ceramics, taps, bathroom and kitchen hardware, as well as kitchen and bathroom furniture.
Main Products
Smart Toilets
Comfort height toilets
Faucets
Bathroom vanities
Reasons To Recommend
Through its extensive product range, JOMOO brings healthy and environmentally friendly bathroom solutions to the highest level.
2. HEGII Bathroom Fittings Manufacturer

Guangdong HEGII Sanitary Ware Co Ltd was established in 1998, but the world-class SITI tunnel kiln HEGII sanitary ware brand was created in 2002. HEGII has since risen to become a large sanitary ware manufacturer focusing on the creation, production, sales, and after-sales service.
Guangdong HEGII Sanitary Ware Co Ltd has five production bases focusing on ceramic sanitary ware, metal taps, bathtubs, bathroom cabinets, and shower enclosures, as well as a 4,000 sqm R&D center for patented sanitary ware products.
Main Products
Intelligent toilets
Bathroom cabinets
Washbasins/showers
Bathroom accessories and fittings
Kitchen sinks / Kitchen taps / Kitchen accessories and fittings
Reasons To Recommend
The Smart Toilet is HEGII's best-selling product, offering comfort, convenience, and added safety, especially for older users.
3. KOHLER Bathroom Fittings Manufacturer

Kohler was founded in 1873 in the U.S.A. In 1995 Kohler established its first factory in China on a 60,000 square meter site in Foshan to produce ceramic components and in 1998 began producing taps in Beijing.
In 1999, Kohler China set up a full-scale factory in the Spark Development Zone in Pudong, Shanghai. It now has 10 factories, a dozen flagship shops and more than 500 regular exhibitions throughout China.
Kohler China lives up to the more than 130-year history of the Kohler brand and is renowned for its exceptional durability, superb craftsmanship and innovative technology.
Key Products
Bathtubs
Toilets
Bathroom taps
Kitchen sinks
Reason For Recommendation
The Kohler brand stands out from the crowd with its high standards of quality. Try the Veil product from the Smart Toilet range.
4. HUIDA Bathroom Fittings Manufacturer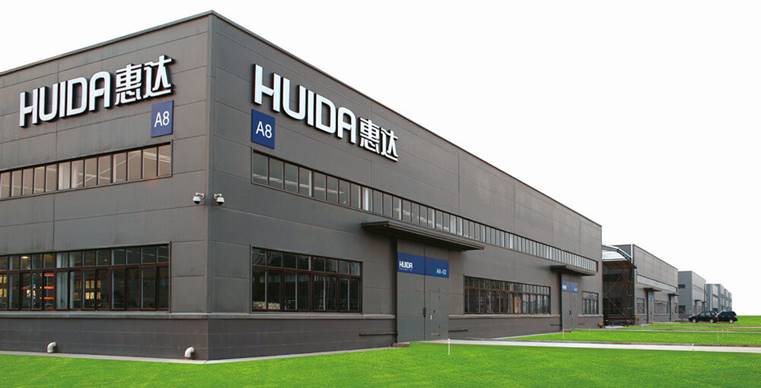 Established in 1982, Huida Sanitary Ware Co., Ltd. has developed into a huge sanitary ware and household enterprise in China. Huida is headquartered in Huanggezhuang Town, Fengnan District, Tangshan, Hebei, China, with a 628-acre bathroom technology park.
Huida is currently the largest base for faucet manufacturing, bathroom furniture, stainless steel sinks, kitchen furniture and copper metal processing in China.
Huida has 10 sanitary ceramics production lines, 2394 brand shops and a sales network throughout the country.
Main Products
Intelligent toilets
Shower
Bathtub
Reasons For Recommendation
Huida produces the most advanced toilets in China. It has one of the best smart toilets on the market.
5. Arrow Bathroom Fittings Manufacturer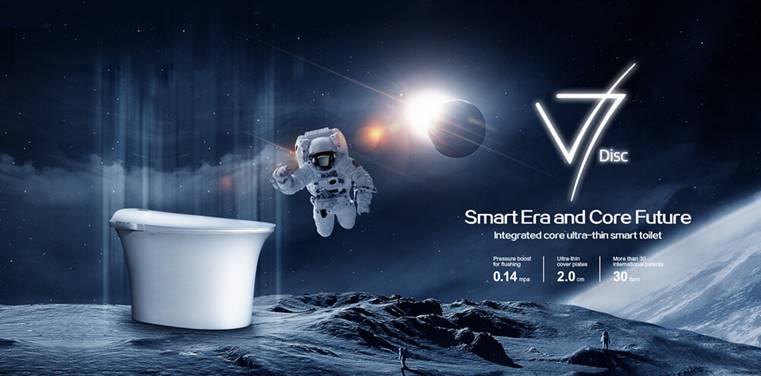 Arrow Home was established in 1994. It has become one of the largest and most popular manufacturing and sales companies for architectural and sanitary ceramics in China.
Arrow Home has six production centers (Foshan, Le Cong, Gaoming, Shaoguan in Guangdong, Dezhou in Shandong and Jingdezhen) with a total area of over 5,000 acres. Arrow also has over 3,000 sales outlets throughout China.
The Arrow brand of sanitary ware includes ceramic sanitary ware.
Main Products
The Arrow brand of sanitary ware includes ceramic sanitary ware, surf tanks, steam rooms, stainless steel basins, PVC bathroom cabinets, solid wood bathroom cabinets and other bathroom products and accessories.
Smart Toilets
Shower enclosures
Bathroom cabinets
Reasons For Recommendation
Ceramic bathroom products are cost-effective and high-performance. You can never go wrong with an Arrow bathroom.
6. Dongpeng Bathroom Fittings Manufacturer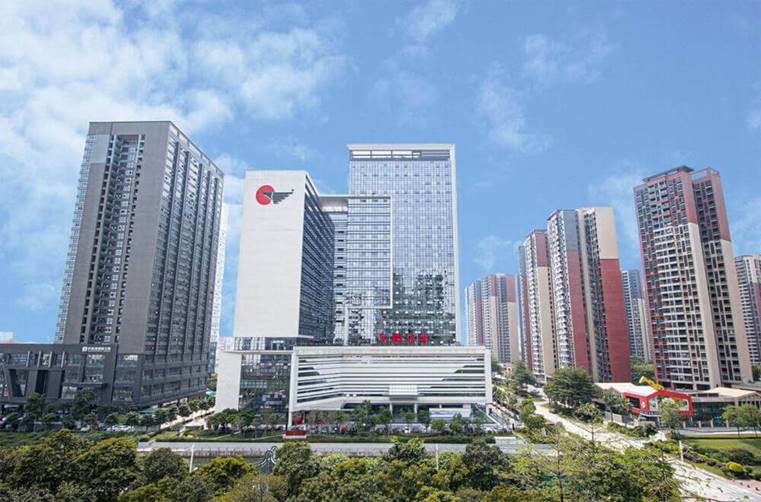 Foshan Dongpeng Sanitary Ware Co., Ltd. is part of the Dongpeng Holding Group. It was established in 1994 and is an enterprise integrating research and development, design, manufacturing, sales and service.
With four production bases (Foshan, Chongqing, Jiangmen Heshan and Jiangxi Yongchuan), Dongpeng Sanitary Ware produces economical, environmentally friendly, hygienic and comfortable sanitary ware products.
Dongpeng sanitary ware products are produced under a strict production, quality and service management system that meets ISO9001 quality standards.
Main Products
Dongpeng Sanitary Ware has a wide range of product lines including ceramic sanitary ware, leisure sanitary ware, bathroom furniture, intelligent sanitary ware, leading hardware products and kitchenware for the domestic and international markets.
Shower
Bathroom cabinets
Smart Toilet
Reason For Recommendation
Dongpeng is committed to providing customers with complete and healthy overall bathroom products.
7. SSWW Bathroom Fittings Manufacturer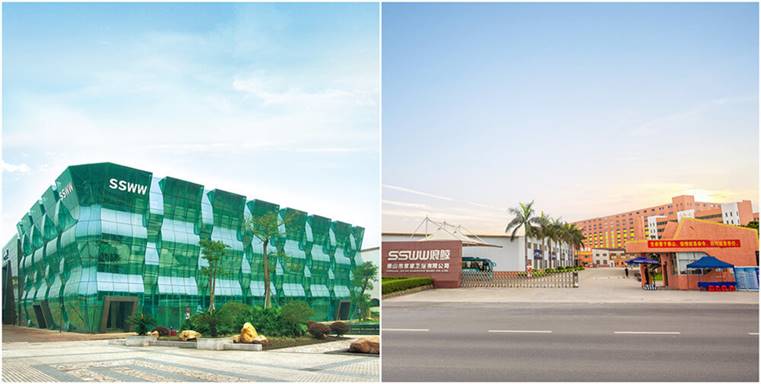 The Splendid Sanitary World or SSWW brand is becoming increasingly popular in both the domestic and foreign sanitary markets. Investment continues to pour in from Foshan Royalking Sanitary Ware Co Ltd, a stable manufacturer of sanitary ware solutions. SSWW has risen to become one of the largest manufacturers of sanitary ware in China.
SSWW has 2 huge production sites in China with a total area of over 150,000 sqm and a further 6 factories producing steam rooms, Jacuzzi baths, ceramic toilets, bathroom cabinets, shower rooms, hardware and accessories.
SSWW's main location is in Xingtou Industrial Zone, Nanzhuang Town, Chancheng District, Foshan City, Guangdong Province, China. Since its establishment in 1994, it has maintained its leading position and influence in the sanitary ware industry in China.
Main Products
SSWW produces over 5 million sanitary ware products annually. Its range of sanitary ware is exported to 107 countries worldwide, including the USA, France, Germany, Russia, Japan, Korea and Saudi Arabia to name a few.
Hydrotherapy showers
Smart Toilets
Water storage taps
Reasons To Recommend
SSWW bathroom products offer aesthetic value and unparalleled functionality to any bathroom.
8. FAENZA Bathroom Fittings Manufacturer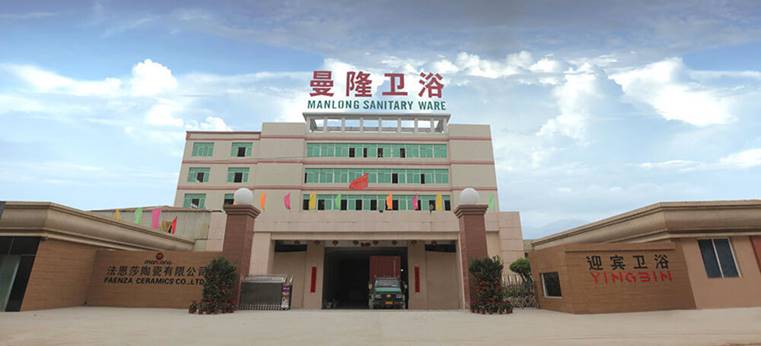 Combining life and art is the main thrust of the FAENZA brand, which was established in 1999. As an influential global art and lifestyle brand, FAENZA produces bathroom products according to the concept of artistic yet practical home design.
FAENZA has modern production bases in Gaoming, Foshan, Shunde, Shaoguan, Nanxiong, Zhaoqing, Sihui, Dezhou, Shandong and Jingdezhen, Jiangxi, with a total area of over 6,000 acres.
The FAENZA Group has its marketing headquarters in Foshan, China. It prides itself on manufacturing first-class ceramic-based sanitary ware products, complemented by excellence in product design, research and development, production and sales.
Key Products
FAENZA specializes in the production of ceramic sanitary ware, taps, bathroom cabinets and hardware pendants.
Massage bathtubs
Intelligent Toilet
Bathroom cabinets
Reasons To Recommend
FAENZA has a wide range of beautiful and economical sanitary ware products to choose from to complete your modern and artistic home design.
9. ANNWA Bathroom Accessories Manufacturer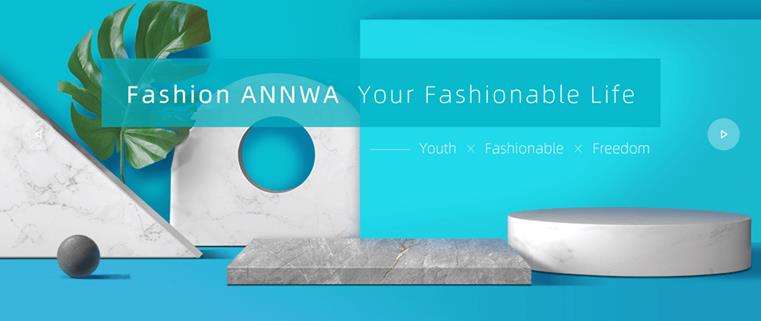 ANNWA Ceramic Sanitary Ware Co Ltd landed in Foshan, Guangdong, China in 2003 with the launch of the ANNWA brand under the theme "Fashion ANNWA, your stylish life". The brand targets the younger generation with a range of bathroom tiles featuring stylish design and smart technology.
ANNWA produces its product range at six production sites (Shunde, Foshan Gaoming, Shaoguan Nanxiong, Zhaoqing Sihui, Shandong Dezhou and Jiangxi Jingdezhen), covering a total area of 6,000 acres. The total production capacity of these facilities exceeds 3 million bathroom products.
Main Products
ANNWA produces ceramic sanitary ware, surf tanks, acrylic bathtubs, steam rooms Shower enclosures, solid wood bathroom cabinets, all brass and chrome taps, and stainless-steel basins.
Smart toilets
Shower enclosures
Bathroom cabinets
Reasons To Recommend
ANNWA's range of bathroom products focuses equally on appearance and quality.
HUAYI Bathroom Fittings Manufacturer

Located in Shuikou Town, Kaiping, Huayi is a leading manufacturing center for bathroom taps and accessories. Established in 1991, Huayi currently has a production area of 250,000 square meters spread over 10 factories.
Huayi Sanitary Ware International provides total bathroom solutions to domestic and international consumers under the brand names of "Precision Work" and "Smart Manufacturing".
Huayi continues to develop and manufacture quality products with environmental protection, energy-saving and smart technology at its core.
Key Products
Huayi strives to provide consumers with complete bathroom solutions, including ceramic sanitary ware, bathroom furniture, shower enclosures and bathroom hardware. Huayi products are exported to over 100 countries and are favored by many high-end individuals both at home and abroad.
Reason For Recommendation
Huayi is one of the best faucet brands in China. If you want to import stainless steel and copper bathroom fittings, Huayi is a good choice.