Kitchen And Bathroom Industry Mainstream Media Kitchen And Bathroom Information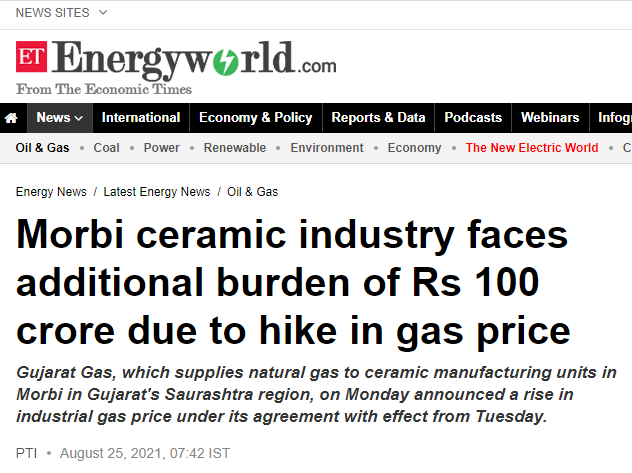 According to the Times of India, Indian gas company Gujarat Gas Ltd ("GGL Gas") has increased the price of industrial gas. This will make the country's largest ceramic industry cluster Gujarat Morbi gas cost an additional expenditure of more than 1 billion rupees.
GGL Gas announced on August 24 that it would increase the price of industrial gas by approximately Rs 5 per standard cubic meter (Rs 4.37 including taxes) for companies producing sanitary ware and tiles in the Morbi and Surendranagar regions. Its final price will be Rs 37.51 per standard cubic meter. The new prices are effective from the same day. The price of gas for residential use remains unchanged.
The increase in industrial gas prices is mainly due to the significant increase in LNG prices on the international market. Recently, there has been a significant increase in global gas prices. Prices in the Chinese market also exceeded 5,400 yuan per ton, a price increase of more than 100 percent over the same period last year, while prices in the U.S. market also hit the highest level in nearly 10 years.
According to data released by the China Building and Sanitary Ceramics Association, as of 2020, the natural gas usage rate of building ceramic enterprises increased from less than 15% to about 55%. However, with the proposed carbon neutral and carbon peak, the industrial gas ratio will not increase after 2025, and the proportion decreases after 2030. Natural gas is a transitional energy source for carbon neutrality, and electricity will be the "main energy source" of the future. Electric firing kiln will be the new direction of energy technology development in the building and sanitary ceramics industry. It is understood that, at present, Guangdong, Fujian, Shandong, Sichuan, Liaoning and other production areas, most enterprises have completed the clean energy transformation.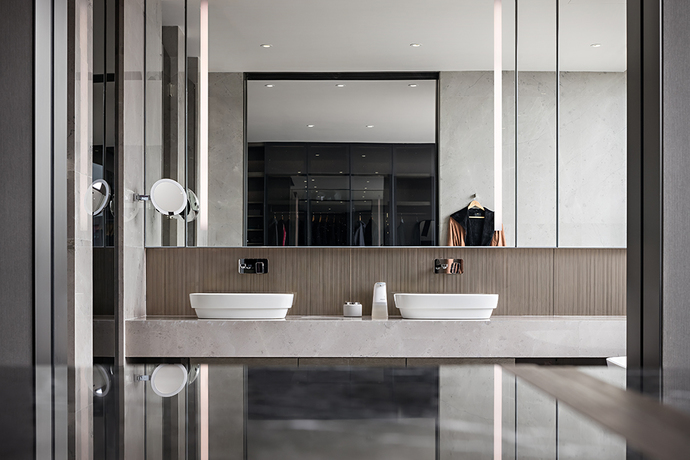 And India is also mandatory in 2019 to complete the process of switching from coal gasification furnaces to natural gas production. It is reported that GGL Gas is now supplying 6.5 million cubic meters of natural gas for the Indian ceramics industry daily, and the price increase will add an additional monthly expenditure of Rs. 1 billion. The sudden increase in gas prices will have an impact on the existing orders of Indian ceramics companies.
Nilesh Jetpariya, chairman of the Morbi Ceramics Association, said the increase will increase production costs by 7 to 8 percent, and could even lead to the shutdown of nearly 30 percent of factories in Morbi. In the region, fuel accounts for nearly 35 to 40 percent of total production costs. The sudden price hike may prevent many manufacturers from adjusting their production plans in time, or they will be forced to clear their inventories at a loss.
In addition, container shortages and high shipping costs are squeezing tile factories in Morbi. Last few months sea freight costs rose two to three times, local exporters can not get containers, tile exports fell 20% to 40%.
Exports account for 30 percent of Morbi's tile production. KG Kundariya, chairman of Moresby-based Wintel Ceramics Private Limited, said exports are down 20 percent. Originally when the Indian market was slowing down due to pandemic demand, exports could have brought incremental volumes. However poor logistics caused the export market to take a hit as well. By raising prices to pass on the increased production costs, end retail will also be affected.
To ensure that there is no oversupply in the market and that existing stock items are sold at reasonable price levels, tile factories are considering shutting down kilns in response. So far, 115 tile factories have reportedly shut down production, and another 250 will stop production for a month from September 1.