Bathroom Business School
According to the latest news, Guangzhou's current epidemic prevention requirements is that the public masses are not necessary not to leave the spike, not to leave the province. 12:00 on June 7, the need to leave the spike, the province, the need to hold a negative nucleic acid test certificate within 48 hours.
And Shenzhen's requirements are, since June 7 at 12:00, leaving Shenzhen to leave the province need to hold 72 hours of negative nucleic acid test certificate and green code; Guangzhou, Foshan ID card or 14 days with Guangzhou; Foshan travel history need to provide a negative nucleic acid test certificate within 48 hours.
The current local epidemic in Guangzhou and Shenzhen has seriously affected the foreign trade shipments in South China.
Yantian port operations slowed down and shipping schedule delayed
Since May 31, Yantian International Gate has resumed receiving export heavy containers in an orderly manner and implemented the system of "no appointment, no entry" as required.
After June 6, the arrangement for receiving export heavy containers is as follows.
From June 7, we will continue to receive export heavy containers only within ETA-3 days (i.e. within 3 days before the expected arrival date of the vessel). The system of "no reservation, no entry" will continue to be strictly enforced, please make sure the trailers make a reservation on Peng Marine "Easy Pickup" APP or Terminal "Entry Declaration" APP before submitting the export heavy containers. Please be sure to make an appointment on the "Easy Pickup" App or "Inbound Declaration" App before submitting the heavy containers for export.
At present, Yantian port has about 40 container ships waiting for berths, with a backlog of about 23,000 export containers. Maersk, MSC, ONE, Hapag-Lloyd and other shipping companies have issued port hopping notices and cancelled calls to Yantian International Container Terminal, and Maersk even cancelled calls to the nearby Shekou port.
Maersk said in a customer advisory report last Thursday that productivity at the eastern port area of Yantian International Container Terminal had dropped to 30 percent of normal levels, while all operations at the western port area of Yantian were suspended until further notice. Maersk expects Yantian International's ships to be delayed "for more than 14 days". Meanwhile, new pneumonia precautions at Shekou port are now restricting export container traffic.
Nansha Port is jammed into a parking lot
Due to the congestion and port hopping at Yantian Port, a large amount of South China cargo has been diverted to the neighboring Shekou Port and Guangzhou Nansha Port. But a large number of Shenzhen drivers going to Nansha port is unfamiliar with the place – not familiar with the entry gate procedures, internal driving rules, yard yards, etc., affecting the efficiency of terminal operations.
As a result, the Nansha Port is blocked into a parking lot.
To add insult to injury, Nansha was then also closed!
According to "Guangzhou Nansha release" WeChat public number news, in order to cooperate with the full nucleic acid testing work, since 14:00 on June 5, 2021, the city bus, subway, ferry, long-distance passenger transport suspended operations. No special reasons, the public do not leave, high speed road, high-speed rail, wharf, etc. all away from Nansha channel temporarily closed, the restoration time will be notified separately.
Yantian Port also issued a notice on June 6: "According to the government's epidemic prevention requirements, all drivers entering the port must show the Yue Kang code and trip code, non-green code, and drivers and vehicles that have recently visited Nansha Port are prohibited from entering the port; enforcement starts on the same day, please cooperate."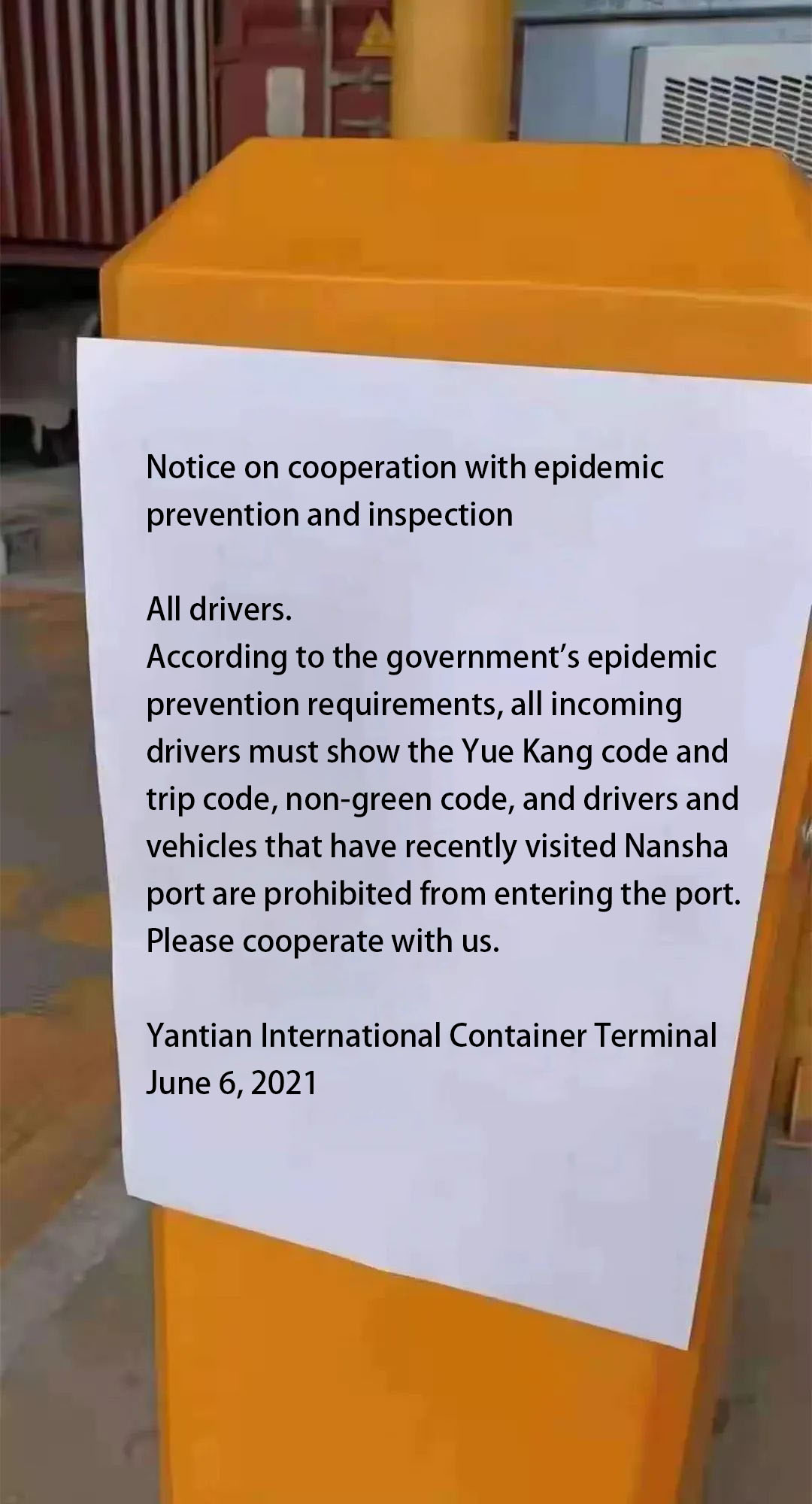 Shekou/Chibawan Port Latest Notice
Shekou/Chewan, on the other hand, requires that from 0000 hours on June 9, nucleic acid test reports within 3 days must be provided to enter the terminal, otherwise they will not be allowed to enter the port. 
The alarming rate of increase in the container price
Now, some of the urgent shipments of foreign trade has begun to pull the goods to Xiamen Port, or willing to spend more money to go to Yangshan Port, and even some people simply change the rail transport.
However, these remedial measures, but also means that the cost of transportation rose again.
In addition to the freight rate rose again and again, the exchange rate "trend into confusion" is also this year's foreign trade enterprises and a major "pain". This year
After the Spring Festival this year, the exchange rate out of a wave of depreciation of a small peak – 2021 March full month, the RMB median price depreciation of 1.5%, ending nine months in a row, and the largest single-month decline in 19 months.
Since April, however, the RMB has appreciated 1.3% against the USD, and has now regained all the ground lost in March to stand at a two-and-a-half month high.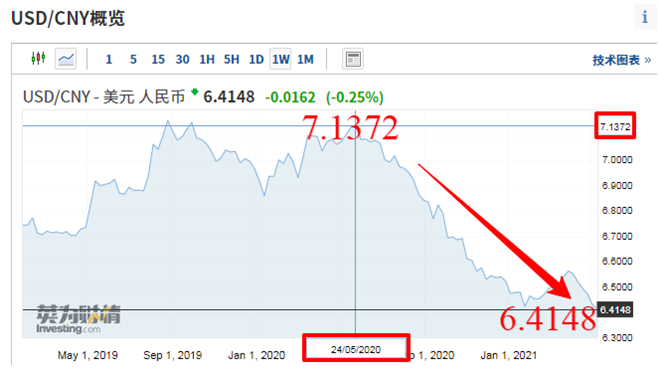 RMB exchange rate chart for the past two years
via: investing.com
How will the exchange rate move in the future? Who can not see. Bathroom people can only lament: this year to do foreign trade is too difficult!