Kitchen And Bathroom Industry Mainstream Media   Kitchen And Bathroom Information
Coping with water scarcity has become a common issue in the world. In this year's national "two sessions", the government's work report clearly proposed to expand the scope of environmental protection, energy and water conservation and other corporate income tax preferential directory to promote new energy-saving and environmental protection technology, equipment and product development and application, and to foster the growth of energy-saving and environmental protection industry.
Water conservation is not a slogan, specifically on the need to promote water-saving bathroom products in the country to start. The National People's Congress representative Jarl Heng Ahati proposal to toilet systems, spouts, showers, showers, bathtubs and other water-saving products widely used in residential life, public places and industrial and mining enterprises and other areas of the proposal to obtain the Ministry of Water Resources of the State affirmed and replied. At present, toilets, spouts, toilet flush valves, showers and other four water-saving products have entered the government's green procurement list. The next step of the Ministry of Water Resources will study the intelligent toilet into the water efficiency label management.
According to kitchen and bathroom information reporter from CCTV2 "Long Yang said two sessions" program was informed that, on the technical level, China's bathroom brands have opened 3.5L water-saving era, the head of the bathroom brand water-saving technology has even been in the industry leader.
According to the National Development and Reform Commission, the Ministry of Water Resources, the Ministry of Housing and Urban-Rural Development, the General Administration of Market Regulation in May 2020 jointly issued the "2020 annual toilet water efficiency leader product list" shows that the 2.8L single-flush toilet and 3.2L dual-flush toilet of Hengjie Sanitary Ware are ranked first, far beyond the internationally renowned brands. With the leading position in the field of water conservation, Hengjie is not only selected as one of the "first batch of toilet water efficiency leaders" list, but also the enterprise that has been awarded the "Water Efficiency Marking Record No. 001" in China's sanitary industry for ordinary toilets and intelligent toilets.
Improve the popularity of water-saving sanitary products has become a world imperative. early March, Singapore, Taiwan Province, one after another to the World Trade Organization to expand the scope of water-saving sanitary products water efficiency labeling laws.
According to the kitchen information reporter learned that Singapore in 2009 launched a mandatory water efficiency labeling program (MWELS) to help consumers make more informed purchasing decisions and encourage suppliers to the market to launch more water-saving products. Currently, MWEL includes water fittings and appliances such as faucets and mixers, dual-flush low volume flush tanks, urinal flush valves, waterless urinals, household washing machines and dishwashers. Suppliers and retailers must obtain the relevant water efficiency registration and labeling for their products before they can supply or offer, advertise or display them for sale and installation in Singapore.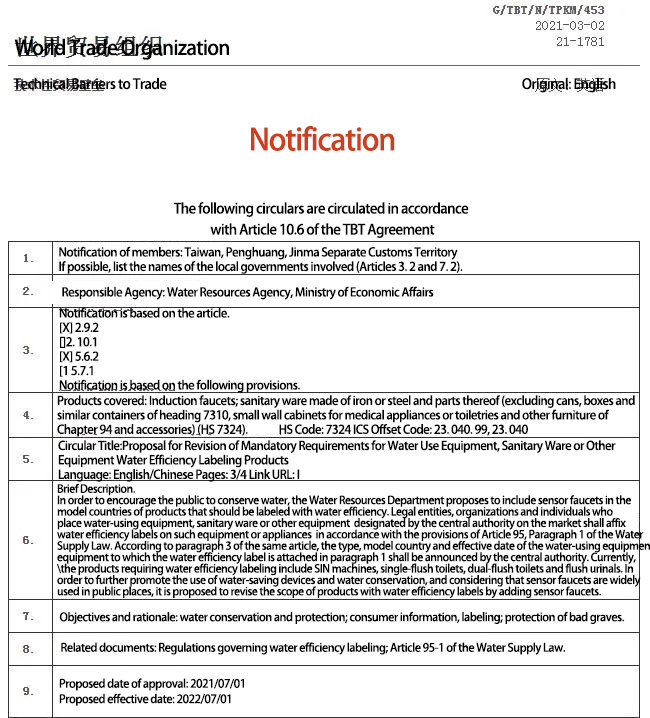 From January 1, 2022, MWELS will be expanded to include flush toilet flush values. While imports of flush toilet flush valves will still be allowed in Singapore, only flush toilet flush valves registered and labelled with MWELS with a water consumption efficiency rating of 2 or higher will be allowed to be supplied or offered, advertised or displayed for sale and installation in Singapore.
As a result, the Utilities (Water Supply) Regulations in Singapore will be amended so that flush toilet flush valves must be registered and labelled with a water efficiency rating under MWELS and must be tested in accordance with the prescribed method. The amendments will come into effect on January 1, 2022.
In addition to Singapore, Taiwan Province's Taipeng Jinma Separate Tariff Area has also notified the World Trade Organization that in order to encourage the public to conserve water, it plans to include sensor faucets, iron or steel sanitary ware and their parts in the range of products that should be labeled for water efficiency from July 1, 2022. Currently, the products required to have water efficiency labels in Taiwan Province include single-flush toilets, dual-flush toilets, flush urinals and washing machines.